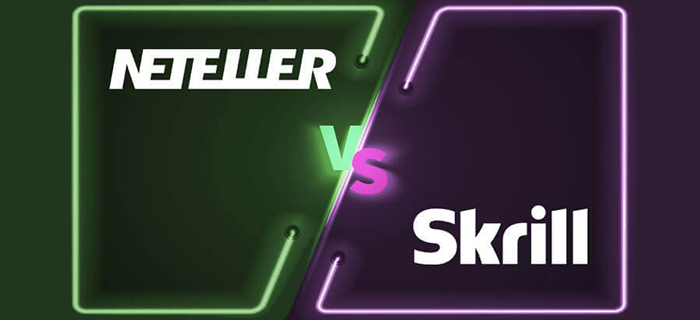 Neteller vs. Skrill
One key decision to make once you start gaming online is to select a deposit method that works for you and which meets all your needs. Read on to find out the winner of Neteller vs. Skrill.
The choice of available methods is extensive, but in recent years many have started to favour e-wallets, purely because of their speed.
However, even if you decide you want an e-wallet, you then, of course, have to decide which one to pick.
Two favourites are Skrill and Neteller, both owned by global provider of online and mobile payment processing services Optimal Payment, following Neteller's purchase of Skrill in 2015.
Each one has been around for about two decades, with Skrill (formerly Moneybookers) launched in 2001, Neteller in 1999.
So, time for a Neteller vs. Skrill comparison. Below we sum up the pros and cons of the two to help you decide.

New UK 18+ customers must successfully verify their mobile number. 10 free spins on Squealin' Riches slot game. Free spins available to customers who have successfully completed age verification. Maximum stake per free spin bet is 20p. No maximum win. Free spins expire in 7 days. After this time free spins are revoked.
Pros and cons – a comparison
Neteller vs. Skrill — Signing up and registering
Frankly, there's not much to set either method apart here, since both Neteller and Skrill have similar processes.
Unsurprisingly, both will ask you for personal information, and with both, you will be able to open an account pretty much immediately. You'll need proof of your address plus valid ID.
Neither one makes the process unduly arduous and you should find it all pretty straightforward.
Ease of use and speed of transactions
Both provide a swift service. (No rival deposit method currently performs better than e-wallets.)
Any differences between the two tend to have more to do with an individual casino's processing time, rather than anything else. Both methods offer easy access, convenience and speed.
Extra charges
Both Neteller and Skrill will charge you if your account is active but you are not using the service.
With the former, it's £1.80 a month if you haven't used your account for 14 months, while Skrill charges a pound a month after a year of no use.
Deposits and withdrawals
Deposits
Again, Skrill is the winner here, making no charge for bank transfer deposits, while Neteller takes between 3 and 7%.
For credit card transactions, Skrill's rate is 1.9%, its rival's 1.9 – 4.95%. For Bitcoin, the rate is 1% whichever method you choose.
Withdrawals
Skrill doesn't offer bank draft withdrawals, while Neteller charges £7.50 to £25 per transaction.
For bank transfers, Neteller and Skrill charge £7.50 and £5.50 respectively. Skrill charges the same sum for money transfers, against Neteller's 1.9% up to a maximum of £20.
Finally, Neteller doesn't offer credit card withdrawals, but its rival does, for which it charges 7.5%.
For members of its VIP programme members, Neteller drops these charges, Skrill only doing so completely after members have followed two tiers of its scheme.
Exchange rates and currency conversions
Here again, both e-wallets are pretty evenly matched. On top of daily exchange rates for both methods, Neteller bills 3.39% for a basic account, Neteller 2.99% to 4.99%.
There's also very little in it for the various tiers of the VIP programmes, with Skrill offering a range of rates according to the currency you use, rather than a fixed rate.
However, Skrill does charge more for those using its service from the EU, because it doesn't recognise the Euro as a primary currency.
Money transfers to casinos
Neither e-wallet will bill you a penny more for sending money to a web-based casino or sportsbook. (You should, however, ask your bank or card issuer about any fees they may add.)
Safety and security
These matters are a priority for both, and both have specialist teams hunting fraud and security breaches 24/7.
They also both encrypt your financial data to make it undecipherable to potential fraudsters. So you can enjoy total peace of mind with either provider.
Currencies and countries available
Both e-wallets are available in various countries, including the UK.
Skrill offers just over 40 currencies
Neteller offers (all the main EU currencies, plus Russian and American ones)
VIP perks
Skrill and Neteller's VIP schemes are divided into four and five tiers respectively. For the first three levels, Neteller seems to offer the best deal, thereafter Skrill is in front.
And, while we're talking about perks, both offer a bonus package of 100% deposit worth up to €300 on making your first deposit.
Pre-paid cards
For those who qualify, a Mastercard is available from both Skrill and Neteller, to be used just like a conventional credit or debit card.
With Skrill, "there is an application fee of €10 for the Skrill Prepaid Mastercard®. While most services available with your Skrill Card* are free of charge" there's a 2.49% on foreign exchange and 1.75% on ATM withdrawals.
Neteller's version is similar with a 2.95% foreign exchange fee, a €2.99 monthly fee and a €3.95 ATM charge.
The Winner — Neteller vs. Skrill
Neteller vs. Skrill — who wins?
In truth, Skrill and Neteller both have a lot to offer and are broadly similar in a number of areas. Even where there are differences, these aren't always so very great.
In most areas, Skrill is cheaper, offers more currency options and is accessible in more varied geographic locations.
Finally, for high-rollers, at the superior levels of its VIP scheme, Skrill again offers more.
Ready to play? Visit the slots.