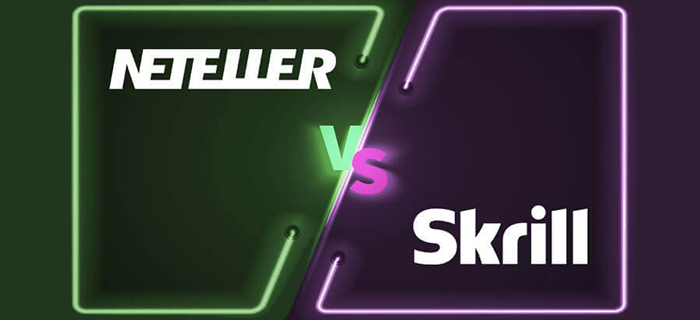 Neteller vs. Skrill
One key decision to make once you start gambling or betting online is to select a deposit method that works for you and which meets your needs. Read on to find out the winner of Neteller vs. Skrill as e-wallets.
The choice of available methods is extensive, but in recent years many have started to favour e-wallets, purely because of their speed. This means deposits are quicker, and even more importantly, so are withdrawals.
However, even if you decide you want an e-wallet, you then, of course, have to decide which one to pick.
Table of contents:
Two favourites are Skrill and Neteller, both owned by global provider of online and mobile payment processing services Paysafe Group following Neteller's purchase of Skrill in 2015 and subsequent acquisitions.
Each one has been around for more than two decades, with Skrill (formerly Moneybookers) launched in 2001, Neteller in 1999.
So, time for a Neteller vs. Skrill comparison. Below we sum up the pros and cons of the two to help you decide.
Signing up to Skrill is super quick and easy
Creating an account takes less than a minute and requires your name and email address. Once you've verified your email address you have a Skrill account, simple as that.
In order to verify your ID, simply make a deposit into your account and upload a UK driving licence or passport.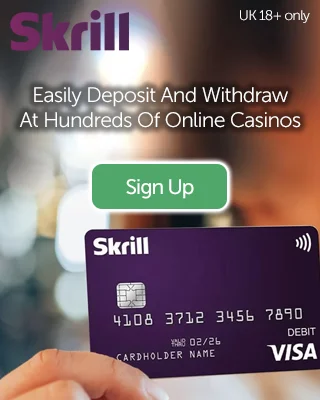 Signing up to Neteller is also very easy
Because these e-wallets share the same parent company, paysafe, the sign up and verification process is pretty much the same for both. Click below and enter your name and email address. Verify your email address and the account is active.
In order to verify your ID, simply make a deposit into your account and upload a UK driving licence or passport.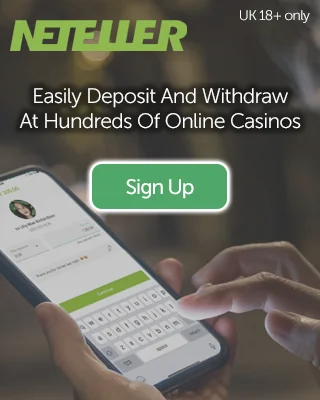 Pros and cons – a comparison
Neteller vs. Skrill — Signing up and registering
Frankly, there's not much to set either method apart here, since both Neteller and Skrill have similar processes.
Unsurprisingly, both will ask you for personal information, and with both, you will be able to open an account pretty much immediately. You'll need proof of your address plus valid ID.
Neither one makes the process unduly arduous and you should find it all pretty straightforward.
Ease of use and speed of transactions
Both provide a swift service. (No rival deposit method currently performs better than e-wallets.)
Any differences between the two tend to have more to do with an individual casino's processing time, rather than anything else. Both methods offer easy access, convenience and speed.
Extra charges
Both Neteller and Skrill will charge you if your account is active but you are not using the service.
With the former, it's £1.80 a month if you haven't used your account for 14 months, while Skrill charges a pound a month after a year of no use.
Deposits and withdrawals
Deposits at Skrill
In a nutshell Skrill appears to be cheaper than Neteller when it comes to depositing your money. (See the breakdown below.) There are ways to deposit into your Skrill account that will not cost you anything, i.e. it's free to deposit using certain methods.
Local deposit payment methods
Bank transfer is free
Rapid transfer costs up to 1%
Trustly costs up to 1.25%
Paysafe cash costs up to 2.5%
Paysafecard costs up to 5%
Global deposit payment methods
Deposit by Diners Card, JCB, Mastercard or Visa for free deposits
Withdrawals at Skrill
It is more expensive to withdraw than it is to deposit, but it is still free depending on your withdrawal method. See below for an overview.
Local withdrawal payment methods
Bank transfer is free
Crypto wallets costs 2%
Neteller costs 3.49%
Mastercard and Visa cost up to 3.99%
Global withdrawal payment methods
SWIFT transfers will cost €5.50 (EUR) or £4.66 (GBP)
Deposits at Neteller
Neteller offers lots of options when it comes to depositing into your account. E-wallets, bank transfers and traditional credit cards are all available forms of depositing. The fees vary depending on your method, from free (0%) to 5%.
We'll focus on the cheapest methods of depositing with Neteller.
Local bank deposit will cost 0-1% (this is the cheapest way to deposit)
Rapid transfer, also 0-1%
Visa and Mastercard will cost you 2.5%
Withdrawals at Neteller
This is where it becomes obvious that withdrawing your money from Skrill is cheaper than withdrawing it from Neteller.
To summarise, there is no free way to withdraw from Neteller. See the most common forms below and their costs.
Bank transfer will cost you €10
Crypto wallet 2%
Visa or Mastercard up to 3.99%
Neteller prepaid card 0-1.75% (this seems to be the cheapest way of withdrawing from Neteller)
Money transfers to casinos
Neither e-wallet, Skrill nor Neteller, will bill you a penny more for sending money to a web-based casino or sportsbook. (You should, however, ask your bank or card issuer about any fees that they may add.)
Safety and security
These matters are a priority for both, and both have specialist teams hunting fraud and security breaches 24/7.
They also both encrypt your financial data to make it undecipherable to potential fraudsters. So you can enjoy total peace of mind with either provider.
Currencies and countries available
Both e-wallets are available in various countries, including the UK, and offer multiple home currencies.
Skrill offers just over 40 currencies
Neteller offers (all the main EU currencies, plus Russian and American ones)
VIP perks
Skrill and Neteller's VIP schemes are divided into four and five tiers respectively. For the first three levels, Neteller seems to offer the best deal, thereafter Skrill is the clear winner on this front.
If you're using your Skrill account to buy and sell crypto, you'll no doubt hit Silver, Gold or Diamond status pretty quickly. Silver is yours when you transact more than €15,000 in any given quarter.
And, while we're talking about perks, both offer a bonus package of 100% deposit worth up to €300 on making your first deposit.
Neteller vs. Skrill pre-paid cards
What better way to get instant access to your winnings than by way of a pre-paid debit card. Both e-wallets offer physical and virtual debit cards that are compatible with Apple Pay and Google Pay. These can be used all over the world on the same network that you would use a Visa or Mastercard.
With Skrill, "there is an application fee of €10 for the Skrill Prepaid Mastercard®. While most services available with your Skrill Card* are free of charge" there's an up to 3.99% on foreign exchange and 1.75% on ATM withdrawals.
Charges for using the Skrill Prepaid Mastercard:
Up to 10 EUR new card application
10 EUR annual fee
Up to 3.99 % FX fee; (Further details on the foreign exchange fee and the mark-up over the latest available foreign exchange reference rates issued by the European Central Bank (ECB) are available here.)
1.75 % ATM fee
POS transactions are free
Skrill virtual card application – first is free, any subsequent card is 2.50 EUR
22 EUR fee for express delivery via DHL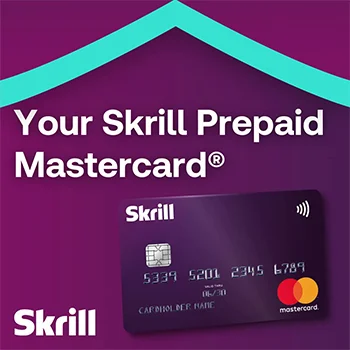 Neteller's version is similar with a 2.95% foreign exchange fee, a €2.99 monthly fee and a €3.95 ATM charge.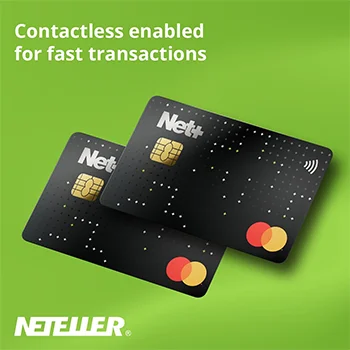 The Winner — Neteller vs. Skrill
Neteller vs. Skrill — who wins?
In truth, Skrill and Neteller both have a lot to offer as well as a lot in common with each other. Being owned by the same parent company, they are running on the same platform behind the scenes.
The differences boil down to payment limits and transfer fees, at the end of the day. With both offering fast deposit and withdrawals in and out of your online gambling or betting account, there is little in it.
Both e-wallets offer apps for iOS and Android, and both offer pre-paid payment cards for extra fast access to your money.
In most areas, Skrill is cheaper, offers more currency options and is accessible in more varied geographic locations.
For high-rollers, at the superior levels of its VIP scheme, Skrill again offers more.
However, both e-wallets are old veterans in the gambling and betting world so whichever you choose, you won't go too far wrong.
Ready to play? Find a slots site, online casino or live online casino operator and claim your new player welcome bonus.