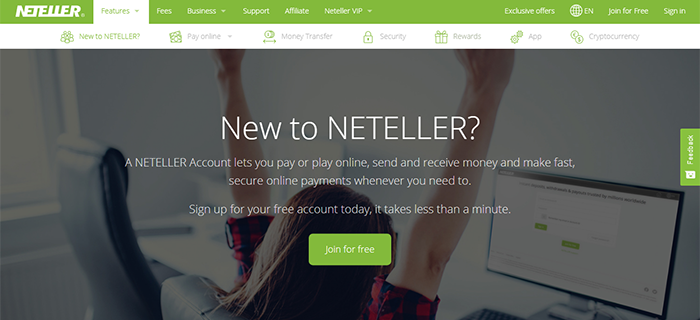 Digital e-wallet Neteller allows people to move funds to and from organisations including forex trading and social networks firms, online casinos and sports betting sites.
Its service is independent, fast and secure, and it's useful for keeping all your betting transactions in a single place.
It was created in Canada in 1999, before moving to the Isle of Man five years later.
Customers, who are based in more than 200 countries across the world, can withdraw funds directly using the Net+card, or transfer a balance to their own bank accounts.
Essentially, Neteller offers an alternative to traditional payment methods, especially in markets where conventional methods may not work.
British firm the Paysafe Group, a public company which works in global payments, and has bases in the Isle of Man and London's Canary Wharf, owns Neteller.
The same company owns Neteller's former competitor and sister brand Skrill, one of the world's biggest independent digital wallet suppliers and among Europe's largest web-based payments systems. Read a comparison of Neteller vs. Skrill.
Because it's not a bank, Neteller can't lend to anyone. And it must keep its customers' money in separate trust accounts, apart from its operational funds, so that it's always able to repay all customer balances at once if necessary. (That's under the rules of the Financial Conduct Authority (FCA).)
Sign up to Neteller in less than 1 minute
Click below and enter your name and email address. Verify your email address and the account is active.
In order to verify your ID, simply make a deposit into your account and upload a UK driving licence or passport.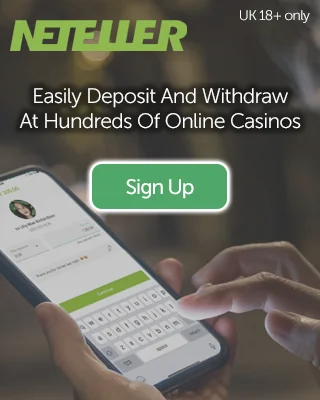 Neteller and online gambling
In the summer of 2000, Neteller began to process online gambling payments. Since then, it's become a leading global method of making transactions related to online casinos and gambling. Today, most UK betting sites accept Neteller.
What Neteller offers
The brand offers its services as follows:
Accounts can be set up in 26 major global currencies and there's a foreign exchange fee calculator on the website
Load funds into your account in many different ways, including via a bank account or credit/debit card – deposit types vary from country to country and some are instantaneous
It won't cost you a penny to open an account
Its app is available on Android and iPhone devices
Avoid exposing your credit card or bank account details to online gambling websites, especially those you're unsure about
Neteller's live customer support offers help 24/7, including if you have locked yourself out of your account
Net+ card
Launched in 2003 as the Neteller card and rebranded five years later as Net+, this product was a Prepaid365 Awards winner in the Best General Send Prepaid Card and Best Privacy Prepaid card categories.
As of November 2016, it was only available in customers living in the European Economic Area (EEA) countries.
It's essentially a prepaid Mastercard, so it will be accepted wherever Mastercard is.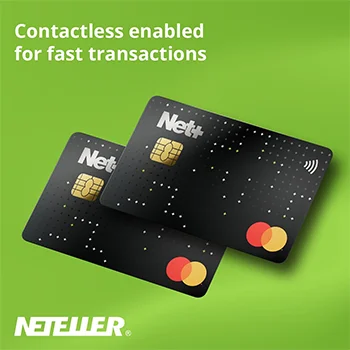 You can also enjoy the following benefits:
It's offered in eight currencies, including the British pound and the US dollar, so you may save on foreign exchange fees
You are not putting your personal details or bank account at risk
Thanks to contactless Chip and PIN tech, strong encryption and transaction monitoring, you enjoy complete privacy and security
Purchases are quick and easy as well as safe
There are no annual fees, making this is one of the best-value prepaid cards around
You can earn loyalty reward points each time you use your card, redeeming them for merchandise or cash
No credit checks as it's not a credit card in the conventional sense
Being able to make ATM withdrawals, for a fee
Neteller security
One of the world's most trusted online payment systems by merchants and consumers alike, Neteller takes its' customers security seriously. And, remember, it's authorised by the UK's Financial Conduct Authority which safeguards financial markets and consumers while promoting competition.
But, of course, there are always things you can do yourself to make sure your money stays safe online, including ensuring you use the most current version of your web browser, having firewalls and anti-virus software in place, and regularly reviewing your transactions history and keeping an eye out for anything that looks strange.
Equally, it's never a good idea to share your account information with anyone else.
Other Neteller security measures include automatic account time-out, two-step account authentication, plus a number of security questions.
The VIP programme
This has five levels and offers fee discounts, higher withdrawal limits for gold-level and above members, plus loyalty points. A dedicated VIP manager is around to handle members' questions and there's a 24/7 VIP chat service.
The five levels are bronze through to diamond, with more features offered to customers as the work their way through the levels. You need to pass a specific sum in terms of transfers to merchants annually to move up a level.
Those who have reached at least silver level can send money around the world for free. UK gold and above members get withdrawals processed on the next banking day.
There's also an annual bonus for every year you remain a member, and you can earn reward points for making transactions, redeemable for cash.
Changes introduced in 2019
As of March 2019, users may face an extra monthly fee depending on how often they use the digital wallet, with a small monthly charge applying for accounts which have been dormant for a year or longer.
The pressure is growing on online payment service providers to do more to prevent criminal activities. Neteller in 2019 announced it would suspend a card and/or account where it suspects fraudulent activity such as money-laundering.
Money-laundering allegations
Neteller's two founders, Steve Lawrence and John Lefebvre, both Canadian nationals, were charged with money-laundering in early 2007.