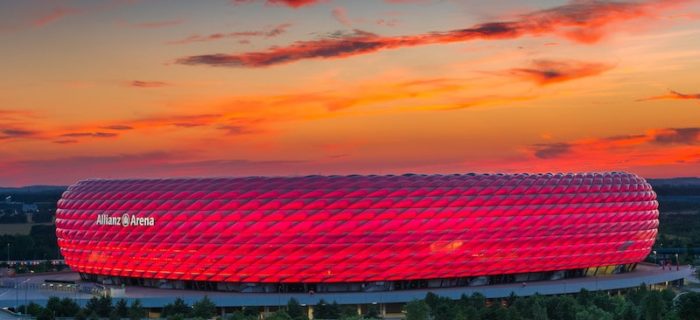 Home to the mighty Bayern Munich since it opened in 2002, the Allianz Arena (known as this for sponsorship reasons), is a hugely imposing purpose-built football stadium.
The arena sits in the north of the city, just eight miles and 20 minutes by car from the centre of Munich.
Allianz Arena History
Initially, with a new facility needed for Bayern Munich, a major reconstruction of the Olympic Stadium was planned. However, it was eventually rejected by architects.
A new arena was needed. In October of 2002, the new stadium was put to a vote in Munich. With two-thirds of voters in favour, the project was given the green light.
The now-iconic see-through exterior, made up of ETFE-foil panels, was the brainchild of a Swiss architect firm. The company was tasked with designing the new arena. Construction started on the unique venue in Autumn 2002. It was completed by April 2005.
Part of the €340million overall cost of the project was improving nearby infrastructure. The train stations, as well as expanded and improving the nearby Autobahn A9. The improvements were needed to handle what would now be an extra 70,000 – 100,000 people on match days.
Having opened to great applause in 2005, the stadium has become important on the world stage. It was chosen to host the 2012 Champions League final. As it turned out, Bayern even reached that final but things didn't go to plan that night as you can find out below!
Stats
Already an iconic venue with a terrific look, the Allianz is important on the world stage and is made up of the following:
Capacity: 75,024 (this is reduced to 70,000 for European and international matches)
Record Attendance: A crowd of 75,000 was recorded for Bayern Munich v Schalke 04 in 2015
Pitch: 105m x 68m, a pure grass surface
Stands: There are no official stand names here in this imposing bowl of a stadium, rather 'zones' for seating
Memorable Matches at the Allianz
Despite not having been around forever, the Allianz Arena has already hosted some amazing games. This half-dozen matches rank right among the very best seen over the past 15 years or so:
Bayern Munich 5-0 Borussia Dortmund
The perennial challengers to Bayern's various crowns and greatest rivals in the modern era are Borrusia Dortmund. When they arrived for a Bundesliga match during the 2004-05 season much was expected of them, but they couldn't have predicted the sort of punishment that was to be delved out by the home side.
Goals from Hasan Salihamidzic, Claudio Pizarro and a hat-trick from Roy Mackaay meant a 5-0 thrashing in front of 70,000+ fans.
Bayern Munich 5-0 Borussia Dortmund
Three seasons after their legendary 5-0 thrashing of Dortmund, the memory of that game was still vivid. Not happy with that, Bayern repeated the feat this time with goals from Lukas Podolski, Ze Roberto, Luca Toni (2) and Andreas Ottl. Another sublime performance was the highlight of the domestic season at the Allianz.
Bayern Munich 7-1 Sporting Lisbon
Facing a strong Sporting side in the 2009 Champions League Round of 16, Bayern kept their expectations somewhat in check. Having won the first leg 5-0 in Portugal however, the pressure was off. The side truly let loose in the second game, winning 7-1 and simply tearing their opposition apart.
Bayern Munich 1-1 Chelsea
The Champions League final of 2012 was set for the Allianz and it was a dream come true when Bayern reached it.
Able to play the showpiece match on their own pitch, Bayern were heavy favourites and broke open a tight game with just seven minutes to play courtesy of Thomas Muller's strike.
Just five minutes later though and with the crowd still ecstatic, Didier Drogba equalised and the away side went on to spoil the party for good by winning the penalty shoot-out and the trophy itself.
Bayern Munich 4-0 Barcelona
Bayern continued their assault on the Champions League, reaching another semi-final in 2013. With Barcelona favourites, Bayern steamrollered them at the Allianz and won the first leg 4-0 to all but secure another final place, which they also won against Borussia Dortmund.
Bayern Munich 6-0 Borussia Dortmund
There hasn't been quite enough Dortmund punishing here, so here's some more! A rampant 6-0 win for Bayern at the Allianz in March 2018 added to the embarrassment suffered here by Jurgen Klopp's former side.
Wager on Games at the Allianz Arena with Roger.com
You can bet on all matches at the Allianz Arena via Roger.com. Get on via one of our highly recommended online bookmakers now to bet quickly, safely and securely.