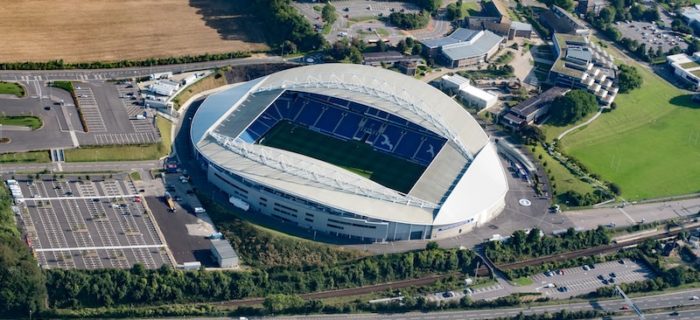 Brighton and Hove Albion's home stadium is colloquially known as 'The Amex', however, it has/had various titles since it was built.
Owing to a long-term sponsorship deal, the full title of the venue is the American Express Community Stadium and should that be revoked, it would be known as the Falmer Stadium.
The original name comes from the stadium's location, the village of Falmer just four miles from Brighton seafront, with the arena has been open only since 2011 upon its completion.
History of the Amex
Brighton and Hove Albion had been playing their football at the old Goldstone Ground, however, when that was sold by the club's board in 1995 the club was effectively made homeless.
There were years of frustration for Brighton fans as first, the club played more than 50 miles away in Gillingham, and then returning home in 1999 to the Withdean Stadium in Brighton which was seen as very unsuitable for football.
The team was doing well on the pitch but the club and the fans were desperate for a new stadium. When a site at Falmer, north of Brighton, was identified in 1999 the ball began rolling, though things were slow.
Finance was needed, and planning permission was sought and given not until June 2002. At that point, the stadium was set to take until 2005 to be ready however more complications arose and so it was not until November 2008 that an agreement was reached with a contractor to build the complex. Work began in December of that year.
When construction was finished in 2011, Brighton opened the stadium in July and played a friendly against Tottenham Hotspur.
A good-looking venue, the Amex has hosted Premier League football since 2017 and was also used as a venue for the 2015 Rugby World Cup.
Stats
A superb new facility, the Amex Stadium is made up of the following things:
Capacity: 30,750
Record Attendance: 30,682 for Brighton v Liverpool in January 2019
Pitch: 105m x 68m, made up of a purely natural grass surface
Stands: The Amex is made up, very simply, of the North Stand, South Stand, East Stand and West Stand. The largest is the West Stand, which has three tiers and fits up to 11,000 spectators when full.
Favourite Games at the Amex Stadium
While the Amex has only been open since the summer of 2011, it has already provided plenty of memories for Brighton and Hove Albion fans. Their excellent Championships seasons between 2015 and 2017, as well as their Premier League years, have provided the highlights, such as:
Brighton 4-0 Leeds United
During their promotion charge of 2015/16, which was heartbreakingly unsuccessful, Brighton rounded off a run of four home wins in a row by hammering Leeds United 4-0. All four goals came within a 20-minute spell in the first half as Brighton tore their opposition apart.
Brighton 1-2 Newcastle United
Not a great result for the home side, but a memorable match nonetheless. With both sides battling it out for the Championship title, the pressure was on Brighton at home. 1-0 up and seemingly heading for a win, the Seagulls were shellshocked when the Toon scored two late goals to grab a 2-1 win. Both teams ended up being promoted, with Brighton losing out on the top spot on the last day of the season to Rafa Benitez's men.
Brighton 1-0 Manchester United
With away games at Manchester City and Liverpool to finish off the 2017/18 season, Brighton needed a strong finish at home and they got that courtesy of a famous win against Man United. Pascal Gross scored the winning goal in the second half in front of a raucous crowd.
Brighton 3-2 Manchester United
One win against Man United in 2018 just won't do! Brighton managed the feat again at the beginning of the 2018/19 season when they roared into a 2-0 lead early, even going in at half-time 3-1 by virtue of a superb performance. A late Paul Pogba goal gave the visitors some hope, but ultimately Brighton won out.
Brighton 3-0 Tottenham Hotspur
True, Spurs weren't having their very best season but in their new stadium and being managed by Jose Mourinho they still possessed some real star quality. They were hammered in October 2019 though when goals by Neal Maupay and Aaron Connolly (2) forced a famous 3-0 win.
Bet on Matches at the Amex Stadium with Roger.com
You can wager on Brighton's home games now via one of Roger.com's recommended online bookmakers. Get on now to bet quickly, safely and securely.