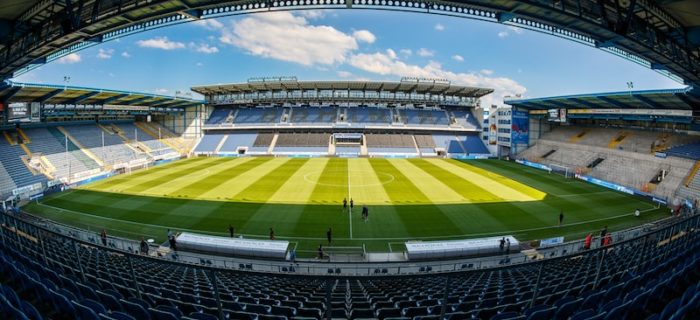 Locally and formally this club is called Deutscher Sportclub Arminia Bielefeld e.V. but don't worry, betting lists will refer to this club simply as DSC Arminia Bielefeld!
Situated in North Rhine-Westphalia, Arminia Bielefeld are often known as Die Blauen or Die Arminen and in fact, they are just one part of a larger sporting club, one containing skating, pool and hockey too.
Often hovering around either the Bundesliga or the 2.Bundesliga these days, Arminia Bielefeld is a big club for sure but their most successful teams were back in the '20s and the 1980s.
History of Arminia Bielefeld
One of the older clubs in Germany, Arminia Bielefeld was inaugurated back in 1905. However, back then were known as 1. Bielefelder FC Arminia.
The club began when a group of posh local men got together to form it. Within two weeks they were playing their first match.
Progression came quickly. Arminia won the West German title in 1922. However, after the War the club was relegated and played third-level football for a time.
Eventually reaching the Bundesliga in 1970, the club had to simply survive tier one and finished a respectable 14th. However, it transpired that they had been caught fixing matches. Two of their players were eventually being banned for life.
Promoted back to the top level in 1978 Arminia recorded an outstanding win. The team beat Bayern Munich 4-0 away in March 1979. In the 80's they battled relegation a few times and eventually spent time in the Regionalliga and the 3.Liga.
There has been a recovery, however, with promotions leading the 2.Liga and the Bundesliga. They've been going back and forth since 1996, except for a couple of seasons in the third tier.
The team won the second-tier championship in 2020 after an interrupted season due to COVID-19. And, Arminia Bielefeld will once again embark on a top-level campaign in Germany. Their fans hope their latest stay in the Bundesliga with the likes of Bayern and Borussia Dortmund is not simply a fleeting one.
Arminia's Stadium
Home to Arminia Bielefeld since way back in 1926, though renovated on numerous occasions since then. The Bielefelder Alm is a classic German football stadium with a capacity of 26,500.
As is the case with many clubs these days, the ground has a temporary name based on its sponsorship deal. So for Arminia home games these days, you should be on the lookout for the SchucoArena.
A neat, square-looking stadium providing an excellent atmosphere for games, the Bielefelder Alm sits just a mile from the centre of the city meaning the home side garner great support here with plenty of noise being created in the true German footballing style.
Famous Arminia Bielefeld Names
The best-loved man to have managed Arminia Bielefeld was Ernst Middendorp, the Freren-born coach who took charge of the team on three separate occasions in his career and earned fan-favourite status.
In terms of their all-time best players, it would be fair to say that Arminia Bielefeld hasn't really possessed players of the calibre of Lewandowski or Klinsmann! That said, it is all relative with the following names being remembered very fondly by supporters of the club:
Uli Stein, Gunther Schafer, Wolfgang Kleib, Thomas Helmer, Dieter Schulz, Arne Friedrich, Helmut Schroder, Thomas Stratos, Walter Claus-Ohler, Silvio Meissner, Frank Pagelsdorf, Billy Reina, Fritz Walter, Thomas von Heesen, Edwald Lienen, Bruno Labbadia, Bernd Kirchner and Norbert Eilenfeldt.
Club Honours
In terms of cup success, Arminia Bielefeld has done most of their winning in regional tournaments. Bielefeld has been Westphalian Cup winners five times (1908, 1932, 1991, 2012 and 2013) although back in time they were also West German Cup winners in 1966 and 1974.
At the various levels in which they've played over the years, Arminia has also landed a few lower league titles. The club were champions of the Oberliga Westfalen in 1990, the third tier at the time, as well as in 1995 when that level became Regionalliga West/Sudwest and once more in 2015 when the level became known simply as 3. Liga.
While Arminia has never held a long-term spot in Germany's top flight, they have proven to be strong in the second tier. The club has been champions of the 2. Bundesliga four times; 1978, 1980, 1999 and 2020.
Wager on Arminia Bielefeld Games with Roger.com Now!
You can bet on all Arminia Bielefeld matches now via Roger.com. Get on via one of our recommended online bookmakers to bet quickly, safely and securely.