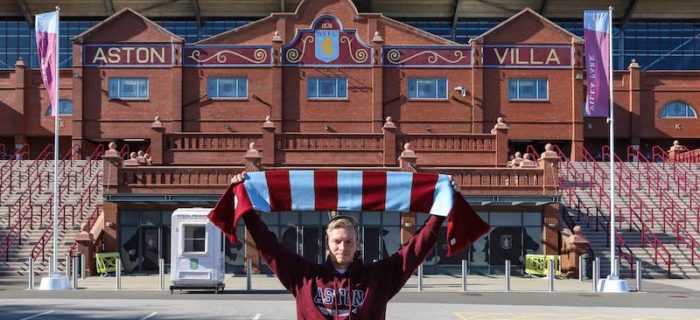 One of the most famous names in English football is Aston Villa FC, the Birmingham-based club who has an enviable record in the top flight over the years.
After a brief hiatus, Villa is once again a Premier League club these days and look set for a bright future should they be able to keep hold of their top talent.
Aston Villa FC Club History
Aston Villa FC was founded in 1874 and an extremely strong start from the club saw them win many domestic trophies in England in the late 1800s and early 1900s, though their domination of the sport stopped suddenly.
Trophies became scarcer, Villa taking the FA Cup in 1957 and the League Cup in 1961 but from the mid-'70s to the early '80s things reached new heights.
Having won the league title for the first time in the modern game in 1981, Villa gained serious momentum. Their First Division win, of course, got them into the European Cup, a tournament they duly won at the first time of asking by winning the final 1-0 in The Netherlands.
The snowball effect continued, with Villa putting in a rousing performance in the second leg of the following season's European Super Cup to beat Barcelona 3-0 at Villa Park and 3-1 on aggregate, but there the momentum suddenly stopped.
Their league form had already stuttered due to their European Cup campaign having followed up a championship-winning year with an 11th place, though they came into the new season looking to go strong on the Continent once again.
They reached the quarter-finals this time and finished 6th in the league but ultimately it showed that while they stayed strong, they weren't England's top force anymore.
Villa had their moments in the '90s and the 2000s, finishing second in the top division but ultimately, they were relegated to the Championship in 2016 after 24 years in the Premier League. Achieving promotion at the third attempt, Villa reached the Premier League once more in 2019.
Villa Park
In the all-seater era, Villa Park has a capacity of just over 42,000 but it was once capable of hosting many more. The ground has been Aston Villa's home since 1897 when it was completed.
As well as being the very famous home of Aston Villa, Villa Park was also synonymous with FA Cup semi-finals, hosting games just about every season before the decision was finally made to play all semis at Wembley.
Villa Park, in fact, has hosted no less than 55 FA Cup semi-finals in its history, more than any other venue in England.
The ground is made up of the Doug Ellis Stand, the Trinity Road Stand and behind each goal the North Stand and the famous Holte End. It is hoped the capacity can be increased to 50,000 in the future to cope with modern Premier League demands should the club stay in the big time.
Villa's Most Famous Players
Of course, it's natural that fans will be able to vote for players they can remember playing, but given Villa's amazing early history (see below) it seems strange that they continually nominate Villa players from the modern era as the club's legends.
Players often named in Villa's 'greatest ever players' votes include:
Charlie Aitken,
Olof Mellberg,
Peter Withe,
Gordon Cowans,
Dennis Mortimer,
Paul McGrath,
Johnny Dixon,
Mark Bosnich and
Gabriel Agbonlahor.
Club Honours
Although recent times have been a little lean, Villa's cup-winning history is really rather illustrious.
Domestically Villa has taken no less than 20 major trophies, winning the top tier in England (First Division, now Premier League) seven times in 1894, 1896, 1897, 1899, 1900, 1910 and 1981.
Villa's very early league domination was matched by their FA Cup exploits too, the club winning the biggest domestic knockout trophy on seven occasions in 1887, 1895, 1897, 1905, 1913, 1920 and 1957.
Much later, though not as recently as Villa fans would like, the club's biggest domestic successes have come via the League Cup. Aston Villa has taken this competition five times, in 1961, 1975, 1977, 1994 and 1996. They were also Charity Shield winners in 1981.
Villa even had some success at the very highest level, becoming European Cup champions in 1982 when they beat the mighty Bayern Munich 1-0 in Rotterdam with a Peter Withe goal.
Villa even followed that success up with a European Super Cup victory against Barcelona later the same year.
Place Your Bets on Aston Villa with Roger.com
Now you know a little more about Aston Villa FC, you can back the claret and blue army with confidence. Get on via one of Roger.com's recommended online bookmakers to get the best price.