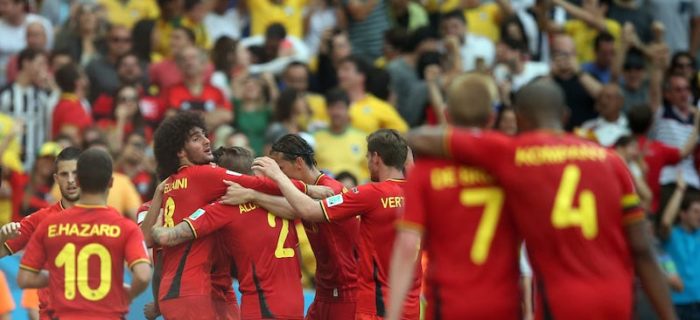 At the top of the Belgian football pyramid sits the First Division A, formerly the Belgian Pro League and renamed in 2016. Read on to learn more about Belgian First Division A Betting.
Football has been a staple in Belgian for a long time. This league, under a different guise, was initiated back in 1895. It is run by the Royal Belgian Football Association and over the past 120+ years, it has been won by 16 different teams.
While other nations have now taken over, upon the publishing of ranks for the first time by UEFA in 1979 the Belgian league was ranked third in Europe. It has proven to be a great starting point for many future top stars of the game down the years.
Belgian First Division A Betting Format
The league is fought for by 16 clubs every season. One new club coming in from First Division B via promotion.
It is decided in a very standard format in terms of the regular season. Each team playing each other once at home and once away for a 30-game campaign in total per team. The season runs from late July up to May.
After that, the Championship Round begins, colloquially known as the play-offs. The top six teams from the regular season play each other once at home and once away again for a further 10 games each.
Relegation and European Qualification
Ultimately, after the Championship Round is done and dusted, the winners are crowned champions of Belgium.
This team then qualifies for the UEFA Champions League.
The second-placed team enters the Champions League Qualifying Round.
The third side go into the Europa League
The fourth enters the Europa League qualifiers.
Relegation is confirmed for the bottom side at the end of the regular season who drop into First Division B and are replaced by the champions from there.
Biggest Teams in Belgium's First Division A
Currently, teams such as Genk, Standard Liege, Gent and Royal Antwerp are all doing well and all will be very recognisable names to many around Europe.
Giants Anderlecht, however, is the most successful side in Belgium domestically, winning more than twice the number of titles taken by main rivals Club Brugge. Some of Europe's top players, such as Eden Hazard, have begun life playing in this league.
Best Betting Markets in Belgian First Division A
In recent times Belgium's top division games have been throwing out an average of around 3 goals per game, which is pretty high in comparison with many other leagues of a similar profile.
Also, those goals are shared out nicely with teams from third right down to around 12th appearing equally capable when it comes to finding the net.
Home wins come in at around 45%, right on the average, meaning there aren't too many let-downs when it comes to creating accumulators, only around 23% of all games ending in a draw which is excellent from a betting point of view.
With those things in mind, here are the main markets to concentrate on:
Match Betting – given the above stats, it's clear that when the top two or three are in action at home they can be trusted to get the job done. For a little more value though, there are relatively few draws and so backing teams away from home can often pay off. As long as the team you're backing aren't among the lowest scorers overall and/or they are not away to one of the big two or three, over the course of time you may find yourself in profit.
Total Goals Betting – at 3 goals per game the Belgian league is fairly high scoring, and betting on this market means you aren't concerned about the result or even who scores. Betting on over 2.5 or in some cases even over 3.5 can really pay off in this league.
Both Teams to Score – betting 'yes' in this market in Belgian matches is a definite money maker. Avoid games featuring those right at the top of the league, who can often win to nil, likewise those at the very bottom who struggle to score. Those from positions 4-14 (ish) all appear to share out the goals here and that's what we want.
Place Your Belgian First Division A Bets with Roger.com
This is an entertaining league and one that provides us with plenty of betting opportunities in the goals markets. To make sure you get the best value for money though, place your bets via Roger.com with any of our highly recommended online bookmakers.