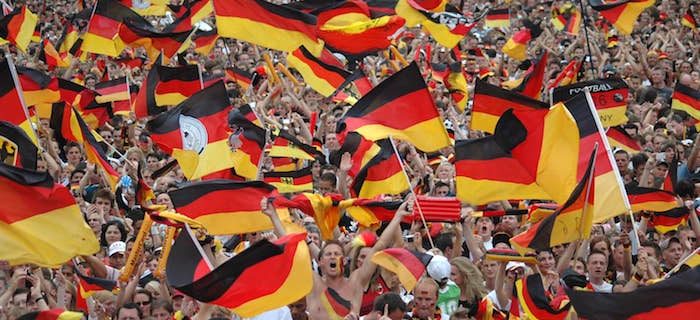 Germany's football pyramid is a large one but the at the very tip of it is the German Bundesliga, the pinnacle of professional football in the country.
Unlike in other major European leagues, the German Bundesliga is made up of only 18 teams rather than the usual 20, something that helps to keep the quality of those involved sky-high – there are no also-rans here!
The league was founded relatively recently in 1963. The most successful team in Germany rather unsurprisingly being Bayern Munich with an incredible 28 titles. Although, the likes of Borussia Dortmund and Bayer Leverkusen have made a significant splash in European club competitions in recent times too.
How Does the German Bundesliga Work?
There are 306 games in total across the Bundesliga season, every team playing each other once at home and once away to complete their own 34-game season.
While the efficiency in the style of play this league was known for is still in existence to a certain extent, the Bundesliga has become much more entertaining in recent years with high-scoring games not unusual at all, probably owing to an influx of players from South America and Spain.
Like most European leagues, games are spread across the weekend for live TV with a Friday night game kicking things off, a couple of Sunday afternoon matches finishing the weekend and the two sandwiching the familiar Saturday afternoon kick-offs.
Bundesliga Table – Qualification
While this league is trimmed down to eighteen teams that do not detract from its recognised quality and as such, the top four teams from the Bundesliga qualify for the Champions League just as they do in England and Spain.
The fifth-placed team goes directly into the Europa League and even the sixth enters the qualifiers for the same tournament, so fully one-third of the league qualifies for Europe in one guise or another, making this division the competitive beast that it is.
Down at the lower end of things, the bottom two go down automatically while the third from bottom enters a relegation play-off with a team from Bundesliga 2, essentially meaning that in the closing days and weeks of the season only nine of the 18 clubs will not be celebrating or commiserating in one form or another.
The Bundesliga's Top Teams
It goes without saying that Bayern Munich is the top dog here, their terrific spending power having meant another period of domination for the gargantuan Bavarian club.
RB Leipzig, following promotion a couple of years ago, has climbed the ranks pretty quickly though and are now challenging for domestic honours while Bayern's traditional recent rivals, Borussia Dortmund, are never far away either.
Bayern and Borussia, in fact, contested an all-Germany Champions League final at Wembley not so long ago which went a long way towards showing just how good the Bundesliga is, and with so few points separating first from seventh right now you can guarantee that there will be a number of home teams every weekend that are a safe bet when backing them online.
Bundesliga Betting Markets
Betting on Bundesliga is great for football punters, as the teams in rather stereotypical German-style tend to be very professional, the mantra being that they're "always trying".
While many games are close to call, often leading to juicy match odds, this is a great league for favourites given that they take every single game extremely seriously and so you are always safe as a bettor in the knowledge that your chosen side will be doing its utmost to get the job done with no matches taken lightly at all.
The best markets in the Bundesliga are the basic ones, mainly:
Match Betting – home win/draw/away win. Should a team be a strong favourite, especially at home, they are often a safe bet to put into an accumulator.
Asian Handicap Betting – As the likes of Bayern Munich will never be happy to sneak a 1-0 win, backing them to score at -1 can often bring rewards with an inflated price.
Total Goals Betting – for the same reason as above, backing 'over' a certain number of goals with a strong Bundesliga favourite often pays dividends.
Bet on German Quality
If the ruthless efficiency and hard-working nature of the Bundesliga gives you confidence as a punter, why not have a bet on the league via one of our recommended online bookmakers?
The quality of this division is never in doubt, so you can place match bets with true confidence that you'll get a run for your money.