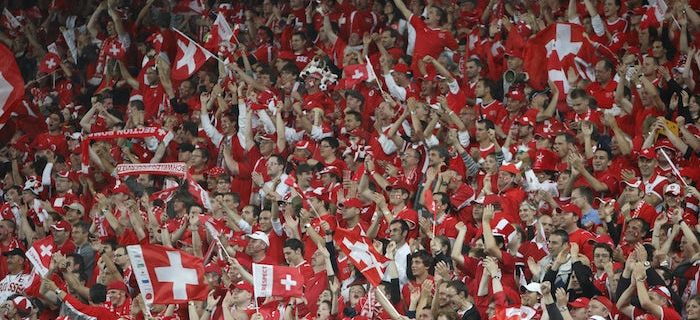 The Swiss Super League is the top tier of the football pyramid in Switzerland, played in its current guise since 2003. Those having a bet should watch out on coupons for the Raiffeisen Super League, named after a sponsor, as it may show up this way in some lists.
A league was first formed in Switzerland way back in 1898, then the Swiss Serie A, which was changed in 1933 to the Nationalliga A and it remained this way for another 70 years.
It goes without saying then that Switzerland has a very rich and full footballing history. Despite rather stereotypically remaining under the radar for the most part.
How Things Work in the Swiss Super League
Another thing that is so brilliantly typically Swiss is how this league is formatted. Things are so simple:
There are only ten teams in the top tier here
No mid-season breakaways
No mini-leagues
No championship or relegation groups
The ten top-level teams simply play each other twice at home and twice away. At the end of a full 36-game season, the top team is crowned Swiss champions.
European Qualification
Switzerland is fairly highly ranked for quality despite its size. This means that both the winners and runners-up from the Super League go into the UEFA Champions League qualifiers.
The third-placed team can go straight into the group stages of the Europa League. While teams four and five enter the qualifying rounds for the same competition.
Relegation
The bottom side is relegated to the Challenge League, being replaced by the winners of that division. The second-bottom team enters a play-off with the runner-up from the Challenge League. This play-off decides the final place in the following year's Super League line-up.
Switzerland's Most Successful Teams
Grasshopper from Zurich is the most successful side in Switzerland domestically with 27 titles to their name. However, the good times are pretty much over for now given that they last won the league in 2003. And were eventually relegated to the Challenge League in 2019.
Basel is next on the list with 20 titles, Servette has 17. The current big dogs are Young Boys who in 2019 won their 13th Super League title and their second in a row.
Those watching European football will recognise all of those teams. As well as St Gallen and Sion, who have performed in Europe's top competitions in recent times, having qualified through this league as winners.
Best Betting Markets
With up to 5 teams from this league qualifying for Europe and two more in danger of relegation, it means there are virtually no dead rubbers. That's what we need from a gambling point of view.
70% of the league is either celebrating or commiserating come May. Every game right to the last featuring at least one team that has something to challenge for.
Home wins come in at around 42%, so they aren't reliable on their own. While nearly a third of all games in the league are won by the away side. This does open doors for us in terms of betting value.
Less than half of all games would have won you a 'both teams to score' bet, so at 8/11 and 4/5 generally, there's no value there either, but betting in these markets can pay off:
Match Betting – home/draw/away – betting on solid away teams does well here, with odds offered similarly to major leagues and yet almost a third of all games being won by away teams, so look out for a European challenger playing away and going off at 2/1+.
Win to Nil – backing home sides on their own won't always pay off here, but around 65% of home teams that do win in this league do so without conceding a goal. Backing a solid, top-of-the-table team to win to nil will greatly enhance the odds.
Total Goals – around 3 per game are scored here, but there are plenty of 1-0, 1-1 and 2-0 scorelines. The average is boosted by the 4+ goals scored in games concerning the top five, so betting on 'over 3.5 goals' in games featuring the European challengers, especially when they play each other, can be lucrative.
Betting on the Swiss Super League
You can place total goals bets and take a punt on some strong Swiss away sides in the Super League with any of our recommended online bookmakers now.