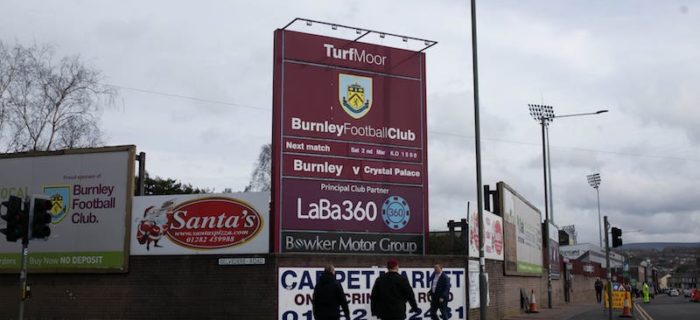 Nicknamed The Clarets, Burnley FC has been a fixture in the English Premier League since 2014 despite briefly dropping out. A regular on weekend betting coupons, Burnley are often tough to beat and so are backed on a regular basis.
Although it doesn't occur too often these days the chief rivalry involving Burnley is when they play in the East Lancashire Derby against Blackburn Rovers, in fact, we can only hope Rovers are promoted before too long to add even further spice to the Premier League.
Burnley FC Club History
The football club was founded in May 1882. In fact, it was founded by players from Burnley Rovers rugby team, who wanted to move to what was at the time the new niche of association football. They dropped the 'Rovers' tag shortly after and became professional by 1883.
Burnley FC quickly got into stride as a football club and won the Second Division in 1898, followed fairly swiftly by their first FA Cup triumph in 1914.
The progression continued for The Clarets under Bob Lord, Harry Potts and Alan Brown from the '40s right up to 1970s. However, it's at this point things started to go wrong. Burnley was relegated all the way down to the Third Division by 1980, although they got back to Division Two in 1982.
More misery followed when Burnley only avoided relegation to the non-league ranks on the final day of the 1986-87 season but began a steady recover thereafter. Moving up (and occasionally down) the leagues ever since Burnley became a Premier League team in 2014 and but for one season (2015-16), they have remained there since and continue to outplay their odds every season.
Turf Moor
With just a 21,000 capacity, Turf Moor is one of the more intimate and indeed occasionally intimidating Premier League stadiums in England.
Burnley's home for all of their history, Turf Moor actually pre-dates the club by some 50 years with cricket having been played there from its foundation as a sports venue.
These days the venue is naturally an all-seated arena, and since 2014 renovations have still been required to continually get Turf Moor up to modern standard with wooden seats in the away stand replaced with plastic ones as recently as 2019.
Famous Burnley Players
Achieving heroism at a club like Burnley is about a lot more than being talented. Those with extreme skill sometimes don't stick around long or don't put a full shift in, and so Burnley's better-remembered players are those with extreme numbers in the bank when it comes to appearances for the club.
With that, some of Burnley's legends include Jerry Dawson, Alan Stevenson, John Angus, Martin Dobson, Jimmy McIlroy, Tommy Cummings, Leighton James, Steve Davis and Michael Duff.
The Clarets have also had a real knack in recent years for producing goal scorers who have gone on to achieve major things. Their top scorers since 2007 have included Steven Fletcher, Jay Rodriguez, Charlie Austin, Danny Ings, Andre Gray and Chris Wood.
In their own Premier League era, Burnley's better performers have arguably been recognisable figures:
Tom Heaton
Kieron Trippier
Ben Mee
Danny Ings
Michael Keane
Ashley Barnes
James Tarkowski
Nick Pope
Club Honours
Although in the Premier League era one doesn't think of Burnley as one of the big hitters, they have in fact been English champions on more than one occasion.
In 1921, The Clarets won the First Division title for the first time when finishing five points clear of Manchester City, with Bolton, Liverpool and Newcastle all in behind.
A second top-tier title followed in 1960 when the club pipped Wolverhampton Wanderers and Tottenham Hotspur. Burnley won what for them was a real war of attrition, the club being only the third-top scorers at home and the seventh-top scorers away and yet always finding a way to get the job done.
The club were also runners-up in the top division in both 1920 and 1962.
Burnley have played more regularly in the second tier, winning it as the Second Division in 1898 and 1973 as well as the Championship in 2016.
A single FA Cup triumph came for the club in 1914 when they beat Liverpool 1-0 at Crystal Palace, they won the Charity Shield outright in 1973 and shared it in 1960 while they have also been successful in some minor cup competitions too.
Burnley won the Anglo-Scottish Cup in 1979 and reached the final of both the Texaco Cup and the Associate Members' Cup in 1974 and 1988 respectively.
Back Burnley Now with Roger.com
Now you know a little more about this famous old Lancashire club, you can place bets on The Clarets with confidence via any of Roger.com's recommended online bookmakers. Get on now!