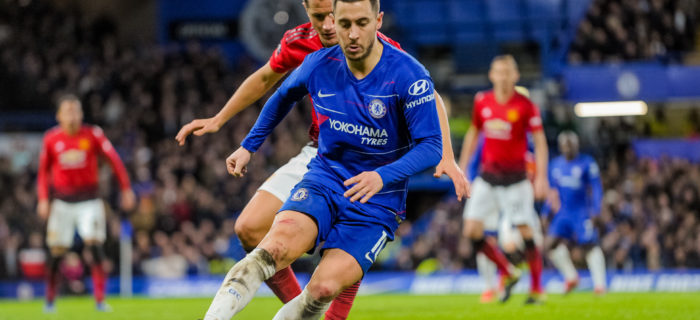 The FA Cup
Officially known as The Football Association Challenge Cup, the FA Cup is a yearly knockout soccer contest in the domestic English game. The standard of soccer is invariably sky-high, with plenty of drama and some spectacular footballing talent is always on display.
The final is one of the biggest days in the season's calendar. This is also the world's oldest nationwide football competition and was first played during the 1871-1872 season. Since 2015, it's been known as the Emirates FA Cup.
Clubs eligible to enter include:
All 92 professional clubs in the Premier and English Football Leagues
Hundreds of 'non-league' sides in Steps 1 to 6 of the National League System
However, in the modern game, only a single non-league team has ever made the quarter-finals, while no side below Level 2 has reached the final.
The qualifying competition is made up of the first six rounds, from this 32 sides go on to the competition proper's first round, where they meet 48 professional teams from Leagues One and Two. The Championship and Premier League clubs are the last to enter and start in Round Three.
In 2019, the contest's third and fourth rounds will be completed by the end of January, the fifth round on the weekend of February 16 and 17, the quarter-final a month later and the semis on April 6 and 7.
The winners will lift the trophy on May 18 after the final at Wembley.
While teams like Liverpool and Chelsea have been among the less surprising winners, Wigan Athletic was a fairytale winner in 2013 in the final against Manchester City. (In a cruel twist of fate, Wigan was then relegated from the Premier League just a couple of days later.)
In the same year, 2013, when Norwich City took on Luton Town in a fourth-round tie in the January, and Luton were victorious 1-0, it was the first time in the era of Premier League that a non-league team had beaten a top-division side.
Betting online on The FA Cup
You'll find myriad options among the online FA Cup betting markets, from outright bets to a vast range of odds on different games. Whether you're betting on a big, starry side or wagering that a 'minnow' of a lower-league club will cause an upset, there are stacks of choice.
Placing a stake on one of the Premier League sides to win has proved profitable in recent years, while in-play betting is another option.
With just about all bookies, online FA Cup betting is a fixture all season.
Understanding odds
Odds from most bookmakers are shown in fractional or decimal format. Some find the decimally expressed odds easier to understand. With these, just multiply your stake by the odds to calculate potential winnings – for example, a £10 bet on Arsenal to win the cup at decimals odds of 6 means a potential £60 win.
Bet types
As well as the classic betting on the outright winner, you can often build your own bet, alongside other options, including:
Right score
Especially during the earlier stages, this can prove an intriguing market, not least because scores in many of the games are often unpredictable.
Corners market
This one can add interest where there is a clear favourite in a game – in a match where a markedly stronger and weaker team clash, there's more scope for corners and therefore value bets.
Over/under bet
With this kind of wager, the sportsbook predicts a number for a particular match (typically both teams' combined scores). Punters then bet that the actual results will be higher or lower than those forecasts.
With FA Cup games, placing this kind of bet may be easier than with other clashes. Given the difference in standard between sides (e.g. Premier League vs. League 2), it should be possible to identify where there are likely to be large score margins.
FA Cup betting tips
Predictable finals – Despite the thrill of occasional upsets, remember that, for more than the last three decades, the Cup has been won by a top-tier side. (The winners in the last three years were Manchester United, Chelsea and Arsenal.) So, especially initially, it may be worth focusing on the best short odds around.
Strong individual players – Keep an eye on strong individual players, since these can have a huge impact on betting markets
Strong league performers – You may want to focus on teams playing well within their own leagues
Promotions
Many online bookmakers run promotions all season, including free bets for new customers, money-back specials etc., so it's worth shopping around. Sometimes, some of the better offers are often to be found with the newer bookmakers.
But with so much excitement, you'll want to take a punt on the FA Cup at some point!