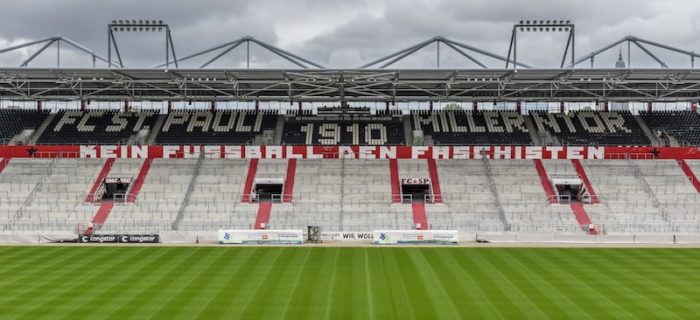 The club many of us know as St. Pauli is officially called Fussball-Club St Pauli von 1910 e.V, a well-known name on the German fixture list.
St. Pauli has existed for a long time on the Hamburg and wider football circuit but began in the '80s to foster its cult culture, is known as a Kult club in Germany.
Being situated in the red-light and entertainment district within Hamburg has been used by the club to its advantage, St. Pauli flying a skull and crossbones flag among other things.
FC St. Pauli Timeline
1899 – an informal group of football enthusiasts begin a club
1910 – the club is officially founded as St. Pauli TV
1934 – St. Pauli play in one of Germany's 16 top-flight leagues
1947 – the club wins the Stadtliga Hamburg title, counting as a top-level success
1950 – throughout the decade and into the '60s, St. Pauli is overtaken by Hamburger SV and other local sides
1963 – with local teams Hamberger SV and Werder Bremen among others entering the new Bundesliga, St. Pauli have to make do with a spot in the Regionalliga Nord
1981 – during a golden era at this level, St. Pauli won the first of three Oberliga Nord titles in six years

2001 – the club make an appearance in the Bundesliga, famously beating Bayern Munich
2011 – St. Pauli returns to the 2. Bundesliga, playing there for a decade
Home Stadium
FC St. Pauli's home stadium is the Millerntor-Stadion, a sporting central hub for the St. Pauli part of Hamburg and especially this famous football club. The stadium is situated on the Heiligengeistfield, where originally there was a simple flat sporting area placed just after WWII.
The ground as we know it now went under construction in 1961 and opened for business in 1963, with a renovation taking place to modernise in 1988 and then a €55million expansion being completed between 2006 and 2015.
Originally, the capacity here was 32,000 and to be fair it hasn't changed much; now standing at 29,546 for domestic matches with safe standing which was reached when St. Pauli played Arminia Bielefeld in 2015. Between 1970 and 1998, the ground was known as the Wilhelm-Koch-Stadion.
The ground's name is derived from the Millerntor Gate, a point of entry into the city and part of its fame is that it sits right near the famous Reeperbahn, Hamburg's major red-light district, something that has given the stadium and the club a rather edgy reputation.
Notable St. Pauli Players
FC St. Pauli has proven to be a veritable breeding ground for footballing talent over the years.
As well as their own cult heroes playing at the Millerntor-Stadion and elsewhere, some genuinely international-class players have pulled on this famous shirt down the years including:
Gerald Asamoah, Alfred Beck, Cory Gibbs, Junior Hoilett, Ivan Klasnic, Max Kruse, Karl Miller, Tore Pedersen, Christian Rahn and Carlos Zambrano.
More importantly, however, St. Pauli's own fans have had their say on who the best players are to have ever represented the club, at least in each position, with their favourite all-time XI as of 2010 consisting of:
Kalus Thomforde, Andre Trulsen, Walter Frosch, Karl Miller, Dirk Dammann, Michel Mazingu-Dinzey, Thomas Meggle, Jurgen Gronau, Harald Stender, Peter Osterhoff and Franz Gerber.
Despite them being rarely at Germany's top table as a club, FC St. Pauli is a team with players that have traditionally loved playing for with the all-time XI having exemplified the attitude expected of them by the home support.
Club Honours
When Germany's top tier was regionalised around the time of WWII, St Pauli was one of the many teams to claim a title, winning the Stadtliga Hamburg once in 1947.
At slightly lower levels, St. Pauli have had their biggest successes in the following tournaments:
2. Bundesliga Nord Champions x 1 – 1977
Regionalliga Nord (Tier 2) Champions x 4 – 1964, 1966, 1972, 1973
Regionalliga Nord (Tier 3) Champions x 1 – 2007
Oberliga Nord Champions x 3 – 1981, 1983, 1986
Hamburger Pokal (Hamburg Cup) Champions x 4 – 1986, 2004, 2005, 2006
As well as claiming these successes, St Pauli has been promoted from the modern 2. Bundesliga three times via the runners-up spot, namely in 1988, 1995 and 2010.
Their reserve team have also been responsible for various wins, including three in the Hamburger Pokal, the Oberliga Hamburg and the Schleswig-Holstein championship too.
Wager on All FC St. Pauli Games with Roger.com
You can bet on all of FC St. Pauli's matches via Roger.com. Get on now to bet quickly, safely and securely with one of our highly recommended online bookmakers.