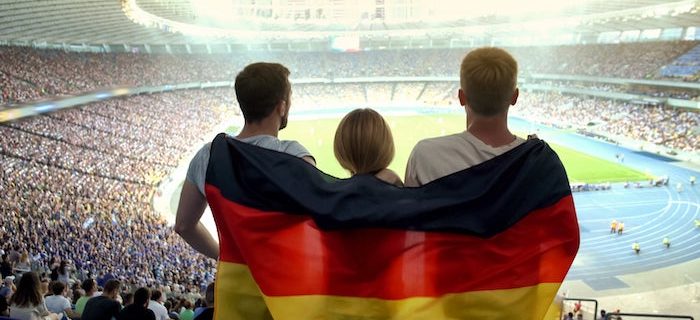 The German Regionalliga Nordost accommodates teams from within the states of West Berlin and former East Germany. This includes the states of Mecklenburg-Vorpommern, Berlin, Brandenburg, Saxony, Saxony-Anhalt and Thuringia.
Alongside the Regionalliga Bayern, Regionalliga Nord, Regionalliga West and Regionalliga Südwest this league forms the fourth tier of German football.
In the Regionalliga Nordost's case, the division used to form part of the third tier from '94 – 2000. However, in 2000 the format was restructured.
It is administered by the North-Eastern German Football Association. Not many major teams have come through this league. However, it does provide a good platform for promising younger players to show off their skills.
How Does the Regionalliga Nordost Work?
Each season, 18 teams take part in this league. They play each other once at home and once away for a 306-game regular season overall.
The quality of football for a semi-professional league is excellent and often produces higher scoring games. The percentage of home wins in 2019 was around 43% mark, a tad below the overall average. But the Regionalliga Nordost produced over 3.1 goals per game meaning entertainment levels are high.
Generally, a full round of games is played in this league on Sunday afternoons so that is the time to watch out for fixtures. Always bear in mind that the goal count may be high, but home wins are not a given for accumulator purposes.
Regionalliga Nordost – Promotion and Relegation
Things are kept extremely simple at this level of German football. Only the champions of the division get a chance to play in a promotion play-off for the possibility of entering 3. Liga. On the other hand, only the bottom side is relegated out of the league.
Four teams are relegated from the 3. Liga itself. The winners of the Regionalliga Südwest, Regionalliga Nord and Regionalliga Bayern all claim automatic promotion. While the champions from this division are required to play-off with the winners from the Regionalliga West over two legs to decide the final place in tier 3 of German football.
Regionalliga Nordost's Biggest Teams
Given where this league stands in the German pyramid not too many major names have come down this far. Nor have they made it to the top from here but it can happen.
The 2018/19 champions were Chemnitzer, based in Saxony. The club has been to the top level in its older guises and has won at this level three times in their recent history. They also played Newcastle United in a high-profile friendly back in 2012, winning the game 1-0.
The biggest success story has to be RB Leipzig, who entered this league in 2013 and immediately won it. Successive promotions followed from 3. Liga to Bundesliga.2. Since 2017, they have been a fixture in the Bundesliga itself, finishing third and qualifying for the Champions League in 2018/19. This success shows that the Regionalliga Nordost can be a great springboard to future success.
Regionalliga Nordost Betting Markets
Betting on Regionalliga Nordost games can be very rewarding, but only if you think outside the box. While German teams are noted for their consistency, in this case of the fourth-tier games they are little more open. That tends to mean more entertainment, plenty of goals but fewer certainties in terms of home favourites for safe accumulators.
With these factors in mind, especially the total goals element, the betting markets to concentrate on in the Regionalliga Nordost are most likely these ones:
Match Betting – home win/draw/away win. The rate of home favourites winning is just slightly behind the norm, and that includes top v bottom and long odds-on shots. So, finding a nicely-priced away team in such an open, high-scoring league can land you a profit over time.
Both Teams to Score – if you don't want to take a chance on the actual result, betting yes in the BTTS market in any high-scoring league often pays dividends and that can also be the case here.
Total Goals Betting – as with the above, betting on over 2.5 or even over 3.5 in this league can payoff but be wise; sometimes two attacking teams can cancel each other out, so do this on a match featuring one high-scoring side and a mid-table team with ambition, but not a great deal of quality.
Take a Punt on the Regionalliga Nordost
It may not be the most famous league in Europe, but Regionalliga Nordost can provide some fine betting opportunities and you can bet on games in this division with any of our recommended online bookmakers.