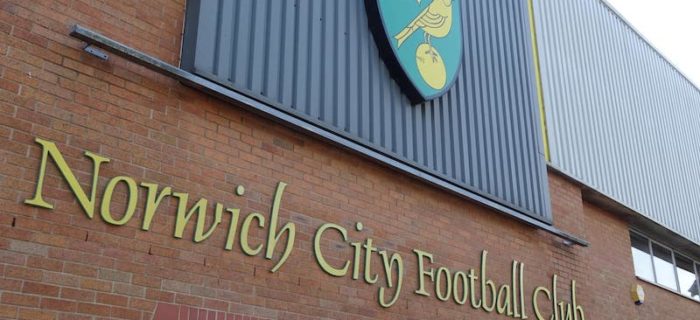 Norwich City FC, known to all and sundry as The Canaries, is a regular fixture on top British bookmakers' football lists.
While not always managing to hold onto their top-level status for very long, plucky Norwich so often achieves Premier League promotion and usually do so playing really attractive football.
Still playing at one of the most popular old grounds, Carrow Road, Norwich remain many neutrals' favourite teams and enjoy a great rivalry with fellow East Anglia side Ipswich Town.
Norwich City FC History
Following what must have seemed at the time like an innocuous meeting at a café in the city in the summer of 1902, Norwich City Football Club was formed. The Canaries played their first proper match at Newmarket Road against Harwich and Parkeston later the same year.
The club joined the Norfolk & Suffolk League at first. However, then turned professional and were elected to play in the FA's Southern League.
The club moved from Newmarket Road to Carrow Road, their current home in the '30s. Between 1959 and the '80s the team went on to have some excellent cup runs, though never became English champions at any point.
From 1992, when the league was inaugurated right until now, Norwich has been somewhat of a yo-yo club as far as the Premier League is concerned. They've been relegated all the way down to League One and come back up several times.
Carrow Road
Initially, Norwich City played at Newmarket Road. The place called colloquially known as The Nest due to the club's Canaries nickname.
In the 1930s, Norwich was attracting good crowds to the point that it was decided that the best The Nest could manage – around 25,000 – was no longer sufficient. A new stadium was needed for the club.
Carrow Road Stadium, therefore, was built and opened in 1935. Originally capable of hosting 40,000+ crowds, the record attendance is 43,984. The ground has been expanded and redeveloped several times, most notably in 1979, 1984, 1992, 2004, 2005 and 2010.
As a safe, modern all-seated arena, Carrow Road can now only accommodate 27,100 people. The ground is compact and bijoux, however, it remains very popular with a great atmosphere created. Especially when Ipswich come to town!
Should Norwich reach the heights of the early '90s and manage to stay there then there is no doubt this ground would be seen as not fit for purpose. However, given the club's current level and the fact that Carrow Road has had money spent on it seems that we will be seeing football here for quite some time. That can only be a good thing.
Influential Norwich City Players
Outright success hasn't been plentiful at Norwich City more's the pity. However, they are jealously proud of their own all-time greats and rightly so.
The Canaries have their own Hall of Fame and it's a long list featuring recent starts such as Craig Bellamy, however major Hall of Famers such as:
Terry Allcock, Ron Ashman, Mark Bowen, Bobby Brennan, Barry Butler, Bryan Gunn, Ian Crook, Ian Culverhouse, Jeremy Goss and Johnny Gavin really have done some great things for the club.
Across the last few seasons, when Norwich have experienced promotion and relegation, some of their most influential players have included:
Angus Gunn, Josh Murphy, Timm Klose, James Maddison, Tim Krul, Mario Vrancic, Emiliano Buendia, Teemu Pukki, Onel Hernandez, Todd Cantwell, Max Aarons, Alex Tettey and Jamal Lewis.
Club Honours
Despite being a fairly regular Premier League club, Norwich City FC has registered surprisingly little in the way of top-level success down the years.
The Canaries were League Cup winners back in 1962 and 1985, while also reaching the final in both 1973 and 1975 meaning in all that competition is where they've done best.
In gaining promotion to the top level from the second tier, which they have done on numerous occasions, Norwich has lifted the Second Division or Championship trophy four times; in 1972, 1986, 2004 and 2019. They also won the League One title in 2010.
Arguably Norwich's biggest success, however, wasn't a cup win at all. In finishing third in the inaugural Premier League season in 1993, they qualified for the 1993/94 UEFA Cup and beat Bayern Munich over two legs, winning the away game. They were ultimately knocked out however by a very good Inter Milan team in the next round.
Back the Canaries Now with Roger.com!
Now you know a little more about Norwich City, you can back the East Anglian club with greater confidence. Get on now via one of Roger.com's recommended online bookmakers to get the best service and the best price!