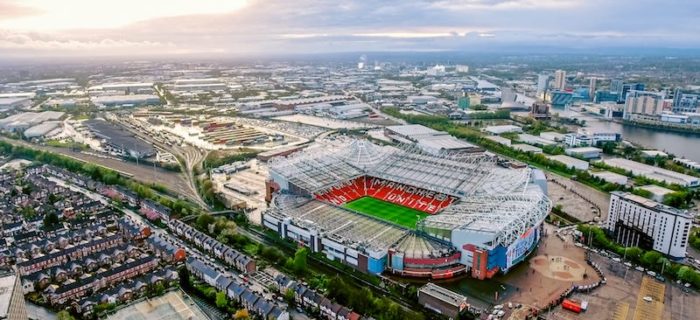 The long-time home of Manchester United, Old Trafford Stadium is iconic and stands these days as the largest club football stadium in Britain, also the second biggest overall behind only Wembley.
As well as hosting all Man United games, Old Trafford has been used for classic FA Cup semi-finals, the 1966 World Cup, Euro 96, England internationals and the 2003 Champions League final among other things.
History of Old Trafford Stadium
1902
Known as Newton Heath until 1902, Man United played their football in Clayton at Bank Street and North Road. Both venues were notorious for being boggy and ultimately unsuitable for football.
1909
When John Henry Davies took over as chairman, he began scouring the area for land on which to build a new stadium. He settled on land near the Bridgewater Canal, an area we now know as Old Trafford. Work on his football venue was complete by the end of 1909.
1973
Despite being damaged during the War, Old Trafford Stadium was gradually modernised and increased in size over the years with a new roof on the Main Stand coming in 1951, while all other areas were modernised by 1959. A roof eventually covered the whole stadium by 1973.
1990s
In the all-seat area, after the Taylor Report, Old Trafford had to be whittled down to what became an all-time low in terms of capacity in the 1990s.
With their success under Sir Alex Ferguson however, more and more money was spent on Old Trafford until the ground reached a capacity of around 76,000, making it the behemoth it is today.
Stats
An iconic English stadium, Old Trafford until recent times has undergone almost constant rebuilding to make it what it is now.
Capacity: 74,879
Record Attendance: 76,962 for Wolverhampton Wanderers v Grimsby Town in the FA Cup Semi-Final, 1939
Pitch: 105m x 68m, made up of a Desso GrassMaster surface
Stands: Ostensibly, Old Trafford is made up of the Sir Alex Ferguson Stand, the South Stand, the East Stand and the Stretford End although all corners are joined and the stadium houses many amenities.
Biggest Games
There have been many classic games at Old Trafford, naturally, however, these five games stand out for their levels of importance.
Manchester United 1-0 Real Madrid
Many remember the 1999 treble-winning team, but Man United's first European Cup triumph was in 1968. To reach the final, the side needed to beat giants Real Madrid in the semis and that they did via a George Best strike in front of a raucous crowd.
In the spring of 1993, Man United was searching for their first Premier League title. 1-0 down on a nervy afternoon owing to a John Sheridan penalty, the home side went into the final five minutes thinking the game was up.
When captain Steve Bruce scored on 86 minutes hopes were lifted, but what was a shock was that the defender stepped up again four minutes later to pop in the winner amid amazing celebrations at the Stretford End.
Manchester United 9-0 Ipswich Town
True, this was a terrible Ipswich side and a comfortable home win for Man United was in fact always on the cards in February 1995. But records are records and nobody had scored nine goals in a single game in the Premier League before. In a merciless performance, the home side netted through Roy Keane, Andy Cole (5), Mark Hughes (2) and Paul Ince as the likes of Ryan Giggs and Andrei Kanchelskis also strutted their stuff.
While many Man United classics have been played here, even more, will remember the finish to this World Cup qualifier in 2001. Needing a draw to beat Germany to the top spot in the group and avoid the play-offs, everyone was super confident nothing could go wrong.
When Nikolaidis put Greece 2-1 up, however, things got very nervy indeed. In fact, England was still behind with 92 minutes on the clock when a free-kick was awarded. Up stepped David Beckham at that point to plant a superb strike into the corner and send England to Japan and Korea.
Manchester United 1-0 Barcelona
In the 2008 Champions League semis, Messi et al arrived at Old Trafford with the tie at 0-0. A tense affair was settled when Paul Scholes rattled in a brilliant strike to send then home crowd into raptures.
Wager on Matches at Old Trafford Stadium with Roger.com
You can bet on all games at Old Trafford Stadium via Roger.com. Wager with one of our recommended online bookmakers quickly, safely and securely now.