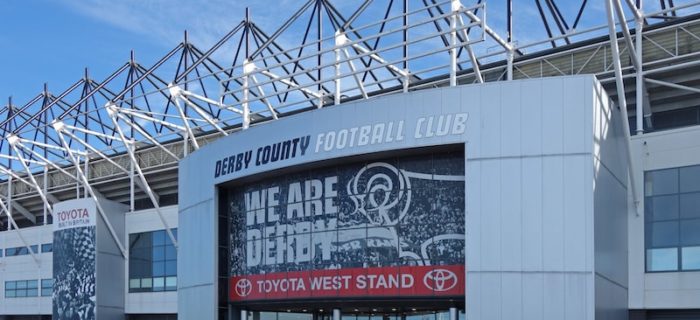 Owned these days by businessman and Derby County Football Club supremo Mel Morris, Pride Park has been home to The Rams since opening in 1997 having replaced their old Baseball Ground. Pride Park sits within the top 20 largest football grounds in England with its capacity of over 33,000.
Due to sponsorship reasons Pride Park, which is also the name of the overall development on which the football venue stands, was known as the iPro Stadium between 2013 and 2016. However, was recently returned to its old title.
The stadium sits just to the south-east of Derby, only 1½ miles from the centre of the city, close to the River Derwent. It is the natural rival to Nottingham Forest's City Ground. Whenever there is the possibility of England hosting major tournaments, the East Midlands usually being required to provide just one venue.
Stadium History
1996
Derby County's old home, the Baseball Ground, was deemed unfit following the Taylor Report. In 1996, the club decided to axe original plans to redevelop and instead moved to a new stadium.
1997
The new Pride Park development was chosen. The land acquired a new stadium based on the Riverside in Middlesbrough was constructed at a cost of £28million. Initially, it was thought that the new ground would be called The New Baseball Ground. However, ultimately the club decided on Pride Park Stadium which was opened in 1997.
2007/8
In the 2007/08 season Pride Park achieved its highest ever average attendance at 32,432. This despite the club finishing bottom of the Premier League with what at the time was a record low in terms of points.
2015
There were financial and ownership issues for Derby County at the turn of the millennium. However, those concerns were mostly addressed for good in 2015 when Mel Morris fully bought out the club's previous American owners. At this point, modernising Pride Park was among the things on his list.
Since Morris took over, the club has remained in the Championship in England. However, a couple of sixth-placed finishes have given Rams fans plenty of optimism for the future.
2007
Should Derby reach the Premier League once again, something they last did in 2007, plans remain to carry on developing this area. Including the football stadium meaning higher attendances could be possible.
Pride Park Stats
One of the newer English football stadiums, Pride Park is a bowl-shaped venue with all corners occupied.
Capacity: 33,597
Record Attendance: 33,597 (for England v Mexico, 2001. Biggest Derby County attendance was 33,378 for a match against Liverpool in 2000)
Pitch: 105m x 68m, made up of a pure grass surface
Stands: North Stand, North East Corner/Family Stand, East Stand, South East Stand, South Stand, South West Stand, West Stand, North West Corner. The West Stand is essentially the main stand, featuring media centres, corporate boxes etc.
Memorable Moments at Pride Park Stadium
The first games at Pride Park were momentous occasions for obvious reasons. On August 4, 1997, the opening ceremony took place by way of a friendly match between Derby and Sampdoria, one the Italians won 1-0 via a Vincenzo Montella goal.
The first competitive match took place just 26 days later when Barnsley came to down, The Rams winning 1-0 this time around courtesy of a penalty scored by Stefano Eranio. The attendance of 27,232 was Derby's highest for many a year.
A number of other high-profile games were played here in the interim years. However, in 2014 The Rams beat the lot when they recorded a win over vicious local rivals, Nottingham Forest, here in a 5-0 romp. One of the greatest moments in Derby County history let alone Pride Park history.
Pride Park has also hosted a number of games not connected to Derby County. As mentioned above, the stadium's record attendance was indeed achieved for an England international. The only one hosted here when the Three Lions beat Mexico 4-0 on May 25, 2001.
Six England under-21 matches were played here between 1999 and 2014 with 28,000 – 33,000+ attending on five of those occasions.
The 2009 FA Women's Cup Final was also played here when Arsenal beat Sunderland 2-1 in front of more than 23,000 spectators.
Back the Rams at Pride Park with Roger.com Now!
Derby County is a force to be reckoned with on their own patch, and you can get the best service and the biggest prices. Place your bets via Roger.com's recommended online bookmakers now.