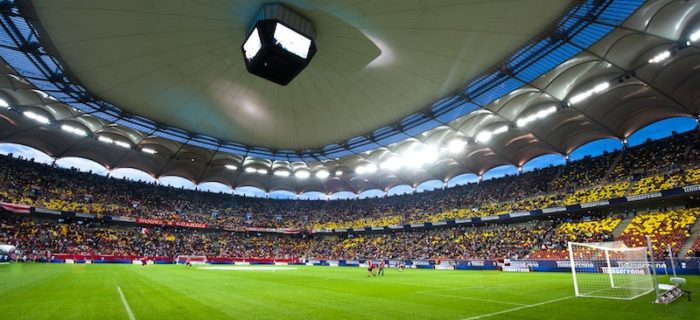 Romania's Liga I is the top professional football league in the country and is administered by the Liga Profesionista de Fotbal. The top league was inaugurated back in 1909 with the sport has had a long history in Romania with the first official league season kicking off in the nation the same year.
For many years Romania's equivalent to the Premier League was known as Divizia A, but in a highly unusual case, the name had to be altered as it transpired that someone else owned the trademark to it!
While dominated by just a small sample of clubs, Liga I has produced some fine players over the years including most notably Gheorghe Hagi who of course went on to global stardom at clubs such as Real Madrid and Barcelona.
Read on for our guide to Romanian Liga I Betting.
Romanian Liga I Betting
14 teams take part of Liga I each season, playing each other home and away to complete a 26-game regular season. At the end of those 26 games, there is a split in the league, though no points are carried over such as in the Scottish Premiership system.
European Qualification and Relegation
After the split, the top six enter the Championship Round and the bottom 8 play in the Relegation Round. The top six play each other home and away once again for a 30-game mini-season (ten games each).
At the end of this, the side at the top is crowned Champions of Romania and move into the qualifying rounds for the following season's UEFA Champions League. Teams 2, 3 and 4 go into the qualifying stages for the Europa League.
The bottom eight face-off in a similar way, playing each other twice in what is a 14-game section of the season for all. At the end of all this, the bottom two are relegated outright to Liga II while the team in sixth enter a promotion/relegation play-off to decide on the last spot for the following year at the top level.
Romania's Biggest Teams
FCSB, still known to most of us as Steaua Bucharest, is the most successful team in Romania while others well known to watchers of European football include Dinamo Bucharest and CFR Cluj.
Key Betting Markets in Romania's Top League
There are three distinct sections to a Romanian domestic league season we need to separate them out in terms of stats. In the regular season, a lowish 2.3 goals per game are scored on average while the percentage split in terms of home wins, draws and away wins is basically 40-30-30.
After the split in the Promotion Round, the goals tally is almost identical, while home wins are higher at 47%, draws are at their lowest at 13% and away wins account for 40% of all games.
As for the 56-game Relegation Round, goals are at their lowest here at only 2.1 per game, home wins are on average at 45% while draws and away successes account for 26% and 29% of results respectively.
With all of that considered, here are your plays in Romania's Liga I:
Handicap Betting (Regular Season) – with a split of results like this, home wins should be taken on but cleverly. 60% of all matches are NOT won by the home side at this stage of the season, but it's hard to pin down away winners with confidence. So, taking out the obvious home favourites and betting on away sides on the handicap at +0.5 can yield some very strong results at this stage of the campaign.
Win Betting (Promotion Round Only) – the cream seems to rise here. With total goals low in the Relegation round and the split making it difficult to bet home or away, we should stick to the top six only after the split. 87% of all games recently within this mini-league have been won and so avoiding the obvious 1/3 shots but betting confidently on favourites to win their matches has paid off in the past.
Total Goals (Relegation Round) – this 56-game section of the season is bland, but in terms of total goals goes hand-in-hand with what we expect in Romania. Avoid betting on results here, but backing under 2.5 and under 1.5 goals here so often pays off.
Place Your Romania Liga I Bets Now!
You should feel more confident about Romanian Liga I Betting now you know a little more about how the top league works. To ensure the best prices as well as being able to wager safely and securely, get on via one of Roger.com's recommended online bookmakers.