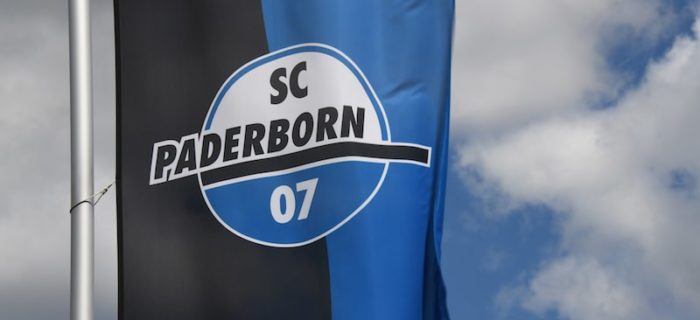 Given the fact that they have gone between Germany's first and third tiers in recent years, SC Paderborn should be a familiar name to bettors in and around Europe.
Officially Sport-Club Paderborn 07 e.V., the club is based within the town of Paderborn in North Rhine-Westphalia.
A relatively new club formed via mergers in the '80s, Paderborn don't really take part in a named 'derby' as such, though their North Rhine-Westphalia rivals can include 1. FC Koln, Borussia Monchengladbach and Borussia Dortmund among others.
SC Paderborn Timeline
1985 – after decades of TuS Schloss Neuhaus and FC Paderborn being rivals in the town, they combine to form SC Paderborn
1994 – playing as amateurs initially, Paderborn win the Oberliga Westfalen

1997 – the club assumes the name SC Paderborn 07 – actually named after a founding club's 1907 birth date
2005 – SC Paderborn reach the last-16 of the DFB Pokal, Germany's equivalent of the FA Cup
2005 – as well as a strong cup run, the club managed promotion to the 2. Bundesliga as construction began on their new stadium
2014 – the club is promoted to the Bundesliga for the very first time
2016 – having been relegated after one season, a further drop came only a year later as the club went into the 3. Liga once more

2019 – successive promotions means Bundesliga football for the second time, though Paderborn are once again relegated immediately
Paderborn's Home Ground
Traditionally, Paderborn had played their home games at the Hermann-Lons-Stadion. The venue has been open since 1957.
Given the club's ambition, the 12,000 capacity and the fact it was frankly getting old, it was decided that the Hermann-Lons should be replaced. While Paderborn moved out, it has remained the home of American Football side the Paderborn Dolphins.
Planning for a new stadium went as far back as 2001, with the Hermann-Lons-Stadion no longer fit for purpose and with its special licence about to run out.
At a cost of €25million to the club, the new stadium opened as the Paragon Arena in July 2008. The stadium's original name only lasted a year. Under a sponsorship agreement, the venue was renamed the Energieteam Arena in 2009. This deal lasted for three years.
Now named the Benteler-Arena, Paderborn's ground is a compact, good-looking, dark-seated stadium. It can hold 15,000 and hosts 10,000+ crowds regularly.
The Benteler-Arena sits within the north-west of Paderborn around 2½ miles from the centre of the town and around 63 miles north-east of Dortmund.
Famous Paderborn Players
Despite being relegated within a season each time, SC Paderborn was famously promoted to the Bundesliga in both 2014 and 2019. At those points, the players who helped them to achieve this notable success included:
Alban Meha, Jens Wemmer, Elias Kachunga, Mario Vrancic, Christian Strohdiek, Lukas Kruse, Thomas Bertels, Sebastian Vasiliadis, Philipp Klement, Bernard Tekpetey, Mohamed Drager, Sebastian Schonlau and Kai Proger.
In achieving promotion to the top level of football in Germany, these players now stand among the best ever to have represented Paderborn in their short history.
SC Paderborn Club Honours
With the club we know now as SC Paderborn being among the youngest in world football, they haven't had as much time to establish themselves and compete to win at the highest level.
Despite playing Bundesliga football then, their successes have come lower down the pyramid. Their regional cup wins have been hugely important, SC Paderborn having managed this:
Landespokal Westfalen Winners x 9 – 1985, 1994, 1996, 2000, 2001, 2002, 2004, 2017, 2018.
As with any club initially used to playing outside of the top flight, Paderborn's fans took as much joy from these nine Landespokal Wastfalen wins as an Arsenal fan would from an FA Cup Final success.
Their prowess in knock-out competitions became part of who they were, however in league football they have also achieved promotion in the following years:
1982 – promotion from 3. Liga to 2. Bundesliga
2000 – promotion to the Regionalliga
2005 – promotion from 3. Liga to 2. Bundesliga

2009 – promotion from 3. Liga to 2. Bundesliga

2014 – promotion to the Bundesliga (top-level)
2018 – promotion from 3. Liga to 2. Bundesliga
2019 – promotion to the Bundesliga
There have been plenty of relegations during this time, but they've done nothing to dampen the enthusiasm that surrounds this club.
Bet on All SC Paderborn Matches with Roger.com
You can wager on all of SC Paderborn's games with Roger.com. Get on now via one of our highly recommended online bookmakers to bet quickly, safely and securely.