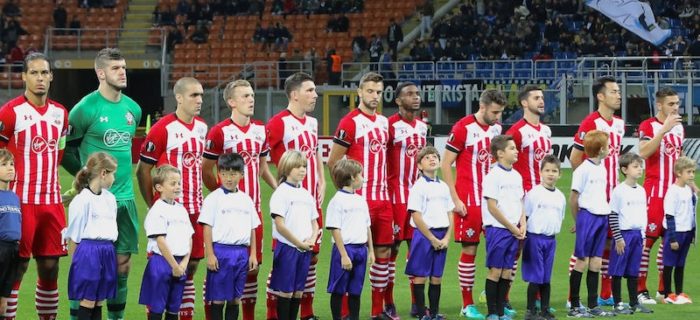 Southampton FC is one of the most recognisable sides in the English game.
Playing these days at St Mary's, The Saints as they are known are Premier League regulars and while they have ambitions to play regularly in Europe, they have become known as a club rather adept at finding talent from smaller leagues to sell on at huge profits.
Southampton FC History
Southampton Football Club was initially founded at St. Mary's Church by members of a Young Men's Association. They were inaugurated on November 21, 1885.
The club found its feet and steadily moved up the football ranks, eventually joining the brand-new Football League Third Division by 1920, being promoted in time to Division Two.
Unfortunately, The Saints were relegated in 1953 but regained their second-tier status in 1960 before a golden era. Top-level status was achieved in 1966 and an FA Cup win was to follow, while Southampton was a Premier League team from 1992 (first year) to 2005.
Between 2005 and 2012 Southampton was outside the Premier League but was promoted playing terrific football and for the past several years have held onto their top-flight status in their new stadium, St Mary's.
Southampton's Famous Homes
Depending on what era is your favourite, your memories of watching Southampton FC will be focused on one of two famous football grounds.
The Dell
From 1896, Southampton FC had been renting at the County Ground, home of Hampshire County Cricket Club. With their own stadium planned, however, the ground was broken for what would become The Dell in 1897 and the ground was completed by September 1898.
The Dell was a tight old ground with just a 15,000 capacity latterly. It was the home of such players as Matt Le Tissier and it maintains a special place in the hearts of most Saints Fans.
Ultimately though, it was decided in the mid-'90s that a new stadium was needed if Southampton were to compete at the top level and so The Dell was no more.
St Mary's
Construction began in late 1999 on The Saints' new home, which was completed eventually in the summer of 2001 having cost £32million.
Southampton FC has played their football at St Mary's since August 2001, moving from The Dell to a place that ultimately allows more spectators and more revenue. The capacity is more than 32,500 and while there is not as much character as at The Dell, St Mary's is now home and is popular with away fans as well as home supporters.
Greatest Southampton Players
While Southampton's record in terms of winning trophies isn't the strongest, as we'll go into below, they have had some amazing players represent them over the years.
Some of The Saints' all-time greats include such stars as:
Alan Shearer, Ivan Golac, Rickie Lambert, Terry Paine, Steve Moran, Mick Channon, Matt Le Tissier, Ron Davies, Alan Ball and Peter Shilton – quite a list we think you'll agree!
In recent seasons they may have lacked that outright star quality, especially having already had and sold the likes of:
Virgil van Dyck, Alex Oxlade-Chamberlain, Adam Lallana et al.
That said, their most influential players in the past wee while including:
Cedric Soares, Charlie Austin, Dusan Tadic, Oriol Romeu, James Ward-Prowse, Ryan Bertrand, Nathan Redmond, Pierre-Emile Hojbjerg and Danny Ings who would get into most Premier League line-ups.
Club Honours
In terms of top-level domestic competitions, Southampton has never been prolific but have done OK over the years.
In the old First Division, now the Premier League, the club was second in the league in 1984 while they have also been FA Cup winners, taking the top domestic cup in 1976. They also reached the final of the FA Cup in 1900, 1902 and more recently in 2003.
They haven't managed to take the League Cup yet but did reach the final of that competition in both 1979 and 2017.
Other than winning the 1976 FA Cup, The Saints have lifted some lower-level trophies having taken the Division Three (now League One) title in 1960, as well as the Football League Trophy in 2010. They were in League One at the time but were promoted the following year, reached the Premier League eventually and haven't looked back since.
Back the Saints with Roger.com Now!
Now you know a little more about The Saints, you can back the south coast club with greater confidence. Get on now via one of Roger.com's recommended online bookmakers to get the best service and the best price!