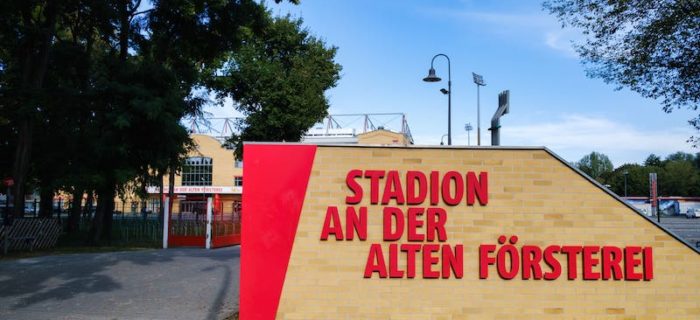 Stadion an der Alten Försterei is a football stadium located in Kopenick. It is the biggest stadium dedicated to football in Berlin. Since the Stadion an der Alten Försterei opened its doors in 1920, it has been the home pitch for 1. FC Union Berlin.
The latest expansion of the capacity of the arena came in 2013, with some of the renovations done by thousands of the club's supporters on a voluntary basis. For league games, the Stadion an der Alten Försterei has a capacity of more than 22,000, with 3,617 of this capacity being seating and the rest is terracing. For concerts, it can be expanded out to a capacity of 35,000.
History of Stadion an der Alten Försterei
1920
In 1920, 1. FC Union Berlin had to find a new home ground after its old pitch was built over with residential buildings. This saw the team move further north and create the Stadion an der Alten Försterei. It was officially opened in August of that year, with Union playing the champions of Germany, FC Nurnberg.
1966
After Union got promoted to the top tier of football in East Germany in 1966, there was a need to expand the ground. This first took place in 1970. Work was ongoing during the late 1970s and early 1980s to bring it up to scratch. However, the facilities were not ageing well and attendance began to drop.
2009
After the reunification of Germany, the stadium was one of the factors holding the team back from getting promoted up the ranks to the higher leagues. The capacity had fallen to 18,000 due to disrepair before renovations began in 2009.
2006
Union were no longer able to play at the Stadion an der Alten Försterei due to temporary special licenses. However, these were not renewed in 2006, meaning that the ground could not host any more matches from the top three tiers of football in Germany.
Therefore, a decision had to be made by the team as to whether they should move elsewhere or redevelop the current stadium. With the passionate fan base having a deep connection to the Stadion an der Alten Försterei, it was decided to develop the current ground.
Redevelopment of the Stadium
There were many different proposals considered, the work starting after the completion of the season in 2008. A roof was installed and the terracing was bolstered. New seating and fences were added, with a digital scoreboard and undersoil heating also added.
The majority of this redevelopment work was done by a group of 2,300 supporters on a voluntary basis. Specialist companies were only used for certain complex aspects of the development. Stadion an der Alten Försterei was reopened in July 2009, with a friendly against other Berlin side Hertha BSC taking place.
The second phase of redevelopment started after security funding in May 2012, having originally supposed to start in 2010. The old main stand was demolished, with new foundations laid. Work was finished by summer 2013 and the first game was a friendly against Scottish side Celtic FC.
The total cost was about €15 million. Sponsors provided about €10 million, €2 million came from the club and about €3 million from publicly available shares. In August 2013, the newly developed Stadion an der Alten Försterei was sold out when 21,717 fans watched Union defeat FC St. Paul on a 3-2 scoreline.
Betting on games
The Stadion an der Alten Försterei is a historic stadium and lasts throughout many decades despite being rapidly deteriorating. It is home to one of the most passionate fan bases in German football, creating an atmosphere that is hardly found elsewhere.
This makes it an ideal betting environment, causing great excitement as you watch your wagers progress. To get started placing bets on games at the Stadion an der Alten Försterei, you can check out expert reviews of betting sites on Roger.com. Creating an account with one of these options will take a matter of minutes.