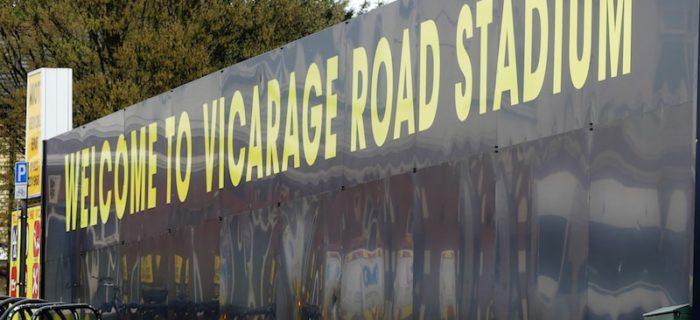 Known as the home of Watford Football Club, Vicarage Road is one of the older and most recognisable football stadiums in the country.
While these days the ground is limited to 22,000 fans, plans exist on paper to achieve a capacity of some 30,000 here although the club may need to regain its Premier League status for that to happen.
As well as Watford, Vicarage Road was famously home to rugby union side Saracens for 16 years between 1997 and 2013. While non-league side Wealdstone also played their home games here for a short time in the '90s.
History of Vicarage Road Stadium
The stadium, which sits barely a mile from the centre of Watford and is very residential. It has been home to the football club since 1922 when they moved here from nearby Cassio Road.
Both the club and the stadium were improved over the years. Vicarage Road became the first stadium to host a match under floodlights in 1953 after they were placed atop the Main Stand. Those lights were replaced in 1960 and again further down the line. The club rightfully considers themselves to be pioneers of evening games.
After almost 80 years, Watford managed to buy the freehold of Vicarage Road in 2002. However, they were forced to sell it and lease back the stadium the same year due to financial troubles.
Famously, Watford fans' 'Let's Buy Back the Vic' campaign as well as a concert given by Sir Elton John. In September 2004, due to the fundraising campaigns, the club was able to buy Vicarage Road once again.
Stats
Vicarage Road retains most of its character is one of the older stadiums on the circuit. In terms of the numbers and facts, Watford's home ground is put together like this:
Capacity: 22,200
Record Attendance: 34,099 for Watford v Manchester United in 1969
Pitch: 105m x 68m, made up of a Desso GrassMaster surface
Stands: Watford's famous four main stands are the Vicarage Road Stand, The Rookery Stand, The Graham Taylor Stand and The Sir Elton John Stand. Away fans are usually housed in the Vicarage Road Stand.
Vicarage Road's Most Famous Matches
While Watford has had some good times recently in the Premier League, including when hammering champions Liverpool 3-0 in 2020, their most exciting times have come in years gone by.
Vicarage Road truly has been the scene for some memorable games, with these four standing out based not just because of the games at face value, but because of their overall significance too:
When the 1984 FA Cup third round draw threw up a Beds-Herts Derby it was bound to be fascinating. The sides drew 2-2 at Kenilworth Road, but in the replay at Vicarage Road they played out an all-time classic. In beating their local rivals 4-3, Watford achieved one of the most famous results in their history and the event went on to go all the way to the final at Wembley that year, only to lose out to Everton.
Watford 1-0 Birmingham City
The Hornets have had quite a history in the play-offs and our other three classic games have all been second-tier semi-final play-off affairs.
Having finished 5th, some five points below Birmingham, Watford were underdogs in the 1999 end of season knockout competition. Showing no sign of nerves, Watford took an early lead in the first leg at Vicarage Road. Cheered on by the hugely noisy crowd and managed to grimly hold on. They even went on to win the final.
Watford 0-0 Crystal Palace
0-0 draws usually aren't considered classics, but given that Watford had already pummelled Palace 3-0 on their own ground the atmosphere for the second leg of the 2006 playoffs was huge. The draw ensured they reached the final, something they went on to win against Leeds United to secure Premier League football again.
Watford 3-1 Leicester City
This is a match that remains a real social media darling; replays being shown to this day of the final moments of what was a genuine classic.
In the 2012/13 Championship play-offs, Watford had been beaten 1-0 by Leicester in the first leg. At 2-1 (2-2 on aggregate), Leicester was given a penalty after a blatant dive and had the chance to reach Wembley. After the penalty was missed, Watford went straight up the other end. They scored to reach the final amid scenes of chaos.
Wager on Games at Vicarage Road with Roger.com Now!
You can bet on Watford's home games via Roger.com. Get on with one of our recommended online bookmakers to wager quickly, safely and securely.