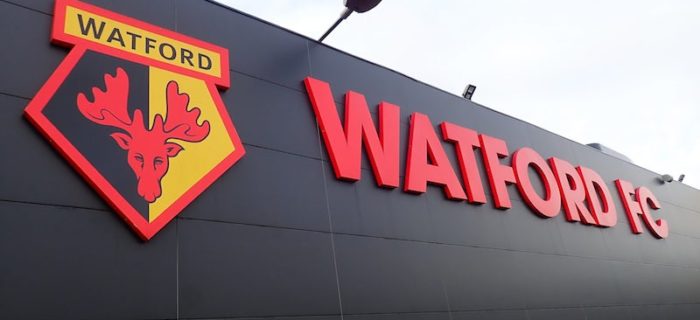 Watford FC, or The Hornets as we know them, are regulars in the Premier League in the modern era despite not having a rich history in terms of league and cup wins.
Synonymous with Sir Elton John and the late great Graham Taylor, who managed the club for a full ten years, Watford is one of the more popular English clubs among neutrals although they do enjoy a healthy rivalry with Luton Town. If only we could see more of the Beds-Herts Derby!
Watford FC History
The roots of this club go back as far as 1881 when a side called Watford Rovers was formed. The initial club played in the 1886-87 FA Cup. While in 1889 they won the County Cup and began to grow.
The club moved to Cassio Road. In 1893, it changed its name to West Herts, joining the Southern Football League three years later. Nearby, Watford St. Mary's was a separate club but the two amalgamated in 1898. This formed what is now known as Watford Football Club.
A now long-established club in England, Watford were taken over famously in 1976 by Elton John. The celebrity has been a lifetime supporter of The Hornets.
Under his stewardship, the club prospered initially. A fantastic 1982-83 season culminating in a title challenge which was lost narrowly to Liverpool.
The club has struggled financially since then. However, after a return to the Premier League in 2016, the future indeed looks bright.
Vicarage Road Stadium
Vicarage Road in Watford has been the home of the local football club for the best part of 100 years. It is one of the most recognisable old venues in British football.
The club had initially played their games at Cassio Road before moving here, the new ground brings christened with a game against Millwall taking place in August 1922 in the unusual surroundings of such a heavily populated residential area.
Vicarage Road began a renovation in 2017, something that will take some time to complete. It has a current capacity of just under 22,000 though it is felt that should The Hornets be able to consolidate their place as a regular Premier League side, this will ultimately not be good enough.
As well as being the famous home of Watford FC, Vicarage Road has also hosted other clubs and other games.
Between 1991 and 1993, non-league outfit Wealdstone FC played their games at the ground. From 1997 to 2013, Vicarage Road was also home to rugby union club Saracens.
As is the case with many old stadiums versus the majority of new builds from the mid-'90s onwards, Vicarage Road maintains its great football atmosphere. It lends itself to handing a proper old-fashioned home advantage to its own team. Long may that continue.
Watford's Greatest Players
While Watford FC has not been prolific in terms of landing major domestic trophies, they have managed to boast the services of some top-class individuals in the course of their history.
Those achieving genuine legendary status at Vicarage Road include recent top-scorer Troy Deeney as well as:
John McClelland, Tony Coton, Wilf Rostron, Cliff Holton, Nigel Gibbs, Gary Porter, Ross Jenkins, John Barnes and probably the most popular of the lot, Luther Blissett.
Over the last few years, they have tempted some rather good players in too.
Richarlison, Abdoulaye Doucoure, Roberto Pereyra, Andre Gray, Jose Holebas, Etienne Capoue, Craig Cathcart, Will Hughes, Ben Foster, Gerard Deulofeu, Christian Kabasele and Ismaila Sarr all having played their part.
Club Honours
Watford FC has spent a fair amount of their history as a top-level club, but don't have the strongest record when it comes to actually winning trophies.
The Hornets have never been English champions, though they were runners-up in Division One back in 1983 when their team was venerated.
They reached the same position in the Championship in 2015, with their only domestic league titles coming at lower levels. Watford won the Third Division title in 1969 (now League One), and Division Four in both 1915 and 1978.
Unfortunately for Hornets historians, the club has a very limited history in major domestic cup competitions as well. They did reach the FA Cup final in both 1984 and 2019, however, they were soundly beaten in both finals without scoring a goal at Wembley. Watford succumbed 2-0 to Everton in the former and 6-0 to Manchester City in the latter.
Back Watford Now via Roger.com
Now you know a little more about The Hornets, you can back the famous old club with greater confidence. Get on now via one of Roger.com's recommended online bookmakers to get the best service and the best price!