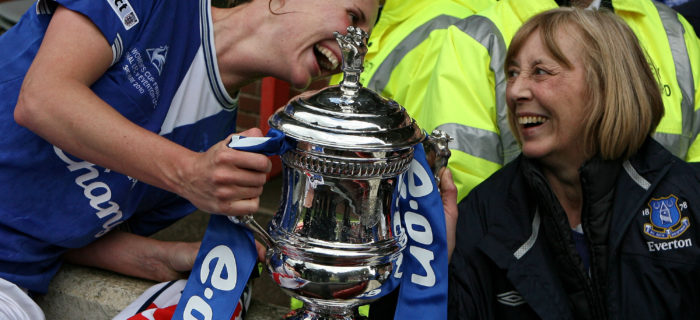 It can be easy to forget that the girls have been playing football as long as the boys! Indeed, the first recorded women's match was held in 1895.
And while the Women's World Cup, played since the early 1990s, generates huge excitement, there are plenty of thrills to be had with the domestic game, too. Indeed, after England's Lionesses took third place in the 2015 Women's World Cup in 2015, the profile of domestic women's football has soared.
In England, there are 10 levels in the women's football system, and these divisions feature 90 teams in all. The sport is also played at club level by women in almost 30 countries worldwide.
Sponsorship
Known in full for sponsorship purposes as the SSE Women's FA Cup, this is the main cup contest for English women's football clubs, and it's designed to be the female equivalent of the men's FA Cup.
Having kicked off in the 1970-1 season's tournament as the Mitre Challenge Trophy, first won by Southampton, this competition is now approaching its fiftieth season.
The FA took over the female English game around a quarter of a century ago. Since then, the semi-professional sides affiliated with their male Premier and Football League counterparts have dominated the tournament.
Arsenal holds the record for most FA Cup contests won, with 14 wins to its name, seizing victory most recently in 2016. However, the current champions are Chelsea, while Manchester City triumphed in 2017.
Three qualifying rounds were played last autumn, on a geographical basis
A further five rounds were scheduled to end on February 17, ahead of the quarter-finals a month after that
The semi-finals are scheduled for mid-April 2019
The final – to be played at Wembley on the first Saturday in May 2019
Since 2015, the final has been played at Wembley stadium, and last year saw a record-breaking crowd of more than 45,400 fans, who packed the place to watch Chelsea triumph over London rivals Arsenal 3-1.
Equally, it's a mark of the escalating interest in the women's game that the match was given primetime live coverage on BBC1 for the first time in 2018.
Two slides will clash again at the iconic venue on Saturday, May 4 2019, with the kick-off time yet to be finalised.
Betting on The Women's FA Cup
As the women's game keeps on growing, so too will the range of available relevant betting markets.
Most bookmakers will offer odds on female football matches, for both Women's FA Cup and Women's Super League fixtures.
Examples of bookies with a good range of odds include Bet365, William Hill, SkyBet and Sportingbet. However, there are many others offering comprehensive markets, from Coral to Ladbrokes to Betfred.
Choose from match or group winners, or outright winner markets, alongside other popular betting options including total goals, both teams to score etc.
With SkyBet, you can often get markets not offered elsewhere, including correct and half-time/full-time scores.
Bet365 is one of the bookmakers offering customers live streaming of games, which always adds to the betting fun.
What are the odds?
Women's football betting odds are highly competitive. William Hill is one example of a bookmaker offering great odds; another, perhaps to a more limited extent, is Netbet.
What are the best ways to win big?
Use exactly the same methods you would if you were betting on a male side:
Study teams and players – look at fixtures and form
Keep up to date with events in the women's game
Scour the internet for betting tips and news
You may find a greater range of markets with more successful sides
And, as with the male game, there are various options for betting on the ultimate cup clash of the season:
Right score
This can prove an intriguing market, especially because scores in many games are frequently unpredictable.
Over/Under bet
With this type of wager, the sportsbook predicts a number for a particular match (usually both teams' combined scores). You then bet that the real results will be higher or lower than those predicted.
Corners market
This one can add interest where there is a clear favourite in a match – there's greater scope for corners and therefore value bets.
Women's FA Cup promotions
Numerous bookmakers operate online promotions throughout the season, so keep an eye out for these, too. For a big game like the Women's FA Cup Final, it's worth being signed up to a number of websites well in advance.
Finally, if you thought the ladies' game was less exciting than the men's, think again! Take a punt on the Women's FA Cup for May 4 and get maximum thrills out of this most exciting occasion.