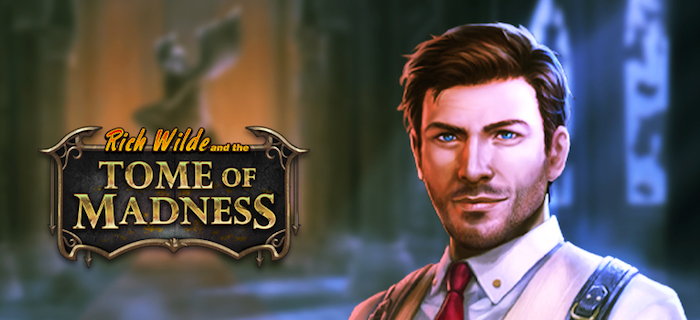 Based loosely on Indiana Jones, Rich Wilde is one of online slots' most popular fictional characters, and he and the games in which he features invariably go down well. The intrepid explorer appears in four games from award-winning Swedish game creator Play'n GO.
Who is Rich Wilde?
Think youthful, chiselled good looks, blue eyes and dapper dress sense! And his trim beard, natty waistcoat and impressive cheekbones remain remarkably unsullied, despite all of Wilde's many high-octane escapades. We don't know many people whose jungle exploits involve a tie and collar.
He and his adventures are guaranteed to keep you entertained, even if, as one reviewer put it, you may find him 'a little too cheesy' or clichéd for your liking.
It's certainly unusual to find a personality this well-loved and known in the slots arena, where themes tend to be far more generalised. But you could well find yourself seeking out the games in which this adventurer features – his games always serve up plenty of action.
Rich Wilde games
Rich Wilde and the Aztec Idols
This is our hero's first outing and finds him trekking deep into the lush jungle in search of hidden riches. Aztec Idols is essentially an Indiana Jones parody, played out against the backdrop of an ancient Latin American culture.
There are some great sound effects and visuals, and Wilde himself serves as the Wild in this 2012 release.
The character is one of the things setting the game apart from run-of-the-mill Aztec-themed slots. Join him on the hunt and look for five gold face masks while enjoying some superb visuals.
You'll need some of Rich's courage and clear-headed calm as you choose from five icons in the Pick the Idols bonus round.
Rich Wilde: Pearls of India
The setting of our audacious hero's adventures changes for this Aztec Idols sequel, Play'n GO's answer to Gonzo's Quest, released October 2014.
Here, Wilde travels to exotic India to find the country's pearls. This time, the background becomes a mountain with temples and a blue sky. Think Indiana Jones and the Temple of Doom set in the sub-continent. Again, Rich himself is the Wild in this game, and he lends a strong sense of adventure to your gaming.
You'll find Mr Wilde makes an excellent travelling companion. And, like him, you'll be looking for the pearls to win free spins.
Interestingly, some reviewers have said that Wilde is the only link with the Pearls of India's predecessor and that the two games otherwise have little in common.
Rich Wilde and the Book of Dead
Our adventurer doesn't like the gaps between missions to be too long! This third outing sees Wilde head for the pyramids of Ancient Egypt, and it's his most popular game. Anubis, who protects the gates of the underworld, has opened them, so the treasure hunt is on as Wilde goes in search of more ancient artefacts.
Released in 2016, this game has been described as a 'rip-off of Book of Ra' by more than one reviewer, with various similarities in terms of design and bonus features.
But there's no denying Book of Dead's popularity, especially in the UK. So grab your explorer's hat and head for Egypt. You're in for quite a ride, so hold on to it – like Rich himself, you'll need to keep a cool head.
Rich Wilde and the Tome of Madness
Rich Wilde's latest exploits see him searching for the legendary Tome of Madness as he aims to unlock the dark secrets of the sinister Cult of Cthulhu. This cascading reels slot is inspired by the work of HP Lovecraft, the American weird and horror fiction author and creator of the Cthulhu Mythos literary universe. Expect an unusual design and original gameplay.
Speaking about the June 2019 launch, Play'n GO's CEO Johan Törnqvist says:
Of course, it was always in our plans to bring back a character as popular as Rich Wilde. Players love his games, so it was just a case of finding the right adventure.

In 2019, we felt now was a good time to bring him back and make him part of what we hope will be our most successful year so far, and I'm sure he's not finished yet! It will be interesting to see what other adventures this slot character will get himself into next.
Summary: why you'll enjoy the Rich Wilde series
Here's why we'll think you'll enjoy playing the games in the Rich Wide series:
Consistency of theme as you follow the same character on his adventures
An engaging, likeable and not bad-looking hero!
High-quality, graphically arresting games packed with guaranteed thrills
A new adventure and different setting with each game
Credit where it's due to Play'n GO for pulling something off which few slots developers have so far managed. It's no easy feat to devise a protagonist who players love, even though he doesn't actually exist.
After all, slots aren't movies, TV shows or novels. There's no easy way of introducing character or narrative or getting players to get to know a personality, except via symbols, reels and bonus features. But in hugely popular, Rich Wilde, the Swedish developer has done it, and we're sure he'll be back. Explorer's hats off!