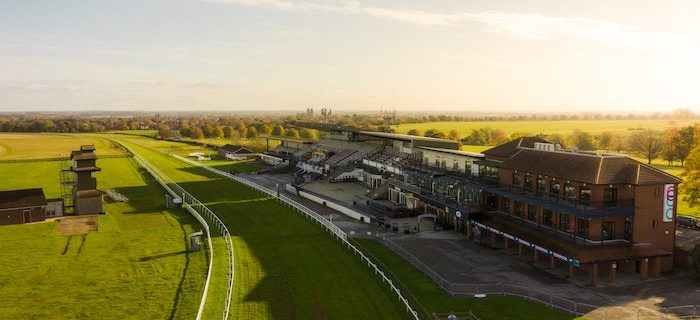 Situated ideally just a fifteen-minute drive from Hull and only 29 miles south-east of York, Beverley Racecourse is a small but well-supported venue in East Yorkshire. It stages flat meetings each year beginning in April. The venue's Season Closer event takes place in late September.
Part of the Go Racing in Yorkshire scheme, Beverley is one of nine racecourses in the county alongside:
All of whom, despite being under different ownerships, support one another in promoting the sport in the region.
Racing has been taking place at Beverley in one guise or another since the 1700s but it has been a permanent fixture in the thoroughbred racing calendar in Britain since the late 1800s, save for a brief spell when the track was used as a runway during the War!
While Beverley never has, nor will, host top-class races its events do remain highly competitive and with a new grandstand set to be completed in 2021, the venue and its extremely competitive pricing structure look set to keep people coming back for a good while yet.
Ticket Prices
Beverley is well known for its unrivalled accessibility with tickets for its general race days beginning at only £4! Even if you want to upgrade slightly, Grandstand and Paddock access is given for only £12 usually and that is truly something that makes this venue stand out.
Beverley Racecourse Details
A very well-established track, there are demons in the turf at Beverley but none that are particularly hidden. Those moving around the northern racing circuit are well versed in the demands placed on horses and riders at Beverley and its part of the charm and what keeps them coming back.
Course Characteristics
There is no all-weather course here and flat racing only is staged, meaning just the one track to take note of.
Beverley runs right-handed, one of 20 tracks in Britain to do so, is one mile & three furlongs in length and has the dubious distinction of being the track with the biggest draw bias in the country, that being on its five-furlong course.
Over five furlongs horses are going at full pelt and have to negotiate the very tight turns presented here, allied with the fact the ground rather canters away to the left giving those up on the rail, i.e. breaking from stall 1, a big advantage.
Those turns are tight generally of course and not just for the sprinters, while the course hits a low point around four furlongs from home and hits its summit just after line, making for a slightly uphill finish after the final turn.
There are no real undulations to take any note of at Beverley, but the nature of those tight turns means getting a low draw in sprint races is crucial, although jockeys hope to take some cover and not get into trouble given that the uphill finish often means you don't want to have made all the running here, at least not at a strong pace.
Races are run here over distances ranging from 5 furlongs up to 2 miles & 5 furlongs with those up to a mile is the most popular. Rather than hide away from the draw bias, in fact, trainers love attempting these races at Beverley which is why their highest quality race, the Beverley Bullet, is, in fact, a five-furlong sprint in the summer.
Biggest Races at Beverley
Beverley isn't known for huge races, at least not in terms of offering hundreds of thousands of pounds in prize money, but trainers and jockeys still love to bring their horses here with Britain's winning most trainer ever, Mark Johnston, regularly sending entrants from his base in Middleham, especially the juveniles.
Handicaps are competitive, but in terms of outright quality these two conditions races are definitely the best that Beverley has to offer throughout the year:
Place Your Beverley Bets with Roger.com
The style of horse racing at Beverley is completely unique for Britain with runners having to go flat out to achieve the best possible position and attempt to counteract the extreme draw bias.
This makes for some contrasting opinions and competitive races, so if this sounds like the sort of action you like to bet on then you can wager on Beverley's events safely and securely now via any of our recommended online bookmakers.