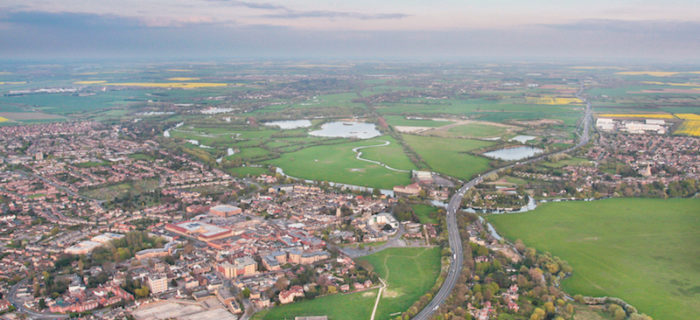 Huntingdon Racecourse is one of the many racecourses around England and Great Britain that is under the ownership of the Jockey Club Racecourses. It is a venue that plays host to the racing of thoroughbred horses and it is found in Cambridgeshire, England. There are as many as 17 meetings that take place each season at the venue for jumps racing. Generally, the racing calendar at the venue will last for about nine months.
History of Huntingdon Racecourse
There have been jumps racing taking place at Huntingdon Racecourse as far back as 1886. There was also racing taking place in the region even further back than that.
Some massively famous names in the world of jumps racing have taken part in the big race of the year at Huntingdon Racecourse, the Peterborough Chase. Some of these names include the likes of Desert Orchid, Dublin Flyer, One Man, Best Mate, Monet's Garden, and Edredon Bleu. The course is under the ownership of the Jockey Club. This means that all of the profits from racing at this venue is put back into improving racing in Britain.
The Racecourse
Huntingdon Racecourse is a jumps venue that has often been a useful ground for Cheltenham hopefuls to race, particularly for the Peterborough Chase. It is a right-handed course that is shaped like an oval. The bends are pretty easy and the track is fast and flat for the most part. The total length is a mile and a half and a circuit will have nine fences to consider. Some of these fences can be quite tricky, but the sole water hurdle has been replaced.
Ticket Prices
If you are looking to attend a race meeting at Huntingdon Racecourse, consider:
where you buy them
when you buy them
You will get cheaper tickets if you purchase them online well in advance of the race day rather than waiting for the day itself and buying tickets at the gate. The prices of tickets can often vary depending on the popularity of the meeting. You can usually get general admission tickets for meetings at Huntingdon Racecourse starting at about £10.
Notable Races
One of the more notable races that takes place at Huntingdon Racecourse each season is the Sidney Banks Memorial Novices' Hurdle. This takes place in February and is a Listed race that takes place over two miles and three furlongs.
Actually, its first-ever running came back in 1976 and it is named after a famous local trainer of horses, Sidney Banks. Sidney's son Michael was at one time Huntingdon Racecourse Chairman. However, the race did not take place in 2019 due to a breakout of equine influenza.
Another notable race that takes place at Huntingdon Racecourse is the Peterborough Chase. This is usually in the December calendar and it is a Grade II chase race that takes place over two miles and four furlongs. Horses that are at least four years old can enter into this race.
In total, 16 fences need to be negotiated by the race entrants. The first race was in 1978 and it has a lot of history attached to it. The same horse, Edredon Bleu was victorious in this race in four consecutive years from 1998 until 2001.
Tactics to Consider
Generally, it is horses that are more speedy that tend to do well at Huntingdon Racecourse. It is only when the ground is very soft that those horses that rely more on stamina will usually have the upper hand. The standard of horses running at Huntingdon Racecourse tends to be quite high, which makes for some quality racing.
Place your bets with Roger.com
If you are looking to place some wagers on the outcomes of racing at Huntingdon Racecourse, then you have a lot of different options to consider. You want to be dealing with a betting operator that has plenty of markets on offer, as well as decent odds. You may also require an offering that allows you to live stream the racing from Huntingdon Racecourse.
Whatever the case may be, Roger.com has you covered. For instance, on the site, you will find comprehensive and objective reviews of all of the leading racing operators. Therefore, you can quickly decide on which operator you want to use and be ready to go, signed up with an account in no time at all.