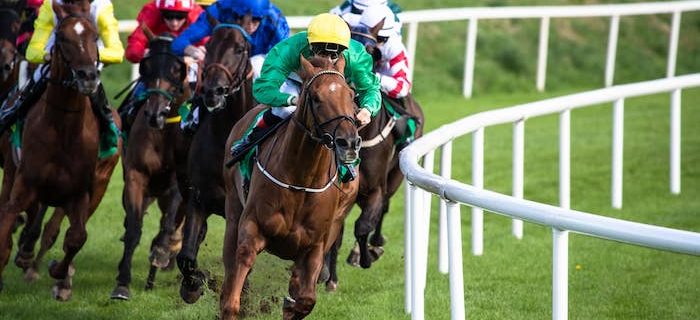 Wolverhampton Racecourse sits just two miles from the centre of the town. It is known for being an incredibly busy place, hosting 80+ meetings each year.
Racing began in Wolverhampton in 1825, in a similar location to where races are held today. A new course was built at Dunstall Park in the late 1800s. This location is where you'll find the current facility. Despite numerous facelifts over the years, it still has plenty of history to call on.
Wolverhampton, in fact, was one of the first racecourses to get involved in all-weather racing, i.e. races taking place on a synthetic surface rather than grass. In1993, the first synthetic track was laid here and floodlights were added, making this the first track in Britain to host racing under lights in the evening.
The track at Wolverhampton looks and rides very American and the facilities here may well go the same way if and when the proposed casino is built on-site. If it happens, this would be the UK's first 'racino', a common fixture in North America.
Dunstall Park's Ticket Pricing
Attending a typical winter meeting at Wolverhampton can cost as little as £5 in the Grandstand or £16 in the Premier Enclosure. The prices rise (for example) to £9 and £16 respectively on Lady Wulfruna Stakes day in March. Various packages are available including hospitality and all-inclusive deals.
Wolverhampton Racecourse Track Details
The 1993 refurbishment meant a Fibresand track was installed alongside the turf course. However, this was ripped up after only six years with a new Polytrack surface laid down instead. At the same time, the turf track was removed entirely making Wolverhampton all-weather only.
However, there was much dissatisfaction among horsemen about the way the Polytrack surface degraded over time. This led to Wolverhampton closing once again in 2014. During the closure, a new Tapeta surface was laid which has gone down much better.
Tapeta is the surface Newcastle now has, a track that has been lauded since the change with top trainers sending future superstars such as Headman, Enable, Stradivarius and Without Parole to win there and it's hoped Wolverhampton can attract similar types in maiden and novice races before they go on to the top level.
Wolverhampton's US-Style Track
These days, the layout here is all very similar to a typical North American track. The course is a one-mile oval, it's left-handed with sharp bends and runners are very draw-dependant especially over five and seven furlongs.
Because of this, some American-style tactics are used here. For instance, jockeys often attempt to break as quickly as possible and run fast fractions. However, it doesn't always mean the best-drawn or the quickest horses out of the gate necessarily always go on to score.
The commonality with the States can be backed-up by the fact that the likes of Conduit and Muhannak took in this track before winning at the Breeders' Cup. While Toast Of New York also won here before going on to run second in the Breeders' Cup Classic. In other words, American-bred horses and jockeys known for possessing a good racing clock will invariably go well.
Wolverhampton's Biggest Events
Ever since all-weather racing began here in the '90s along with the advent of floodlit events, Wolverhampton has been regarded as a track that is all about quantity and not necessarily quality.
This is partly true. However, all but a few of Wolverhampton's key meetings are incredibly interesting and fun to attend. The biggest and best of them arguably being:
Place Your Wolverhampton Bets with Roger.com
Racing at Wolverhampton Racecourse is regular and very competitive. There are plenty of chances to get involved in the action. Placing your bets there can be done with any of Roger.com's highly recommended online bookmakers both safely and securely. Get started now.