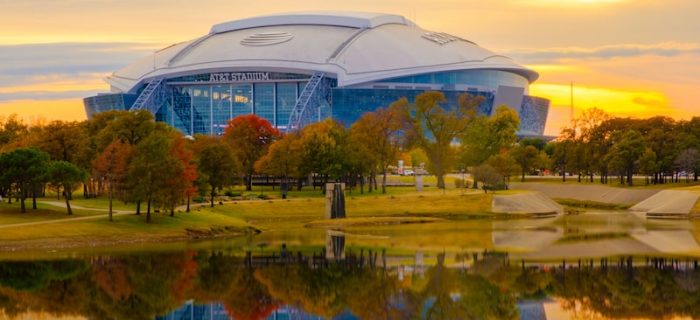 If you're even vaguely interested in the National Football League and its participants, you will certainly know the name of the Dallas Cowboys.  Home for them is the AT&T Stadium.
The Cowboys, although famously playing at the Texas Stadium for many years, have called this place home since 2009 and it is a huge, imposing venue which once held 105,000 people for a football game.
The AT&T, known initially as the Cowboys Stadium, has a retractable roof and is situated in Arlington, Texas, around 19 miles west of Dallas.
Aesthetically this is a very pleasing venue. Domed, glass-fronted and silver, it is rather space-age for a stadium built more than a decade ago and is quite some place to see and visit.
History of the AT&T Stadium
The Dallas Cowboys previously played their football at the Texas Stadium, plying their trade there for fully 38 seasons right up to 2008.
After the Cowboys moved on, it was ultimately demolished in April 2010 by way of a controlled implosion, but the seeds of what is now the AT&T Stadium were sewn way before that, back in 1994.
In those days, Cowboys team owner Jerry Jones had already stated that he wanted to expand the Texas Stadium and add a retractable roof, or indeed move out altogether and build a brand-new venue for the Cowboys.
Talks were ongoing between 1997 and 2000 between the Cowboys' hierarchy and officials in Arlington, seen as the perfect place for a stadium. Finally, a deal was struck and it was the beginning of the end for the Texas Stadium, though it was still to take a long time to finalise what is now the AT&T.
With contracts handed out in the intermediate years to architects and construction companies, work began in the summer of 2007 on the retractable roof. At the same time, the exterior façade and enclosure work got underway and by the autumn the first steel arch for the venue was erected.
Team owner Jerry Jones announced the stadium's name as the Cowboys Stadium (though it was clear that naming rights would eventually be sold off) and by 2009 the new venue was open and ready to host major events.
Important Facts and Figures
The AT&T Stadium stands alone in a rather arid and bare part of the world, as so many modern stadiums unfortunately do, but some fascinating stats and facts are associated with it.
Opened: May 27, 2009. Work began in earnest on this stadium in September 2005.
Initial Cost: $1.3 billion. This is equivalent to around $1.6 billion in today's money, similar to what it cost to build the Tottenham Hotspur Stadium in London.
Capacity: 80,000 for NFL games, expandable to 105,000. The first major football game exceeded 105,000 in attendance with standing room allowed. In fact, for the NBA All-Star basketball game in 2010 more than 108,000 crammed into this arena, creating an amazing atmosphere.
Playing Surface: Hellas Matrix Turf, a synthetic fibre playing surface made to look like real grass.
Big Events at the AT&T
As we mentioned, the 2010 NBA All-Star game was played here and the crowd of 108,713 is the largest ever to attend a basketball game. It was a classic too, with East beating West 141-139.
Super Bowl XLV was hosted at the AT&T Stadium in February 2011, while the College Football Playoff National Championship was a big draw in 2015. The Cotton Bowl Classic has been played here on numerous occasions.
There has been a growing thirst for soccer in Texas and the AT&T has got in on the act. International matches have been played here, while Chelsea also faced Club America in the World Football Challenge back in 2010 in front of more than 57,000 people.
Manny Pacquiao and Canelo Alvarez won major boxing bouts here in front of 50,000+ crowds, while WrestleMania and supercross events are also popular.
The big draw money-wise is often music gigs, which tend to gross anywhere between $3 million and $15 million. Already the AT&T Stadium has hosted the following:
The Jonas Brothers
Paul McCartney
U2
Kenny Chesney
Taylor Swift
Beyonce & Jay-Z
One Direction
The Rolling Stones
Coldplay
Metallica
Ed Sheeran
Bet on All Games at the AT&T Stadium with Roger.com
You can wager on all games played at the AT&T Stadium via Roger.com. Bet with one of our recommended online bookmakers only to get the best possible odds and service.