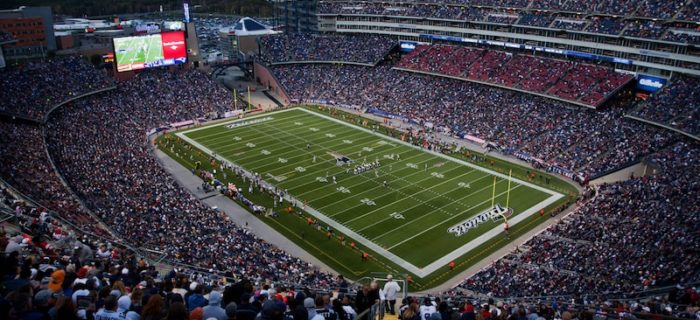 Foxborough, Massachusetts is not somewhere many outside of the States will know. It is much more likely they will have heard of the stadium located there: the famous Gillette Stadium.  The Stadium is home to NFL giants, the New England Patriots. The stadium is less than 30 miles from Boston and 20 from Providence, Rhode Island.
Although the capacity here is 65,000, this open-air stadium often looks and feels bigger and looks rather imposing and intimidating with and its steep blue seating.
The most famous tenants are, of course, the Patriots.  However the Gillette is also home to the MLS side New England Revolution and the University of Massachusetts' Minutemen football team.
A major source of pride is that the Patriots have sold out every single home game since moving to this stadium.  This is an incredible record.  An incredible record, not even matched by the likes of Newcastle United, Manchester United or Liverpool football clubs.
History of the Patriots' Home Field
For some thirty years between 1971 up to and including the 2001 season, the New England Patriots played their football at the old Foxboro Stadium.
Soon enough though, pressure began to mount from the NFL as the poor amenities and low 60,000 capacity meant that there was not enough profit in the venue.  This meant that a new one, more fitting to a very successful team, was required.
After much wrangling, including with the local mayor, owner Robert Kraft announced in April 2000 that there were firm plans for a new stadium in Foxborough.  A 68,000-capacity venue that would keep the team in the area was planned.
Kraft himself took personal oversight of the many designs, wanting his new stadium to be modelled on the Baltimore Ravens' M&T Bank Stadium. After a final design was decided upon, the Patriots' new stadium opened for business in by May of 2002 and has been packed out ever since.
Stats and Facts on the Gillette
The Gillette Stadium is an incredible venue as is amply demonstrated by these various facts and figures.
Opened: May 11, 2002. The construction began in March 2000.
Initial Cost: $325 million. In 2020 money, the building cost is around $470 million.
Capacity: 65,878 for football. This was over 68,000 originally, while it stands at just 20,000 for the Revolution's soccer games although it can be expanded.
Playing Surface: Currently, artificial FieldTurf is used here but between 2002 and 2006 the playing surface was real grass.
Major Events at the Gillette Stadium
Aside from hosting ten or more New England Patriots' NFL games every year, the Gillette Stadium has been the site of plenty of other major events both sporting and otherwise.
College football has been big here, with the UMass football program's switch to Division I. FBS meaning the Minutemen playing all home games in 2012 and 2013 at the Gillette Stadium as well as a few more in later years. Despite up to 32,000 fans being there to support them, the Minutemen have lost all but two of these matches.
The Gillette was also the venue for the eighth NHL Winter Classic. The huge hockey match-up between Boston Bruins and Montreal Canadiens took place on New Year's Day in 2016.  The Canadiens won 5-1 in front of more than 67,000 people.
While attendances are generally lower for soccer games, there was a crowd of 61,000 at the Gillette Stadium to see an MLS Cup game between New England Revolution and LA Galaxy.  The latter winning 1-0.  The US national team has also played here on 14 occasions between 2002 and 2015.
Sport is naturally the major draw here, with lacrosse also having been hosted.  However,  the Gillette Stadium is also a major stop-off for many international music tours.
In its time this venue has hosted up to 98,000 people a night for major musical gigs. Many big names have played here, such as:
The Rolling Stones (three times)
Metallica (twice)
Bon Jovi (four times)
Bruce Springsteen (three times)
Green Day, Elton John
AC/DC (twice)
U2 (twice)
Guns N' Roses
Coldplay (twice)
Beyonce & Jay-Z
Ed Sheeran
As a versatile stadium, many acts and teams have performed here with the vast majority, as well as their fans, giving excellent feedback on what remains the true home of the New England Patriots.
Bet on All Games at the Gillette with Roger.com
You can wager on all games played at the Gillette Stadium via Roger.com. Bet with one of our recommended online bookmakers only to get the best possible odds and service.