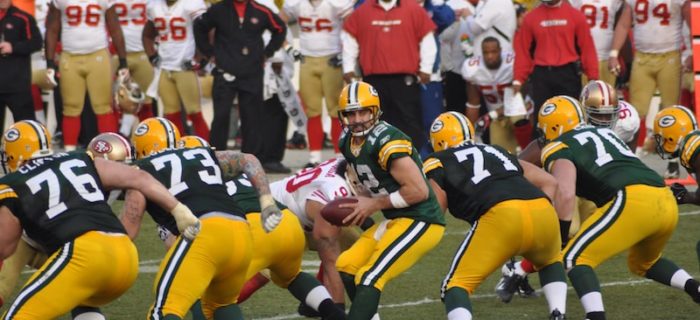 The Green Bay Packers are a major NFL franchise playing their football in the NFC North Division. Green Bay sits within Wisconsin, north of Milwaukee and Chicago and east of Minneapolis.
The Packers are the third-oldest franchise within the National Football League going all the way back to 1919, and as of now are America's only community-owned non-profit major professional sports team.
A full list of betting options is available on Green Bay games with most online bookmakers.
History of the Green Bay Packers
The Green Bay Packers were founded by Earl "Curly" Lambeau and his former rival, George Whitney Calhoun, on August 11, 1919.
Lambeau was able to gain funds for the team's uniforms from a meatpacking firm, the Indian Packing Company, his employers at the time, which gave birth to the team's name.
In August 1921, the Packers were given an American Professional Football Association franchise and quickly gained success.
Having narrowly missed out previously, the Packers won their first NFL title in 1929 and never really looked back. Between 1966 and 2010, Green Bay has taken down four Super Bowl titles and are ranked among the most successful teams in football history.
The Packers' Home Field
Lambeau Field has for a long time been the famous home of the Green Bay Packers, but down the years they have had many stadiums.
Hagemeister Park was their first home, from 1919 to 1922, before they had a short stint at Bellevue Park (1923-1924).
Between 1925 and 1956 the Packers played at City Stadium. For a short time in 1933 Borchert Field was used. Other venues used during the City Stadium era were:
Wisconsin State Fair Park (1934 to 1951)
Marquette Stadium (1952)
Between 1953 and 1994 the team played major games at Milwaukee County Stadium too. However, from 1957 to the present day their main and now only home has been Lambeau Field.
Lambeau Field, as we know it now, was opened in September 1957. It initially cost the equivalent of just $5 million in today's money, though some $400 million has been spent on it now due to renovations and expansions from 1961 to 2015. These days the potential capacity is 81,441, though the record attendance to date stands at 79,704.
When first opened, the stadium was known as the New City Stadium but, after team legend, Curly Lambeau died in 1965, it was renamed in his honour.
Lambeau Field is now the oldest NFL stadium in continual use. Breaking the record held by the Chicago Bears (Wrigley Field), the Packers played their 51st season at Lambeau Field in 2007 and are still going strong at the venue.
Past Green Bay Heroes
It's hardly surprising that Green Bay has had a whole host of notable players inducted into pro football's Hall of Fame, namely:
Herb Adderley, Jerry Kramer, Tony Canadeo, Curly Lambeau, Willie Davis, James Lofton, Bobby Dillon, Johnny McNally, Brett Favre, Mike Michalske, Forrest Gregg, Ray Nitschke, Ted Hendricks, Jim Ringo, Arnie Herber, Dave Robinson, Clarke Hinkle, Bart Starr, Paul Hornung, Jim Taylor, Cal Hubbard, Reggie White, Don Hutson and Willie Wo.
As well as those great players, Green Bay coaches Vince Lombardi and Ron Wolf are also Hall of Famers.
Another tribute paid to the greats is to retire the numbers of those who have achieved great things for the team. This honour has been bestowed on:
Canadeo (3), Favre (4), Hutson (14), Starr (15), Nitschke (66) and White (92).
Green Bay Packers' Greatest Achievements
Green Bay are traditionally one of the big names on the NFL scene and the Packers have been very successful over the years. The team's biggest achievements include being:
NFL Championship Winners (pre-AFL-NFL merger) x 11 – 1929, 1930, 1931, 1936, 1939, 1944, 1961, 1962, 1965, 1966, 1967
Super Bowl Winners x 4 – 1966, 1967, 1996, 2010
NFL Western Conference Championship Winners x 6 – 1960, 1961, 1962, 1965, 1966, 1967
NFC Conference Championship Winners x 3 – 1996, 1997, 2010
NFL West Division Champions x 4 – 1936, 1938, 1939, 1944
NFL Central Division Champions – 1967
NFC Central Division Champions x 4 – 1972, 1995, 1996, 1997
NFC North Division Champions x 10 – 2002, 2003, 2004, 2007, 2011, 2012, 2013, 2014, 2016, 2019
In total, the Packers have been represented at the playoffs on 33 occasions between 1936 and 2019, a wonderful record.
Bet Green Bay with Roger.com Now!
You can wager on all Green Bay Packers games via Roger.com. Bet with one of our recommended online bookmakers now to wager quickly, safely and securely.