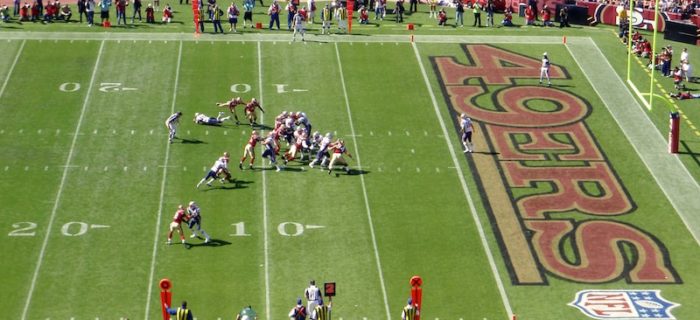 Even a pro football layman will know the name of the San Francisco 49ers, a well-established team from the San Francisco Bay Area who play in the NFL as part of the sport's NFC West division.
The team are known colloquially as the Niners, or occasionally the Niner Gang, and are famous for their red and gold colours, their cheerleading squad the Gold Rush and their fight song, "49ers Roll With It".
Many different betting options are available on Niners games with a host of different online bookmakers but stick to Roger.com to ensure you get the best.
History of the 
San Francisco 49ers
At their foundation, the 49ers were the first major pro sports team in San Francisco and an original member of the All-America Football Conference, known as the AAFC, at a time when professional league sport was burgeoning on the Pacific Coast.
Founded in 1946, the Niners played alongside the LA Dons in the AAFC with local rivals the LA Rams playing in the NFL, which the Niners joined in 1950.
1957 was their first really successful season, since when many NFL playoff appearances have come their way and they have even enjoyed five Super Bowl victories, including two in a row in 1988 and 1989.
Their last Super Bowl was back in 1994 when the team beat San Diego Chargers 49-26 in Miami, so a sixth Super Bowl is proving elusive.
Home Field
For some twenty-four years, the Niners played at the Kezar Stadium, moving to their next long-term home, Candlestick Park ("The Stick") in Bayview Heights, in 1971 and played there continuously until 2013, bar one game in 1989 that had to be played at the Stanford Stadium following the Loma Prieta earthquake.
These days the 49ers play their football at a shiny new venue, the Levi's Stadium. This new home field is in the San Francisco Bay area at Santa Clara near San Jose, around 40 miles or so from downtown SF.
The stadium, which began construction in 2012 and opened in 2014, is owned by the city of Santa Clara and named after a sponsorship agreement with Levi Strauss. It cost some $1.3 billion to complete and has a capacity of 68,500 for its football games, expandable to 75,000 when needed.
While famous of course for football, the Levi's Stadium has become renowned for being environmentally friendly and for having its own organically maintained rooftop farm, making it a hit with the U.S. Green Building Council.
San Francisco's Greats
With such a long history it's to be expected that the 49ers have plenty of Hall of Fame inductees, and they do – namely these players:
Steve Young, YA Tittle, Joe Montana, Deion Sanders, Bob Hayes, Ron Woodson, OJ Simpson, Joe Perry, John Henry Johnson, Jimmy Johnson, Hugh McElhenny, Ronnie Lott, Chris Doleman, Rickey Jackson, Dave Wilcox, Larry Allen, Leo Nomellini, Fred Dean, Bob St. Clair, Jerry Rice, Terrell Owens, Randy Moss, Isaac Bruce, Kevin Greene, Richard Dent and Charles Haley.
On top of this, owner Edward J. DeBartolo Jr., exec Gil Brandt and head coach Bill Walsh have also been inducted into the Hall of Fame.
As is the case with all pro football teams, the Niners have also retired the numbers of certain team legends. Those of Steve Young (8), John Brodie (12), Joe Montana (16), Joe Perry (34), Jimmy Johnson (37), Hugh McElhenny (39), Ronnie Lott (42), Charlie Krueger (70), Leo Nomellini (73), Bob St. Clair (79), Jerry Rice (80) and Dwight Clark (87) are no longer in use.
49ers Greatest Achievements
Over the course of nearly 80 years, the Niners have had some amazing success on the field. The Californian team's greatest achievements include these specific accomplishments:
Super Bowl Winners x 5 – 1981, 1984, 1988, 1989, 1994
NFC Conference Winners x 7 – 1981, 1984, 1988, 1989, 1994, 2012, 2019
NFC West Division Championship Winners x 20 – 1970, 1971, 1972, 1981, 1983, 1984, 1986, 1987, 1988, 1989, 1990, 1992, 1993, 1994, 1995, 1997, 2002, 2011, 2012, 2019
As well as all this success, the Niners made the AAFC playoffs in 1949 as well as the NFL playoffs on 26 occasions between 1957 and 2019.
Bet the 49ers with Roger.com Now!
You can wager on all San Francisco 49ers games via Roger.com. Bet with one of our recommended online bookmakers now to wager quickly, safely and securely.