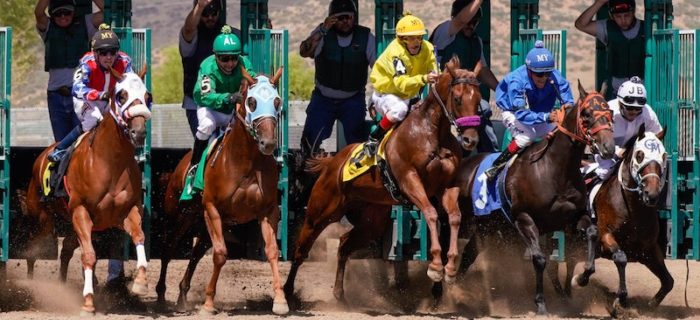 Formerly known as Yavapai Downs, Arizona Downs Racecourse is a thoroughbred and quarter horse racing track situated in Prescott Valley, Arizona.
The track is in a very rural spot, but gains support from nearby Prescott which is 25 minutes away, while it is only a further hour away to Phoenix meaning on major race days the track can be well attended.
The original track for this area, Prescott Downs, was built back in 1959 but there have been many changes in the intervening years. Prescott Downs closed in 2000 with no room for expansion on the site, with the current facility holding meetings from then until 2011 very regularly before going bankrupt.
Having been bought out, the track has once again shown yearly live racing but this time in the form of a truncated season, though several stakes races still take place at Arizona Downs which are important to keep the sport going in this area.
Given that Arizona Downs is a small and somewhat specialised venue, it pays as a punter to keep an eye on the horsemen doing best there as their results prove they know their way around the block.
At the latest meet, the top-earning jockeys at Arizona Downs were Kassie Guglielmino, Richard Lull, Jake Samuels, Scott Stevens and Renny Arrieta. As for the best trainers, look out for Kevin Eikleberry, Cody Axmaker, Lymon Perren, Edward Kereluk and Jesus Torres-Casas.
Arizona Downs is one of three professional racing venues in the state, alongside Rillito Park and Turf Paradise.
Admission Prices at Arizona Downs Racecourse
While it is not feasible to permit free adult entry here, general admission prices are kept low at just $2 per person, with accompanied kids 10 and under, going free.
General admission means access to the apron on the first level as well as some grandstand seating, but for something a little more special box seats are available. These are priced up at $18 per box sold as one unit, or $30 per box with a TV provided.
Track Details
Arizona Downs remains a very simple affair, certainly in its physicality and topography. The track and all the surrounding areas are very typical of this state in that the area is dry and dusty, with no turf course laid here.
The main track then is a standard one-mile dirt oval, flat in nature, left-handed and with tight turns. The nature of the track means that speed is very much of the essence, in fact, more so here than at a lot of other dirt tracks around the States.
Those caught out wide on these bends will suffer a distinct disadvantage in terms of lost ground, while the sharp, quick and flat layout means front-runner or at least a style of racing that means your horse is up with the pace throughout is important.
With this in mind, keep an eye on speed figures which are published widely. Horses able to jump quickly from the gates and either lead or at least get into a strong racing position very early do best, as even those whose natural running style means a preference for coming off the pace will rarely be doing so to great effect here.
A low draw, strong tactical speed and being ridden by one of the above-mentioned jockeys is a smart combo to look out for when betting at Arizona Downs.
Biggest Events
While the stakes schedule at Arizona Downs is a little light, such races retain huge importance for horse racing in this region, whether it be thoroughbred or quarter horse action. These are the main events across the track's live racing year, all worth at least $10,000 with the exception of the maiden:
Arizona Downs Inaugural – 1m, May
Las Vegas Ranch Stakes – 5f, 2yo only, September
Quarter Horses
Robert Huebeck Stakes – 350 yards, 3yo only, May
Wayne Brasher Memorial Stakes – 350 yards, June
Granite Mountain Quarter Horse Futurity – 350 yards, 2yo only, July
Desert Classic Derby – 350 yards, July
Mingus Mountain Stakes – 300 yards, August
Arizona Downs Maiden Stakes – 350 yards, August
Mike Hagen Race Horse Supply Stakes – 330 yards, September
GM Racing Quarter Horse Futurity – 400 yards, 2yo only, September
Open Quarter Horse Derby – 400 yards, 3yo only, September
Place Your Bets with Roger.com
With your knowledge of Arizona Downs Racecourse now enhanced, you can place bets at the Prescott Valley track with greater confidence. Get on via any of our highly recommended online bookmakers quickly, safely and securely now!