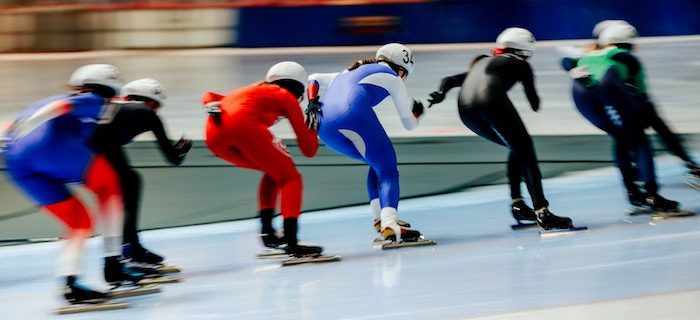 Originally a fast method of transportation across frozen water, speed skating has been an Olympic sport for nearly a century, having featured at the first Winter Olympics in 1924. But organised races on ice skates were first held in the nineteenth century, with the first club competitions taking place in Norway in 1863.
Put simply, speed skating a competitive ice skating form in which participants race each other on skates across a rink over a particular distance.
The sport is particularly popular in the Netherlands, South Korea and Norway, as well as being enjoyed elsewhere around the world.
As the name suggests, the European Speed Skating Championships are a series of long-track speed skating events held each year to determine Europe's best all-around speed skaters.
Racers must be from a European member state of the International Skating Union (ISU) and meet certain qualifying criteria. There are currently 56 European national members of the ISU.
In 2020, the event takes place from January 10 to 12 at the Thialf rink in Heerenveen, in the Netherlands. The year before Italy played host, in 2018 it was Russia's turn.
It will be followed later in the same month by the European Short Track Speed Skating Championships, also taking place in Holland. In that contest, the track is just over a quarter of the size of the 400m track which is the basis of long-track skating, the form for the European Speed Skating Championships.
The International Skating Union (ISU), the global governing body for all ice skating disciplines, has held the men's championships since 1893, and the women's event since 1970. Since 1990, the men and women's championships have taken place at the same time and location.
Some key rules in speed skating
Speed skating is a pretty simple activity – first over the line wins. But here a few of the sport's basic rules:
Races have a standing start, and a gun is fired to begin them
More than one 'false start' places racers at risk of disqualification
Skaters cannot switch lanes as they approach the finishing line
Sometimes, an athlete who falls while racing may be given the chance to run it again
Should two competitors meet on a corner, the racer in the inner lane has to give way to their outer lane rival, or risk disqualification
Event format
Winners and teams are awarded gold, silver and bronze medals.
Different events will be held as follows:
500m ladies' and men's races – maximum of 20 skaters
1,000m ladies' and men's races – maximum of 20 skaters
1,500m ladies' and men's races – maximum of 20 skaters
3,000m ladies' and men's races – maximum of 16 skaters
5,000m men's race – maximum of 16 skaters
Mass start event – ladies' and men's events – maximum of 24 skaters
Team pursuit – ladies' and men's events – maximum of six teams
Team sprint – ladies' and men's events – maximum of six teams
The team pursuit event is skated by teams of three, and it's similar to the same event in track cycling. Two teams compete at a time, and only the inner lane of the rink is used. Men complete eight laps, women six. A team's time is measured when its third skater crosses the line.
A mass start involves up to 24 skaters facing off against one another at the same time in a dash to be the fastest to complete 16 laps.
Betting on the European Speed Skating Championships
Having a bet on this speed skating event will definitely add to the excitement of watching the speed, skill and precision of the races.
As with anything else, it's worth studying form and previous success record.
And, as you'd expect, you can bet on the event winner, for a skater to come in the top three, or to win gold or any other medal. You can also bet that a winning athlete will be from a particular country.
There's also head-to-head or two-way betting, referring to backing one of two possible outcomes in an outright market.
Summing up
January can be a chilly, dreary old month. Try something different to cheer it up with a punt on the European Speed Skating Championships, via one of our reputable online bookmakers, and enjoy this sport even more.
We'll leave the final word quote with American skater Randy Gardner, who was a figure rather than a speed skater, but who described his sport well:
There's something about putting on a pair of skates, and getting out there and moving like nobody else can. Freedom is a word that comes to mind.