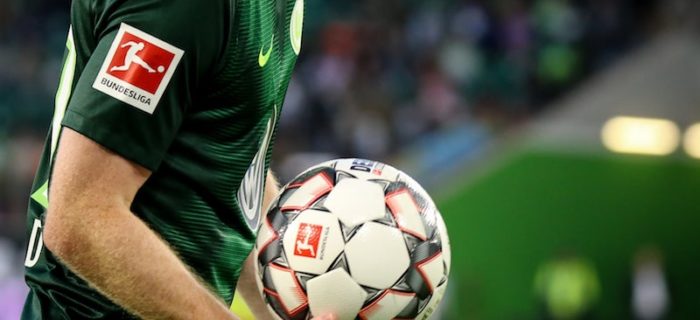 Germany's Bundesliga association football league is set to become Europe's first to return to play during the Covid-19 pandemic, with matches kicking off on Saturday, May 16. The nation's second division is also being allowed to return to playing in the league which regularly attracts Europe's highest average attendances.
Chancellor Angela Merkel and Germany's federal states have announced the country's top-tier football contest can complete the season's remaining games. The decision comes after a two-month suspension from March 13 due to coronavirus, although players have been allowed to train since April.
The move follows warnings that cancelling the season would put 56,000 jobs at risk. Equally, completing the season ensures contractual compliance with broadcasters and sponsors. (At the time of writing, negotiations with broadcasters were ongoing, so it was unclear whether matches would be shown on free-to-air channels.)
At 1.3%, Germany's coronavirus mortality rate is comparatively low, attributed to high levels of testing and a youthful population. (It has seen under 7,000 deaths from Covid-19.) This has already led to some lockdown restrictions being eased.
Chief executive of the German Football League (DFL) Christian Seifert said:
It is crucial to resume play. But the matches will feel different. After the first matchday, we will all know why we prefer games with fans. But I expect the best possible sport within this framework.
How will it play out?
Matches will be played behind closed doors, meaning supporters won't be able to attend games. (Mass gatherings are off-limits in Germany until August 31.)
No more than 300 people, including staff, players and officials will be allowed around or inside club grounds for the 'geisterspiele' ( 'ghost games'). And while there have been fears that fans could still gather at stadia, supporters' groups have insisted they won't.
In Moenchengladbach, however, there are apparently plans for thousands of cardboard cut-out spectators to replace real ones!
Testing, testing
Strict rules will apply to referees, staff and players, with all players compulsorily tested for Covid-19.
Ten players previously tested positive in 1,724 tests during a first-round across the Bundesliga's 36 clubs, two in the second. There were three positive results from Cologne alone, while Hertha Berlin suspended forward and ex-Chelsea player Salomon Kalou after he filmed himself while breaking social distancing rules.
Teams are spending a week in a training camp in isolation ahead of May 16. According to the Telegraph's sport pages, other rules include:
No handshakes
Three buses for each team
Players will enter the pitch separately and have food delivered to hotel rooms
When they go home, footballers must provide lists of family members
Any infected individual clearly can't play, but a whole team need not isolate itself – squad numbers can be made up with under-19s or reserve players
Who plays who and when?
Most sides have nine matches remaining this season, a couple have 10 left.
In all, six meetings are scheduled for May 16, with Frankfurt and Dusseldorf among the teams set to kick off.
A derby between Borussia Dortmund and Schalke will be another of the first games to take place on May 16. Meanwhile, Bayern Munich, the current leaders and the side with the most Bundesliga titles face rivals Union Berlin on Sunday, May 17.
Cologne takes on Mainz on May 17, while Werder Bremen clashes with Bayer Leverkusen on Monday, May 18.
The last weekend of the season is likely to be June 27-28.
What could this mean for the Premier League?
The Premier League has been watching developments closely. And the decision in Germany must fuel hopes that the Bundesliga will pave the way for the completion of the Premier League's season.
It will certainly prove a crucial test of how running games differently works, for example seeing how players fare with limited training time and how the lack of an audience affects game dynamics.
In other European countries, stadiums remain empty:
Ligue 1 in France is off
Eredivisie in Holland has been cancelled
The Pro League in Belgium is not holding games
Italy and Spain hope to return to playing in June
Uefa president Aleksander Ceferin told reporters Germany would provide 'a shining example' to the footballing world, describing the decision as
A … positive step to bringing optimism back … the result of careful planning between the football authorities and politicians.
Meanwhile, Bayern Munich captain and goalkeeper Manuel Neuer wrote that he knew 'the eyes of Europe and all the world' would be on the country.
So events in Germany will be followed with hawk-like scrutiny, but the Premier League remains behind its European counterparts. In England, there is an aim to return to small-group training from May 18, although some doctors are not happy about even this.
Plans were due to be discussed on May 11 for Project Restart, involving the league returning in June and ending in late July.
So while the German decision will provide encouragement, there's still a long way to go yet.
Summing up
The Bundesliga decision hasn't been universally welcomed, with club Werder Bremen, for example, saying that local government has insisted it wouldn't let the side play at its stadium.
But clearly this return to top-level footie – if not football as we know it – will be great news for fans craving their fix. Place your bet on a forthcoming Bundesliga clash with Roger today.