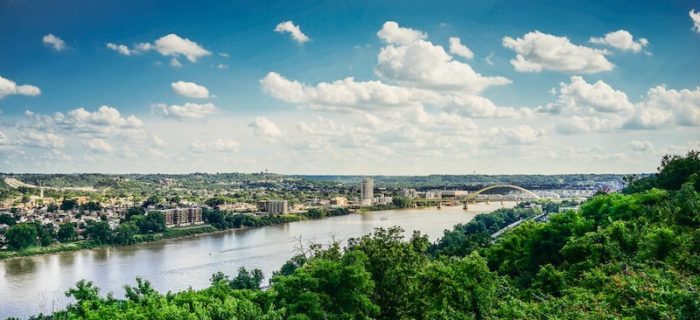 Ellis Park Race Track sits right on the banks of the Ohio River, on the side, in fact, that would ordinarily see it placed within Indiana but given the way this particular section of the border runs, it is actually in Kentucky.
In fact, Ellis Park is just 120 miles from Louisville, the home of Churchill Downs and the Kentucky Derby putting it right in the heart of American horse racing territory.
The race meet at Ellis Park is a summer affair with 30 quality live race days taking place on Fridays, Saturdays and Sundays from late June until early September.
Racing has been taking place here since 1922 and so the thoroughbred history in the area is strong, though it's in recent years that things have really taken off.
At the 2019 meet, the leading trainers at Ellis Park read like a who's who of American racing:
Steve Asmussen,
Brad Cox,
Brendan Walsh,
Dale Romans,
Kenneth McPeek and
Mark Casse
all appearing in the top ten.
Tyler Baze was the leading rider here in 2019 on prize money, but it was more than a little interesting to see that it's right here at Ellis Park that former British and Irish-based jockeys have really been able to make their mark. Declan Carroll, Declan Cannon and Adam Beschizza were all among the winners and all earned prize money totalling $300,000 or more during the summer meet.
Ellis Park is all about quality then, making it a sound place to have a horse racing bet and staying safe in the knowledge that your chosen animal is not of a lowly grade.
Admission Prices at Ellis Park
Much to their great credit, Ellis Park offers free admission to their track for all race days throughout the summer meet. Upgrades are of course available for different areas of the facility, but demanding no fee for general admission for weekend racing featuring valuable events is something the owners absolutely have to be applauded for.
Ellis Park Track Details
The track at Ellis Park was designed to be the same in style as that at Saratoga in New York, so you will see similar results there. Featuring both dirt and turf tracks, being in a warm part of the country and racing through summer means conditions are very fast here more often than not and that brings speed to the fore.
While it's a little longer than many North American courses, the dirt track at Ellis Park is still only one mile and one furlong in length, meaning tight bends which added to the speed of this warm track means that pace is a crucial factor to consider when picking out a bet with stamina for the most part thrown out the window.
There are chutes for seven-furlong and mile races on the dirt, but this doesn't detract from the need for a quick start, a decent post position draw and tactical speed to be able to lay-up with the early pace as long as it is not break-neck.
Inside the dirt track is a one-mile turf course. The bends here are even tighter and, given the prevailing weather, firm ground is normal so once more speed is of the essence, in fact even more so than in the dirt races.
Look out for horses with strong speed figures, even over a mile, as regardless of whether they are front-runners or hold-up horses they will need to be able to race into a good position early so as not to be trapped out wide. Being effectively four or five horses wide around these bends can be enough to lose a race, regardless of a horse's overall ability.
Biggest Races at Ellis Park
The summer meet at Ellis Park features, among other things, nine stakes races worth at least $100,000 each. Their biggest races overall are:
Ellis Park Turf – 1m½f (turf), Fillies & Mares, July
Good Lord Stakes – 6½f, July
Calumet Farm Turf Cup – 1m2f (turf), August
Ladies Turf – 1m, Fillies & Mares, August
Tourist Mile – 1m (turf), August
Turf Sprint – 5½f (turf), August
Ladies Sprint – 5½f (turf), Fillies & Mares, August
Ellis Park Derby – 1m, 3yo only, August
Groupie Doll Stakes – 1m, Fillies & Mares, August
Ellis Park Debutante – 7f, 2yo Fillies, August
Ellis Park Juvenile – 7f, 2yo, August
Place Your Bets at Ellis Park Now with Roger.com
Now you know a little more about Ellis Park, you can place safe and secure online bets there with greater confidence. Bet with any of Roger.com's recommended bookmakers now!