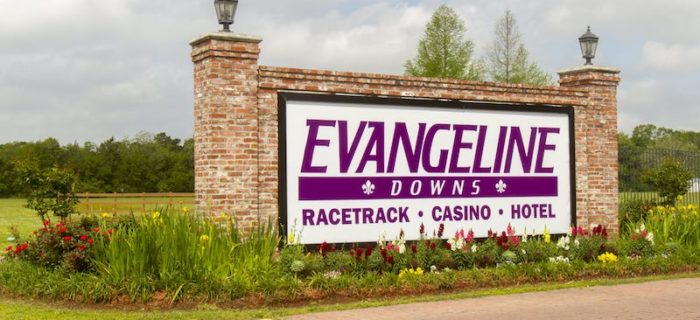 The original Evangeline Downs Racecourse, an important race track on the Louisiana racing circuit, opened back in 1966 at Carencro but since 2005 it has been housed just east of Opelousas, 20 miles north of Lafayette and 50 west of Baton Rouge.
Evangeline was the first 'racino' built from scratch, i.e. the complex is a casino and racing venue in one showing live quarter horse and thoroughbred meetings during spring and summer.
This is a track that is ranked highly among American horseplayers and can attract some star names, Arlington Million and Jockey Club Gold Cup winner John Henry, in fact, won his first big race here in the seven-furlong Lafayette Futurity Stakes.
As always local knowledge is key, so keep an eye out for the most successful jockeys at the track. In 2019 Diego Saenz, Colby Hernandez and Timothy Thornton all managed 90+ winners at the meet, while Gerard Melancon and Kerwin Clark also had strong top-three finish percentages.
Karl Broberg is the big dog at this track among the trainers, earning over $900,000 at the last meet and gaining a win percentage of 31%. Other handlers with impressive records are Ron Faucheux, Brett Brinkman, Eduardo Ramirez and Bret Calhoun so look out for the big names when thinking of having a bet.
One horse to look out for here is Snowball, a filly with several starts to her name at Evangeline Downs already and who knows the track inside and out. She has plenty of racing mileage left in her and will undoubtedly be back to her favourite track numerous times.
Admission Prices at Evangeline Downs Racecourse
As a popular 'racino', entrance to Evangeline Downs Racecourse is actually free. Visitors are welcomed in every day to play dozens of slot machines, try out the restaurants and to watch simulcast racing from the rest of the States, while on live racing days various packages are made available in different parts of the track.
Track Details
As is often the case within North America there are two tracks at Evangeline Downs, both of them utilised well during a busy spring and summer race meet for both American quarter horses and thoroughbreds.
Dirt
The dirt track is a standard flat oval one mile in length, going left-handed with sharp bends. Evangeline Downs sits in a warm part of the country and races throughout the spring and summer, so things can get pretty quick here.
With that in mind and considering that this track is famous for having the biggest fields anywhere in the States, it is crucial to take the draw into consideration. As the races will be more about pace than anything else, being able to spring out and get a good racing line is a must as you don't want to be four-wide going into the turns.
Watch out for a "sloppy" track though, as unlike on turf the rain can make the surface faster as it compacts.
Turf
Sitting inside the dirt track is a seven-furlong turf course. Again, speed is crucial as the bends are even tighter here but over 1m1f things change. Sitting diagonally inside the tracks right next to the pond is a chute for the turf course, making it essentially nine furlongs in length.
When racing from the chute things change a tad, though still a low draw to be on the inside as the first turn is made can still be seen as an advantage.
Runners can come from behind on the turf track at Evangeline Downs, so perhaps look for a race with two or more speed horses who will take each other on and burn out, allowing something rating in behind to come with a burst down the short home stretch.
Biggest Races
Some huge quarter horse events take place here during the year, while Evangeline Downs also hosts 20 stakes races for the thoroughbreds between April and August, with several of them being worth between $75,000 and $100,000, the best of them being:
Evangeline Downs Classic – 1m, April
Louisiana Legends Cheval – 1m, 3yo only, May
Louisiana Legends Soiree – 1m, 3yo fillies, May
Louisiana Legends Sprint – 5½f, May
Louisiana Legends Mademoiselle – 5½f, Fillies & Mares, May
Louisiana Legends Turf Distaff – 1m (turf), Fillies & Mares, May
Louisiana Legends Turf – 1m½f (turf), May
Evangeline Mile – 1m, June
Place Your Bets Now with Roger.com
Wagering at Evangeline Downs Racecourse can now be done with greater confidence. Get on with any of Roger.com's recommended online bookmakers now!