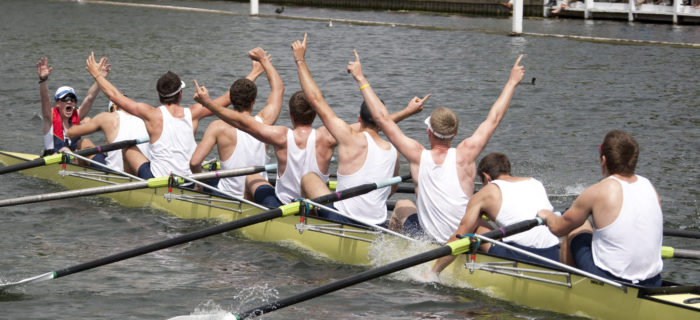 Henley Royal Regatta
The five-day Henley Royal Regatta is probably the world's best known regatta, and it's a highlight of the UK's summer sporting calendar and social season. This public event is held annually (usually in June) on the River Thames at Henley-on-Thames, an Oxfordshire town, and is ideally situated in an idyllic riverside setting; this prestigious event was first established in 1839.
Attracting competitors, visitors and spectators from around the world, Henley Royal Regatta is also an event that is popular with betting punters. Equally, it's a huge success as a firm corporate hospitality favourite, thanks to the exceptional facilities at the location, making it the ideal event for entertaining business guests to one of the award-winning hospitality package options.
It's the perfect place to throw a Pimm's reception! (Fawley Meadows and Temple Island enclosure are two popular locations for this kind of hospitality.)
Although this event may not be as popular to bet on as the FA Cup or the Grand National, you'll nonetheless find that most online bookmakers will offer odds on all or at least some of the races at Henley during the regatta.
The atmosphere is incredible, as top rowers of all levels battle it out as the crowds shout on from the banks of the River Thames – with racing crews including novices, Olympians and student teams. As mentioned, Henley Regatta is an event attracting thousands of excited spectators each year.
In 2020, the event was cancelled for the first time in peacetime due to Covid-19. In 2021, the regatta took place in August rather than June, and its dress code made headlines after it was agreed that, for the first time, women at Henley could wear trousers everywhere, including the Steward's Enclosure, the most prestigious regatta enclosure. (Previously, even divided skirts were not permitted in the dress code for female visitors .)
Betting on Henley Royal Regatta
Betting on the Henley Royal Regatta is really straightforward, since all the races are simple head-to-head knockout competitions that the crews of rowers complete over the Thames course of 1 mile and 550 yards upstream. (Over the history of the event, the regatta course at Henley has changed a few times.) Some of the most popular races to bet on at Henley include:
All racing takes place two abreast, and the winner goes through to the next round – what's more, sometimes there are qualifying races if there are more entries of crews for events than available places for racing.
At the highest level, there are six open events for men, and six for women's crews . At intermediate level, three events for male rowers attract the best club and student crews.
The next level encompasses five men's events for the majority of club and student oarsmen. Finally, there are two events for junior men and one for junior women.
Races include coxed and coxless four crews, coxless pairs, double and single skulls and eights.
And of course you can go just to watch the boats as they shoot off from the start line, and soak up the atmosphere of this prestigious event, while perhaps enjoying a cheeky Buck's Fizz or three, or even a river boat cruise. But, although betting is an optional extra, the occasion is much more fun and enjoyable if you have a flutter on the racing at Henley Royal Regatta!
Equally, of course, if you can't get to the events at Henley in person, you can still make it part of your summer sporting calendar and take a punt on the racing.
Henley Royal Regatta is actually a relatively rare opportunity to bet on rowing, since, despite the popularity of the sport, bets tend to be available for big-name occasions like this one, or say the Oxford and Cambridge Boat Race, less so for smaller or lesser-known events.
As ever, when betting on Henley Royal Regatta, it pays to absorb as much data as you can about rowers, boats and crews before the event. So it's worth seeing what you can find out ahead of the regatta, for example on social media and YouTube. You may prefer to bet on older, more experienced racing crews, or go for more youthful boats if you think these may have more energy.
Study the odds in advance and current racing form, as well as past results for each day's itinerary.
As with most sporting events, you can bet on the winner, or correctly bet which boats will take the top three places at any of the Henley racing events. If your knowledge of rowing and rowers is a bit more advanced, bet on which rowers will be placed higher in the classification at Henley Royal Regatta.
Grand Challenge Cup
The oldest and the best-known event at the annual Henley Royal Regatta, this is also the one on which most money is placed on at the online bookmakers offering odds on the regatta's races. A men's eights race, it is open to male crews from all eligible rowing clubs. Dating back to 1839, it was originally called the Henley Grand Challenge Cup.
Stewards' Challenge Cup
The Stewards' Cup is another highlight and the second oldest race at the Henley Royal Regatta, beginning in 1841. Originally a men's coxed four event, in 1869 it became a coxless event. Open to all male crews from eligible rowing clubs, it's one of the most popular racing events at Henley Royal Regatta both for spectators and visitors as well as punters.
Queen Mother Challenge Cup
Another highly popular event for both spectators and punters at Henley, this is a men's quadruple sculls event and is open to all crews from eligible clubs. Like the Stewards' Challenge Cup and the Grand Challenge Cup, punters across the world place a lot of money on this event.
Ladies' Challenge Plate
Despite its name, this Royal Regatta event is actually a men's eight-oared boat race. It is open to all crews below the standard of the Grand Challenge Cup. A keenly contested event, its history at Henley goes back to 1845 when it was called the New Challenge Cup.
Princess Royal Challenge Cup
A women's single sculls racing event, the Princess Royal Challenge Cup is another highlight and open to crews of female scullers to enter. The race in its current format began relatively recently at Henley in 1997, although its history in other forms dates back to 1982.
Remenham Challenge Cup
The Remenham Challenge Cup is a woman's eights racing event and is open to all female crews from eligible rowing clubs. The race was first held Henley Royal Regatta in 1998 and was originally called the Henley Prize, but was renamed the Remenham Challenge Cup in honour of the President of the Remenham Cup Ian Rogers MBE, who donated the trophy for this racing event.
Where to bet on the Henley Royal Regatta
Although not all online bookmakers offer odds for Henley, the vast majority of the major sites do. Clearly, if you're betting on the racing at Henley Royal Regatta, it's important that you do so with a reliable operator. We particularly recommend using the following sites to bet on the regatta at Henley:
So give it a go – even if you can't be in the Steward's Enclosure enjoying corporate hospitality, or on the River Thames yourself!