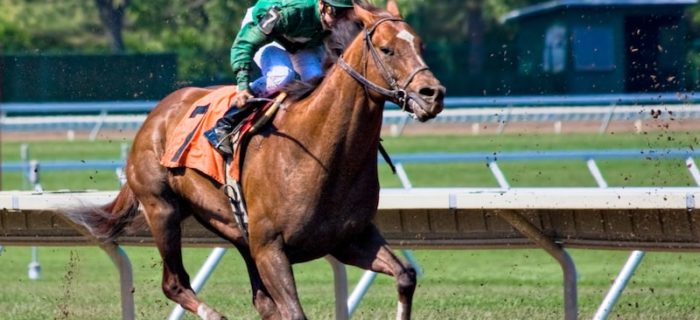 Monmouth Park Racetrack is based in Oceanport, New Jersey and there has been racing taking place at the track all the way back to 1870. Thoroughbred horse racing is a staple at this track and it is under the ownership of the New Jersey Sports and Exposition Authority.
There is a five-year lease on the facility, with the owners working in partnership with Darby Development. Generally, racing begins at the start of May and will last until September. A number of notable races take place at the Monmouth Park Racetrack, such as the Haskell Invitational.
Ticket Prices at Monmouth Park Racetrack
There is usually a standard ticket pricing structure in place no matter what race meeting you are going to. If you want a general admission ticket to the grandstand, this will cost you $5. For general admission to the clubhouse, this will be $7 and general parking will be $5. Certain people will be eligible for free entry also.
Course Details
The central track at Monmouth Park Racetrack is a single mile in length and is a dirt surface shaped as an oval. There are chutes in place allowing for six-furlong and one mile and quarter races. There is also a turf course in place at Monmouth Park Racetrack along by the hedge at the facility.
A main grandstand and a clubhouse that will allow for general admission to patrons. There is a significant complex of stables and a practice facility in place. Monmouth Park Racetrack's racing season usually begins at the beginning of May and will last until early September. Total race meetings each season these days will be just over 50 different race days.
Tactics to Consider
With the variety of race lengths, the distance will play a big role on what horses to keep an eye out for. Look for those that have performed well at the track over similar distances in the past. Generally, there are higher quality fields, so the cream will often rise to the top.
Track History
Monmouth Park Racetrack was first opened in 1870 before closing after just three years due to financial issues. It reopened in 1882 and was performing steadily for an eleven year period. However, the state then banned horse racing betting and the track closed, with the land being sold. It was not until 1946 that Monmouth Park Racetrack was reopened once more.
The state had been under a lot of pressure to once again allow pari-mutuel betting. One the first day of the track opening, there were 19,000 people in attendance. The first turf race at the track took place in 1950 and the first-ever race that was televised in colour was at the Monmouth Park Racetrack in 1951, being the Molly Pitcher Handicap. Over the intervening decades, the popularity of Monmouth Park Racetrack grew and grew.
It was in 1997 that the day of the Haskell Invitational attracted 39,000 people and there was nearly $10 million wagered that day at the track. This was beaten in 2001 when there were 47,000 visitors and the annual visitors bypassed the 750,000 mark, which had not been achieved since 1989. Monmouth Park Racetrack is still one of the most popular race tracks in the United States today.
Biggest Races
There are a number of notable races that take place at Monmouth Park Racetrack every season. The Grade I races include the Haskell Invitational and the United Nations Stakes.
The Haskell Invitational has been taking place since 1968, starting as a handicap race. It was in 1981 that it became an Invitational Handicap. It takes place towards the end of July and is open to three-year-olds. The prize purse is usually $1 million and it has one of the most prestigious trophies in racing.
The single Grade II race is the Monmouth Stakes. Then there is a host of Grade III races such as the:
Matchmaker Stakes,
Oceanport Stakes and
the Salvator Mile Stakes.
Place your bets with Roger.com
If you want to place bets on races at Monmouth Park Racetrack, there are plenty of online betting sites that allow you to do so. However, some of these options are better than others.
Roger.com has carefully reviewed each of these options, showcasing which is the best option for your needs. Therefore, you can quickly get started placing bets on these races as you please.