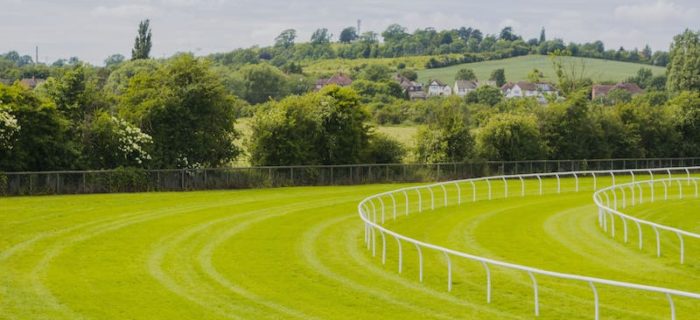 Stratford-on-Avon Racecourse dates all of the ways back to 1755. The track hosts thoroughbred horse racing and is located in Warwickshire, England. There are numerous meetings that take place each season. Notably, attendants' attire is a lot more casual than other racetracks in the area.
It is a pretty small track. The season at Stratford-on-Avon Racecourse usually runs between March and November annually. Three different enclosures make up the track. There is also a major campsite located at the Stratford-on-Avon Racecourse.
History of Stratford-on-Avon Racecourse
Stratford-on-Avon has been hosting races for well over 200 years. However, at one time, horse racing was banned in the area to protect local crops for 100 years. In 1836, the venue began hosting National Hunt racing once again. It became popular in the area through the 19th century.
In 1968, Stratford-on-Avon Racecourse extended after it purchased property beside the track. That same year, the Garrick Jubilee Cup Festival celebrated its 200th-anniversary event. The Garrick Jubilee Challenge Cup still occurs at Stratford-on-Avon every year to commemorate the occasion.
The Racecourse
Stratford-on-Avon hosts jump during the summer. It is a sharp left-handed course. The course has sizable fences and large fields. That means there is usually a high number of falls on race day. There is now also a water jump in play that causes a lot of havoc. A lot of jockeys prefer to try and strike out for home a lot sooner than they usually would. That's because the straight is quite short.
Ticket Prices
If you are looking to attend racing at the Stratford-on-Avon Racecourse, it is a good idea to try and book tickets in advance online. This is because they will be cheaper online than on race day.
The ticket prices will vary depending on the type of ticket you are looking for and what type of meeting is taking place. Generally, you can get tickets for as low as £8 if you book online, with discounts available for bulk buying tickets or underage attendees.
Notable Races
One of the biggest races that take place at the Stratford-on-Avon Racecourse is the Garrick Jubilee Challenge Cup. This is a commemorative event that recognized the track holding the 200th anniversary of the Garrick Jubilee Cup Festival in 1968. It is generally part of a two-day meeting at the end of May, called the Warwick and Stratford Foxhunters meeting.
The other notable meetings are Ladies' Day and Family Day, which both take place in July. It is always a highly anticipated couple of meetings in the locality.
Tactics to Consider
The Stratford-on-Avon Racecourse races will reward speed, so look for horses that are accurate and quick jumpers. The fences are not overly tough, but with the pace of the races, they tend to catch out a lot of horses with timing. This is why a lot of former flat horses tend to do well at the Stratford-on-Avon Racecourse.
A lot of experience also helps. There is often a major challenge for horses to make up ground because of the constant hurdles on the bends and the long bend that comes into the straight.
Place your bets with Roger.com
If you are trying to place some bets on the Stratford-on-Avon Racecourse races, you have a lot of different choices. At Roger.com, you can look at all of the various operators and see which of them best fits your needs.
They are reviewed in an objective manner, allowing you to quickly see which operator ticks the right boxes for your needs. You can then quickly set up an account and get started placing your Stratford-on-Avon Racecourse bets in a matter of minutes.