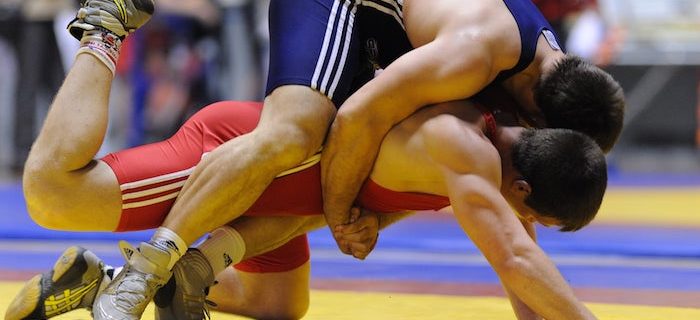 Wrestling is an intriguing, unusual blend. Part sport, part daytime soap, with a heavy emphasis on theatricals, comedy and big, big names, it's easy to see why people love it. As Andy Kaufmann said, 'there's no drama like wrestling.' or, as one (anonymous) insider put it:
Wrestling is overcoming obstacles. Every drop of sweat, every black eye and every mile run reinforce that the will to train sets winners apart.

Betting on the European Wrestling Championships
The European Wrestling Championships, as the name suggests, is the continent's most important wrestling contest, drawing some of Europe's biggest names in the sport to a different city each spring.
In 2019, the 70th championships were held in Bucharest; in 2020 they take place from February 10 to 16 in the Italian capital Rome, before moving to Katowice, Poland in 2021 and Budapest the year after.
The event is run by the European arm of United World Wrestling (UWW), the global governing body for amateur wrestling, whose flagship contest is the Wrestling World Championships.
It's been held in its current format since 1911 and incorporates Greco-Roman, women's freestyle and freestyle disciplines. Prior to 2005, there were separate competitions for each category, while the women's event was first included in 1988.
Earlier versions of this event date back to 1898, and there have been gaps in its history for both world wars, and during the 1950s and mid-1960s before it was revived. It has now been held uninterrupted since 1966.
The 2019 event in Bucharest featured more than 500 wrestlers from 38 nations including 22 champions from the previous year's contest in the Russian city of Kaspilsk, and six who had won gold at the World and Continental championships.
The 2020 event, and indeed the championships that follow, are set to be equally exciting.
Past winners
In 2019, Russia won the Greco-Roman and freestyle contests while Ukraine took the women's freestyle title
As of 2019, of the 40 nations who have competed in the European event, Russia (including previously the Soviet Union) had overwhelmingly won the most medals at 838, including 452 golds, tallies which were more than double the figures for its closest rival, Bulgaria, which has won 410 medals and 136 golds.
Behind them are Turkey and Germany including previously West Germany.
How do Greco-Roman and freestyle wrestling differ?
It may sound old, but Greco-Roman wrestling has actually only been around since the nineteenth century. However, the name was used to draw a similarity with the styles used in ancient Mediterranean civilisations. It has been part of the Olympics since 1908.
Some of the main differences are as follows:
No holds below the waist are allowed in Greco-Roman wrestling, but in freestyle mode, you can use your legs to attack and defend yourself, and take down your opponent. Greco-Roman wrestlers rely much more on headlocks, arm drags and body locks.
In Greco-Roman wrestling, you must keep contact with your opponent throughout the 'takedown' for it to count. Otherwise, the hold becomes illegal and is immediately discounted.
Further differences between the two disciplines are explained in more detail here.
How does it work?
Each of the three disciplines has 10 different weight categories, with gold, silver and bronze medals up for grabs in each category. Equally, each class has various preliminary rounds and quarter, semi and grand finals.
In Women's Freestyle weight categories are 50kg to 76kg, in 2kg or 3kg increments
In Greco-Roman wrestling, weight categories are 55kg to 130kg, in 3kg, 4kg, 5kg or 10kg increments, with the heaviest two classes being 97kg and 130kg respectively
In the Men's Freestyle event, the categories range from 57kg to 125kg, with 4kg, 5kg, 6kg and 7kg increments. The heaviest two categories are 97kg and 125kg.
In both styles of wrestling, points are scored, mainly on the basis of explosive action and risk. You can read more about the details of scoring at this Wikipedia article.
Betting on wrestling
It's true that wrestling isn't one of the more common sports to bet on and not every bookmaker may offer markets for the European championships. But that doesn't mean it isn't a hugely fun activity on which to have a flutter.
It's arguably classed as entertainment betting, and there has been a big rise in this type of wagering in recent years. (And, certainly, at times it can feel as though you are betting on the outcome of a TV show rather than an athletic match.)
What's more, there are many uncertainties to (excuse the pun) grapple with, so that makes wrestling an exciting activity on which to have a punt. Fighters can be eliminated or disqualified, while underdogs can seize victory at the last moment.
Odds are set on wrestling in the same way they are for sports and other activities. Most often, you will be placing a straightforward bet on who will win a match. There are also markets on who could be eliminated first, and whether the match will end in disqualification.
Summing up
While betting on WWE events is arguably more popular than the European championships, you can still have a flutter on this refreshingly different event via one of our reputable bookmakers.