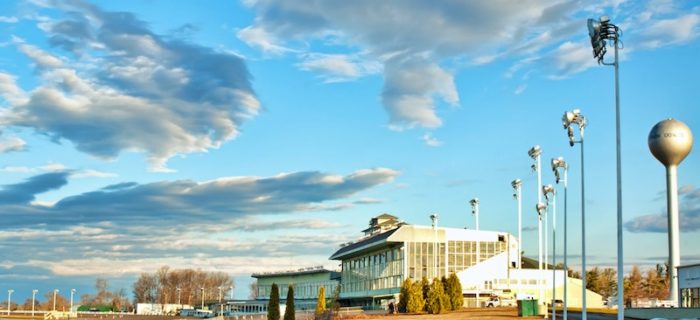 The all-singing, all-dancing Vernon Downs Casino Hotel comprises its own very popular harness racing track. It's situated in the town of Vernon, New York state.
To more than compliment the valuable live harness action, Vernon Downs' site also comprises a 173-suite hotel. As well as a casino containing video gaming and other such entertainment.
The track sits within a particularly green area around upstate New York, although around it is plenty of densely populated areas offering great support to the venue. Vernon Downs is just 40 miles from Syracuse and for major harness racing fans. It remains reachable from several other cities from this and other states, such as Scranton, Buffalo, Boston and of course New York City.
The track was initially opened back in 1953 to great acclaim. It operated as a highly profitable venue for decades before attendances began to decline amid competition from other racecourses and alternative means of entertainment.
Despite having to close temporarily but the addition of the casino and hotel has revived fortunes at Vernon Downs, which now runs some of the most important races of their type anywhere in the States during what is now a shorter season than it had become used to.
Problems have persisted over the years, in fact in 2008 due to the New York State Assembly's Racing and Wagering Committee failing to pass a bill to allow venues such as this to pay less tax, it closed down once more. This only lasted a matter of days however and it continues to operate successfully today.
Admission Prices at Vernon Downs Racecourse
While there is a hotel on-site and conferences and banquets can be organised, as a 'racino' general entry to Vernon Downs Racecourse remains free. Visitors arrive on site every day to play some of the multitudes of slot and casino games, eat and drink and so the doors are always open.
When live harness racing is showing, upgrades are of course made available including box seats, food and drink packages and other extras.
Track Details
The race track here follows a fairly standard layout for harness racing, at seven-eighths of a mile in length with a stretch run of 900 feet on the dirt.
The majority of harness races are run on tracks such as this, so it should be familiar to those who know this particular racing niche, and like at most tracks of these nature runners here will have to earn a mark via their fastest winning time and it's on that basis that as a punter you base your wagering strategy.
With most races being run over a mile times are easy to grasp, with only the particular layout at the given venue being the variable to look out for. Some runners coming here will have run on tracks of half a mile round, 5/8 of a mile or even a full mile and they will do better or worse depending on the number of bends involved.
At seven furlongs around this track is reasonably long for a harness racing venue and as such there are fewer bends to take, allowing those who need a little more time to get going to come into their own. So, those with course form or at least good form over full mile tracks may well hold a small advantage compared to those clocking fast times at shorter circuits.
Biggest Events
Vernon Downs Racecourse to this day remains home to some of the most important harness stakes races in the USA, with their highlights being the New York Sire Stakes races and the Empire Breeders Classic events among others. The biggest individual races under these auspices run every year are:
Colt Trot 3yo, NY Sire Stakes – May
Filly Pace 3yo, NY Sire Stakes – May
Empire Breeders Classic – 3yo Trot, Eliminations & Finals, May
Filly Pace 2yo, NY Sire Stakes – July
Colt Pace 3yo, NY Sire Stakes – July
Colt Trot 2yo, NY Sire Stakes – July
Filly Trot 2yo, NY Sire Stakes – July
Colt Pace 2yo, NY Sire Stakes – August
Zweig Memorial – 3yo Colt & Filly Trot, August
Filly Trot 3yo, NY Sire Stakes – September
Between them, the Empire Breeders Classic elimination races and finals are worth a grand total of some $500,000, giving you some idea of how big harness racing remains in and around New York.
Place Your Bets with Roger.com Now!
Harness racing is a specialist subject, but now you know a little more about the action at Vernon Downs Racecourse you can bet on it with great confidence. Get your bets on now via any of Roger.com's highly recommended online bookmakers quickly, safely and securely.