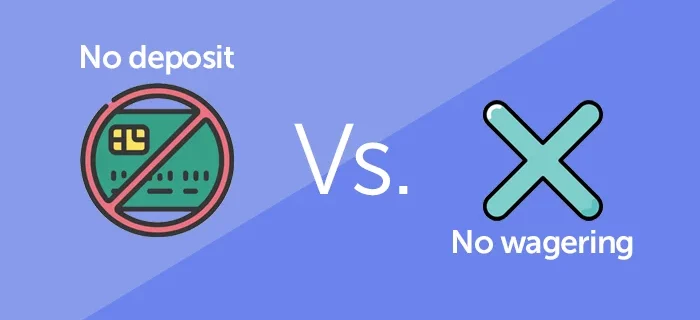 What Is Better?
There are a few types of bonuses out there – whether you're a casino player or a sports bettor. However, two of the most popular you'll come across are the no deposit bonuses and no wagering bonuses.
Both of them are great in their own way – but they both come with different advantages and disadvantages – and suit different types of punters.
We take a bit of a closer look at No Deposit vs. No Wagering Bonuses so you can decide which one would be the best choice for you…
No deposit bonuses
A no deposit bonus is exactly what it says on the tin. You will get a bonus from the bookie without needing to deposit any of your own money at all.
Generally, these are handed out to new punters to get them to register for a new account… so they can 'try before they buy.'
Pros:
A risk-free way to bet: These bonuses let you place football bets – or whatever bets you like, without risking any of your own money.
This is great if you're new to betting and you want to dip your toe in with no financial commitment.
Try before you buy: You can use a no deposit bonus to try out the online bookmaker's website without any financial commitment.
You can use it to check out the layout of the website, the different markets, and the different betting options.
Win real money: If you're lucky, you can also win money with a no-deposit bonus.
If you use it to make a winning bet and meet the wagering requirements, you can withdraw your winnings.
Cons:
Wagering requirements: You might not need to make a deposit to claim the bonus, but you will almost certainly need to meet the wagering requirements before you can withdraw anything you win.
Often, no-deposit bonus wagering requirements can be pretty tough.
Lower value: No deposit bonuses are often a lot smaller than traditional bonuses – like a £5 free bet or a small amount of bonus money.
Restrictions: Bookies often restrict the markets you can use your no-deposit bonus on.
No wagering bonuses
No wagering bonuses are completely different. With this type of bonus, you can make your deposit and claim your bonus… be it a free bet or bonus money, and anything you win from it will be yours to withdraw straight away.
Pros:
Whatever you win is yours: The main advantage is that you can keep whatever you win without having to worry about wagering requirements, making them more transparent and straightforward than other bonuses.
More flexible: Generally, you have more flexibility to choose your favourite bets and markets as you won't be tied to wagering requirements… making them more enjoyable.
Big wins: Because there aren't any wagering requirements, you could potentially win big sums of money compared to no deposit bonuses.
Cons:
You need to deposit: Unlike a no-deposit bonus, you will need to spend your own money to claim a no-wagering bonus, so there is some financial risk to you.
Higher minimum deposit: Some bookies ask for a bigger deposit to claim a no-wagering bonus, which might not be ideal for new or more cautious bettors.
Bonus abuse
😮  No deposit, no wagering bonuses (combined) were once common in online casinos, allowing players to win real money without any financial outlay. However, these bonuses were ripe for abuse.
Players created multiple accounts or used low-risk betting to exploit the system. Due to this, many operators have removed such bonuses or added restrictions like win limits or identity verification.
Despite measures like stricter KYC procedures, bonus abuse is still a challenge for the industry.
Which is best for you
When it comes to no deposit vs. no wagering bonuses, which one you choose depends very much on what type of bettor you are.
If you are new to betting, a more cautious bettor, or simply want to explore the betting site without spending your own money, a no deposit bonus is likely suitable for you.
This type of bonus is ideal for those who prefer lower-risk bets and aren't overly concerned with the size of their winnings.
If you're a confident bettor seeking the chance to win decent money without wagering requirements and don't mind the initial layout, no wagering bonuses are ideal.
These bonuses are also great if you're not worried about risking your own money and seek a more transparent experience.
Ultimately, both types of bonuses have their pros and cons – so think about your experience level, consider your risk tolerance and betting goals and choose the one best suited to you.