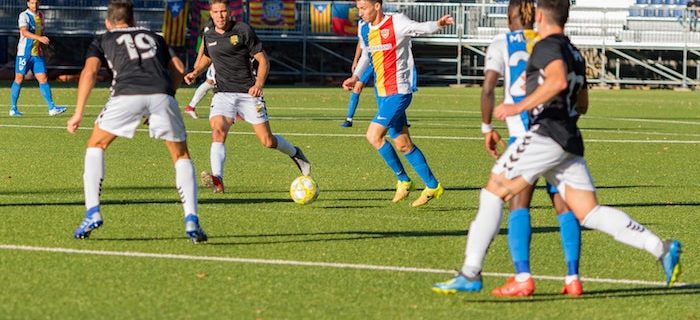 Spain's second tier, the Spanish Segunda Division, is a high-quality football league. The players are first-class and it's seen as reliable in betting terms given that results are relatively consistent.
Let's get to grips with its various names first. The official title is the Campeonato Nacional de Liga de Segunda División, however, other names on your betting coupons might include:
LaLiga 2
LaLiga SmartBank
Segunda División
The Segunda is officiated by the LFP, the Liga de Fútbol Profesional. It's similar to La Liga itself and it's a busy division featuring 22 teams.
Given the depth of quality in Spain, it goes without saying that many top stars have spent time in this league. Often when climbing the football ladder or perhaps having been relegated from the Primera Liga.
The Spanish Segunda Division: How it all works
With 22 teams taking part this is a gruelling set-up. Teams play each other once at home and once away as usual to form a long 42-game season. The longest season, only beaten by the Spanish Segunda Division's English counterpart, The Championship, whose 24 teams face a 46-game campaign.
Although the Segunda season starts in mid-August and goes right through to early June, the hard work doesn't necessarily stop there. For those near the top end, there is a play-off round to decide the last team to gain promotion.
Promotion and relegation
The three teams relegated from La Liga every year are replaced from here. The top two in the Spanish Segunda Division automatically go up, while teams 3 – 6 reach the playoffs.
In mid-June, the four playoff teams play a two-leg semi-final. The successful teams face off in another two-leg tie in the final, played at the end of June. The winner ultimately gains promotion.
Given the number of teams involved in Spain a lot of change is needed in this league. This means as well as three going up at the end of the season, fully four teams go down as well. There is no play-off needed here though as teams 19 – 22 are automatically relegated to Segunda B.
Spanish Segunda División's most recognisable teams
This league has existed in various guises since 1929 and in that time some pretty big names have taken part. Former La Liga winners Deportivo La Coruña have bounced around this division in recent times, winning it in 2012 and finishing as runners-up in 2014.
Former Champions League regulars Villarreal were relegated to the Segunda and came back via a second place in 2013 but going back further we see some even bigger names.
Successive champions in 2001 and 2002 were Sevilla and Atletico Madrid while in 1987 Valencia took top spot here, showing that at any given time some of the very biggest clubs in European football could end up contesting the Segunda.
Segunda División betting markets
It's worth noting that typically even the winners of this division average only around two points per game or even less, so the points are shared around here and nothing is a walkover.
While the best team will ultimately win this league, they will rarely win by too many goals as the Segunda remains tight with only around 2.3 goals per game being scored and less than 40% of all games going the way of the home side, very much lower than the average around Europe.
Bearing in mind those facts, these are the markets to concentrate on:
Correct Score – usually a difficult market, but in the case of the Segunda so many games are low scoring you can take a chance. Across two typical match days (22 games) in December 2019, 10 games ended either 0-0 or 1-1, with odds on these scores ranging from 4/1 and 9/2 respectively (usually a lot higher), you can score some profit here.
Both Teams to Score – most people pick 'yes' with BTTS coupons for the excitement and to get paid out quickly, but in the same two sample game weeks fully 11 matches would have paid out on 'no' in this market and it's worth keeping that in mind.
Take a punt on the Spanish Segunda División
While the action isn't as free-flowing and high-scoring as the top league in Spain, football in the Segunda División remains of high quality. If you want to take a chance on backing correct low scores at 6/1 or 7/1 for example, then you can do so with some of our recommended online bookmakers.