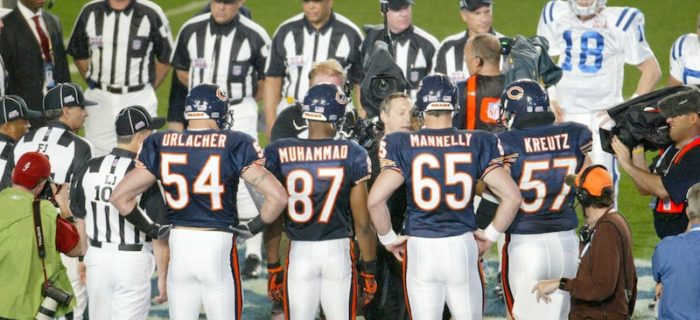 One of the biggest names on the American football circuit is that of the great Chicago Bears. An NFL team playing in the National Football Conference North division, the Bears are a firm fixture on betting lists with many markets available on which to wager.
History of the Chicago Bears
The Chicago Bears can trace their roots back to being a simple company team, that of the AE Staley food starch company.
Back then they were named the Decatur Staleys. However, soon full ownership was handed over to George Halas who was declared the founder of the team in 1920 when it officially became a charter member of the National Football League.
In 1922, Halas decided to change the name of the team from the Staleys to the Bears as they began to represent a city rather than a single company, with success quickly coming.
The Bears have managed to achieve twenty-six playoff appearances between 1933 and 2018, leading to a single Super Bowl win. In the 1985 Super Bowl, played in the Louisiana Superdome in New Orleans, the Bears beat the New England Patriots in a convincing 46-10 display.
Soldier Field and Past Stadiums
The Chicago Bears started out playing at Staley Field, at least temporarily, before they found a long-term home at the world-famous baseball park, Wrigley Field, home venue for the Chicago Cubs.
After spending almost fifty years at Wrigley Field, in 1971 the Bears moved to Soldier Field, a stadium that had been home to many other Chicago-based football teams since 1924. To this day, Soldier Field is the oldest venue in the NFL.
The Bears remained there until 2001 when redevelopment was needed, playing for a season at the Memorial Stadium, before moving back in for the 2003 campaign and they have stayed there ever since.
The stadium is in the Near South Side of Chicago, close to downtown, the docks and a number of public parks. While the venue is old, at least in terms of how long it has been in situ, the major renovations carried out in 2002, especially to the interior, has meant it has very modern facilities these days despite now being classed as one of America's National Historic Landmarks. The renovations lowered capacity somewhat to 61,500.
There have been various tenants at Soldier Field down the decades, from Chicago Cardinals to Notre Dame, while it has also been used for major football (soccer) games.
The 1994 World Cup and 1999 Women's World Cup were partly hosted there, while as of 2020 the MLS side Chicago Fire are to play their games there, having moved from the SeatGeek Stadium in Bridgeview, Illinois.
Bears Heroes
The Bears have a long and rich history of top-class on-field talent. In May of 2019, fans voted for the team's top 100 players of all time, with the following coming out right on top of that list:
Walter Payton, Dick Butkus, Bronko Nagurski, Sid Luckman, Gale Sayers, Mike Ditka, Bill George, Clyde Turner, Doug Atkins and Danny Fortmann. These are all, naturally, pro football Hall of Fame inductees.
As well as this, the Bears have also seen fit over the years to retire 14 different numbers in tribute to some of the greats.
The numbers of the aforementioned Nagurski (3), Payton (34), Sayers (40), Luckman (42), Butkus (51), George (61), Turner (66) and Ditka (89) are not to be worn again, neither are those of George McAfee (5), George Halas (7), Willie Galimore (28), Brian Piccolo (41), Bill Hewitt (56) and Red Grange (77).
Chicago Bears' Greatest Achievements
The Bears have been around for a long time on the football circuit, so it won't come as a surprise that they have reached the playoffs 26 times between 1933 and 2018.
In terms of actually picking up trophies, they have had their share of success too. Here's what the Bears have won down the years:
NFL Championships (pre-merger) x 8 – 1921, 1932, 1933, 1940, 1941, 1943, 1946, 1963
Super Bowl x 1 – 1985
NFL Western Conference Championships x 2 – 1956, 1963
NFC Conference Championships x 2 – 1985, 2006
NFL Western Division Championships x 8 – 1933, 1934, 1937, 1940, 1941, 1942, 1943, 1946
NFC Central Division Championships x 7 – 1984, 1985, 1986, 1987, 1988, 1990, 2001
NFC North Division Championships x 4 – 2005, 2006, 2010, 2018
Bet the Bears with Roger.com Now!
You can wager on all Chicago Bears games via Roger.com. Bet with one of our recommended online bookmakers now to wager quickly, safely and securely.