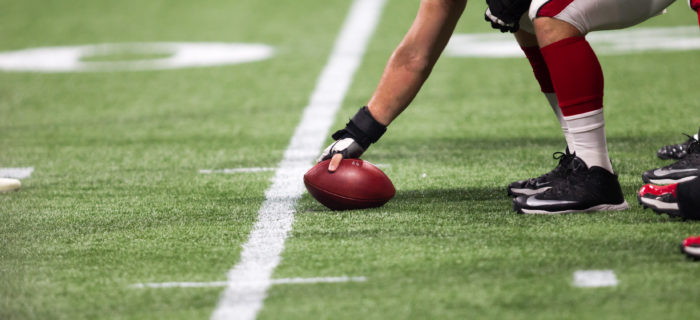 American football is the USA's favourite sport, its popularity even outpacing that of baseball and basketball.
The National Football League, or NFL, is the professional American football league, and it's made up of 32 teams. These are evenly split between:
It represents the top level of professional American football globally.
Founded as the American Professional Football Association in 1920, it was renamed the National Football League a couple of years later. It merged with the American Football League (AFL) in 1966, during the season of the first Super Bowl.
The 17-week regular National Football League season takes place from early September until late December. Each team plays 16 games and has one bye or free week.
Once the regular season has finished, six teams, including four divisional winners and a couple of Wildcard sides, proceed to the playoffs. This is an elimination tournament, culminating in the Super Bowl, which typically takes place on the first Sunday of February. The NFC and AFC champions compete, and it's one of the world's biggest club sporting events.
Super Bowl games are regularly among the most watch TV shows in American history – it's a global pop culture phenomenon.
National Football League Teams
The NFL has 32 clubs with 16 in each of its two conferences. Each conference has four divisions (east, north, south and west), with four clubs in each.
No National Football League team is based outside North America, but the Jacksonville Jaguars has played one home game annually at London's Wembley Stadium since 2013 as part of the NFL International Series.
Wisconsin side the Green Bay Packers have won the most NFL championships, with 13 titles, including nine bagged before the era of the Super Bowl. Meanwhile, the New England Patriots and Pittsburgh Steelers have won the most Super Bowl championships, at six apiece.
According to Forbes, the Dallas Cowboys, worth some $4bn, are the richest NFL franchise, and indeed the world's most valuable sports team.
American Football: The Basics
The essential aim is to move the ball towards, and ultimately into, the opposing team's end zone. Players do this by either running with the ball until they are tackled or throwing it to a team-mate downfield.
Downs
An American football pitch has yardage markings because the offence, or attacking team, must move the ball in chunks of 10 yards or more.
There are four downs, or opportunities to gain those 10 yards. Once the ball has made its way 10 yards, another 'first' down is granted, with a further four chances to advance another 10 yards.
If the offence doesn't move 10 yards within four downs, they surrender possession, although the ball is normally kicked (or punted) to the defence on the fourth down.
Plays
These are the somewhat complex moves all 11 players in a side used to move the ball downfield.
Scoring
Touchdowns
A touchdown earns a side six points and can happen anywhere on the field. If a team crosses the other side's goal line carrying the ball or collects or catches it in the end zone, they score a touchdown.
Field Goal
This is worth three points, and players usually attempt this on the fourth down if the kicker is near enough to the end zone to boot the ball through the posts (called uprights).
Extra Point
You earn this by kicking the ball through the uprights following a touchdown, rather like a rugby conversion. Players earn two points if they take the ball into the end zone again.
Safety
The defence earns two points by tackling an offence player with the ball in his own end zone.
Betting Online on National Football League Games
As the popularity of American football has exploded worldwide, so has online betting on it. The shortness of the season can be challenging in terms of assessing a team's potential, but then everyone faces that.
Bookkeepers offer a rich variety of betting odds on National Football League games. It's worth shopping around and looking at things like user interface, live betting options and bonus schemes, commissions and odds before deciding where to bet.
You'll also want to check out how teams have performed historically in game situations.
These days, there are more choices than just who wins, giving gamblers considerable flexibility, you can choose from:
Prop Bets
Betting on the Spread
Straight-Up Bets
Totals
Futures
Prop Bets
Say you think the Atlanta Falcons are going to win, but a particular player will have a bad day. You can bet that he will throw for less than, for example, 315.5 yards, even though this won't have a direct outcome on the actual result.
Betting on the Spread
This essentially means betting on a team either to win by a particular point margin, or lose by the same. So, even for a favourite side, winning is not enough – it has to be by a certain number of points.
Straight-Up Bets
This is just made on the team you reckon will win, and is also called a moneyline bet.
Totals
This is a bet on the combined total scores from both teams. If bookmakers predict a total combined score of 39, you can bet over or under this. If the predicted score does happen, this is known as a Push – and you get a refund as though you'd never bet anything.
Futures
You can always bet on the next Super Bowl even if the big game isn't until next year. And, with this kind of bet, you can often find very decent odds.
Ready to place a bet? Visit our games here.