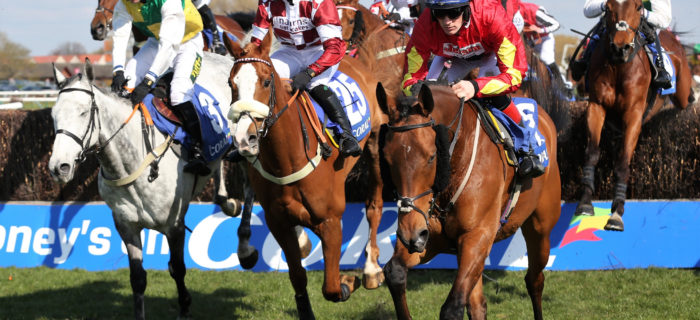 The Grand National, a handicap National Hunt horse race, takes place each April at Liverpool's Aintree racecourse. The first one was run in 1839 (and was won by a horse called Lottery). So 2022 will see this event's 183rd birthday.
The Grand National
Described as the world's biggest and most important steeplechase, with typically up to 40 runners, the Grand National never fails to capture the excitement and imagination of the whole nation.
The length of the course is four miles 514 yards, with horses running two laps and clearing 30 fences. The most notorious obstacle is The Chair, a 5ft 2in jump with a six-foot ditch on the take-off side.
With a total prize fund reaching a million pounds, the Grand National (sponsored last year by Randox Health for the fourth time) is Europe's most valuable jump race.  It's held during a three-day festival, with the steeplechase being the main event.
In 2018, the race was won by Tiger Roll on a 10/1 shot, in a thrilling photo finish. The rider was Davy Russell.
In 2019, three days of high glamour and excitement kicked off on April 4, with the main race on Saturday, April 6 at 5.15 pm.
In 2020 the event was cancelled because of the Covid-19 lock down and cessation of all sporting events in the UK.
2021 saw Minella Times win with jockey Rachael Blackmore making history as the first ever female jockey to win the race on the 10th April.
2022 Grand National was won by Noble Yeats ridden by jockey Sam Waley-Cohen (a full time dentist riding for his last time).
Betting on the Grand National
When it comes to having a flutter on this most famous of races, it seems that we all like to get involved! Almost half of the UK's adult population has a punt, with the country typically staking £300 million, and an average of £8 a bet, on National day.
Betting online
Of course, there's no substitute for actually being at the Grand National and savouring the atmosphere. But having a punt comes a pretty close second. Find the best odds to bet on the Grand National.
You can't go wrong with any of the major bookmakers, from Ladbrokes, UNIBET, bet365 to Paddy Power and William Hill, all of which go BIG at Grand National time. Indeed, the experience of placing an online bet will be pretty similar, whichever bookmaker you choose.
Don't forget, you have the convenience of being able to check your account on your mobile device, too.
So set up your account, making sure you've checked for a secure padlock icon before you supply banking details. Some bookmakers stop their sign-up offers for new customers just ahead of the Grand National, to avoid punters who only bet once a year. Get around this by registering a few weeks beforehand to benefit from all the new customer promos – many bookies start listing odds months in advance.
Types of bets
Non-runner, no bet
Most bookmakers start to offer these a few weeks ahead of the big day. Essentially, it means you get your stake back if your horse ends up not running once you've placed a bet.
Faller offers
These basically give you a free bet, say of up to a tenner, if your horse falls or otherwise comes down onto the track, or the jockey is unseated.
Placed finish refunds
This means that if you bet on a horse to win the Grand National and it doesn't make it but does get a place among the top four finishers, you will get your stake back, up to a predetermined limit.
What is a handicap race?
In races like this, including the Grand National, each horse carries a different weight, as allocated by the handicapper. To give it a disadvantage and help create a more level playing field, a better horse carries a heavier weight. The idea is that this makes a race closer and more exciting.
What is an ante post bet?
This is a bet placed at least a day ahead of a race – it's also referred to as Future Races. The key here, clearly, is to make sure you find a horse that's certain to make the line-up on the day.
What is an each-way bet?
These have two separate elements – a win bet and a place bet. For the latter to yield a return, the chosen horse must either win or come in one of the predetermined places, for example first or second.
What are place terms?
These take into account the number of horses under starter's orders. So say you place a bet in the morning on an eight-horse race, and get 1/5 of the odds for the first three places. If the field is reduced to seven runners during the day, the bet will then be settled at ¼ of the odds for two places. So you may have placed your bet for three places, the bookmaker only pays out for two places because in the end there were only seven runners.
With no shortage of drama and history, why would you not want to have a flutter on this year's Grand National race at Aintree?