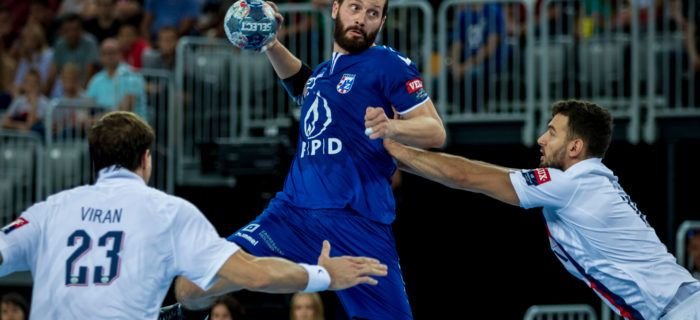 Handball is a young sport in the UK, but its popularity is steadily growing. And it's an action-packed, high-scoring and exciting team activity with a rich heritage that anyone can play anywhere – so it's easy to see why.
The European Men's Handball Championship, organised by the European Handball Federation (EHF), is the official contest for the best men's senior national teams from Europe. Since 1994, when it was first held in Portugal, the event has been held in alternate, even-numbered years, when there are no World Championships.
This competition also serves as a qualifying tournament for the Worlds, as well as the Olympics.
In 2020, the event is being staged for the first time across three host nations – Austria, Sweden and Norway – between January 10 and 26.
And, again for the first time, 24 teams are playing, making 2020's the biggest edition yet in the championship's history. Previously only 16 teams played.
There were 96 qualifying matches, with that phase of the contest concluding in mid-June 2019. Three of the nations to have qualified, Bosnia-Herzegovina, Latvia and the Netherlands, will be participating for the first time.
In Sweden, there'll be games in Stockholm, Gothenburg and Malmӧ, in Austria Vienna and Graz, in Norway in the city of Trondheim.
The 24 teams are divided into six groups of four (Groups A to F) and sides play preliminary and main rounds ahead of the final weekend in Stockholm. The grand final takes place on January 26, the semis two days earlier, the third and fifth and six-place playoffs in between both.
European Men's Handball Championship facts
Sweden is the most successful team in the contest, with four titles to its name to date, followed by France with three
Spain has won the most medals in the competition (seven)
Spain beat Sweden 29-23 to win the contest in Croatia in 2018
Hosts in 2022 will be Hungary and Slovakia, in 2024 Germany
Austria, Croatia, Norway and Sweden have all been hosts twice (including 2020)
The rules of the game
Over the last century, handball has gradually changed from being an outdoor sport to its modern indoor format. This has made the game speedier and more dynamic and given it a more intense atmosphere.
Scoring patterns make handball more like basketball in structure than football. The similarities are in the way players use their hands to move a ball and dribble.
But, like rugby, players can use force to thwart and attacker, as long as contact is made from the front.
Here are some more rules:
There are two halves to a game, of 30 minutes each with up to a 15-minute break between each one
Each handball team has seven members, including a goalkeeper plus six outfield players
Scoring takes place by throwing a ball in the goal
The team scoring the most goals is named the winner
A handball court is 40m x 20m, with a goal at each end
Outfield players are allowed to touch the ball with any part of their body that is above the knee
A player in possession of the ball can hold possession, pass or shoot
Games tend to be very fluid, with almost unlimited, constant substitutions
Scoring typically happens in clusters
Play is halted and then started again (by the attacking team) when a defender stops an attacker
Betting on the European Men's Handball Championship
The sport's evolution to its more intense, indoor format has also made betting on the game more popular than ever.
You can bet as follows:
Match betting – A straight punt on who will win a match
First half betting – Place your bet on what the score will be at the halfway stage
Totals betting – The number of goals a team will score in a particular fixture, with options over or under a figure the bookie sets
Future or outright betting – This is a bet on a team to win a tournament outright, or to win its own group within a competition
Handicap betting – Here, the bookie assigns a + or – handicap to every participating team. That set amount of goals is then taken away from a plus number or added to a minus total to predict the bet's final score and outcome.
Summing up
You may not have thought previously about betting on handball, but it's refreshingly different. It's a genuinely thrilling sport on which to have a punt and a game which inspires huge loyalties and big passions:
It's not just a field, it's our home. We're not only seven, we're a million. We're not just a crowd, we're family. It's not just 60 minutes, it's a lifetime. It's not just a passion, it's an emotion.
Or, as another player put it:
Handball is where we live; life is just a place where we spend time between games.
Have a bet via one of our reputable bookmaker sites – and remember you can also bet on the sport in the Olympics and World Championships, too.