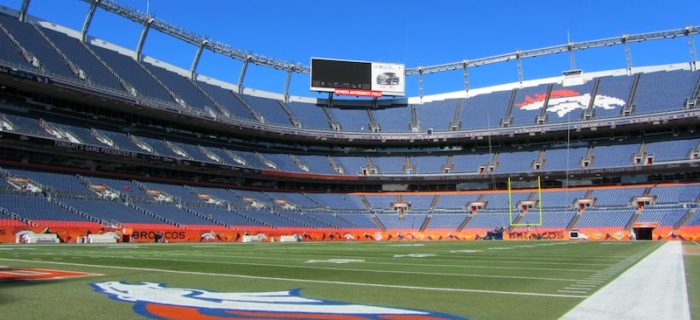 One of the better-known NFL teams out there is the AFC West division's Denver Broncos.
Playing in their famous orange, navy blue and white uniform which has led to them being known as 'Orange Crush' since 1977, the Denver Broncos are known among other things for their deafening fanbase.
The Broncos' home field is the new Mile High, a stadium at altitude on the edge of downtown Denver, on the west bank of the South Platte River.
History of the Denver Broncos
The Denver Broncos were founded back in 1959, beginning their life as an AFL charter franchise. In their early years, they had limited success, but much was to change with the arrival of John Elway.
Before Elway's arrival, the Broncos fielded 24 different starting quarterbacks in 23 seasons of football. When Elway came in from playing college football at Stanford via a trade, he became a fixture in the side for some 15 years and his playing career culminated with the Broncos winning back-to-back Superbowls, the first two in their history, in 1997 and 1998.
With Elway gone, a new hero was needed, but he didn't arrive until 2012. In March of that year, despite the horrific injury that had ruled him out in 2011, the Broncos agreed a huge deal with former Colts star Peyton Manning.
At the end of Manning's successful three-year stint at quarterback, the Broncos reached Superbowl 50 where they beat Carolina Panthers 24-10.
Empower Field at Mile High
The Denver Broncos famously played for four decades (1960-2000) at the Mile High Stadium.
With the Mile High due for demolition in 2002, a new home was needed and work began on a nearby venue in summer 1999. It was opened for business two years later at a cost of $400 million, some $620 million in today's money.
Empower Field, like its predecessor, has a reputation for being one of the most inhospitable arenas for opposing teams. While the noise the Broncos' fans make is part of it, the fact that games are played at altitude, hence the original arena's name, makes things particularly tricky for visiting teams, such as the Broncos' three main rivals, Kansas City Chiefs, Las Vegas Raiders and Los Angeles Chargers.
It was well known at the time of construction that the city mayor, Wellington Webb, was against the sale of naming rights for the stadium. Nevertheless, Invesco paid $120 million for the first sponsorship agreement before Sports Authority followed suit in 2011.
As of 2019, Empower has taken over naming rights here, though the name Mile High will live on given the venue's tradition.
Despite housing a huge 132 executive suites, the Empower Field at Mile High can fit 76,000 fans for home games and the atmosphere is something to be believed.
Those inducted into the Denver Broncos Ring of Fame are named on level 5 of the stadium, an area that as such attracts plenty of attention.
Notable Denver Broncos Players
As is customary these days, the Broncos have found various ways to venerate past players and coaches. In 2009, fans, via the official franchise webpage, voted for Denver's '50th Anniversary Team', while they have also retired certain team numbers in honour of the greats.
John Elway's number 7 and Floyd Little's 44 are not in use, while the 18 was retired as far back as 1963 in honour of Frank Tripucka. Between 2012 and 2015 it was used by Peyton Manning with Tripucka's permission, then promptly retired again.
Find out who the best-loved personalities have been by checking the Denver Broncos Hall of Fame. Coach Pat Bowlen is on the list, as are players Willie Brown, Tony Dorsett, John Elway, Gary Zimmerman, Floyd Little, Jerry Rice, Shannon Sharpe, Terrell Davis, Brian Dawkins, Champ Bailey, Ty Law and Steve Atwater.
Denver's Championships & Playoff Appearances
The Broncos have a long and rich history, so it is to be expected that they've had their share of success down the years. Here are the highlights:
Superbowl Winners x 3 – 1997, 1998, 2015
AFC Conference Champions x 8 – 1977, 1986, 1987, 1989, 1997, 1998, 2013, 2015
AFC West Division Champions x 15 – 1977, 1978, 1984, 1986, 1987, 1989, 1991, 1996, 1998, 2005, 2011, 2012, 2013, 2014, 2015
In all, the Denver Broncos have been represented at the playoffs 22 times between 1977 and 2015.
Bet the Broncos with Roger.com Now!
You can wager on all Denver Broncos games via Roger.com. Bet with one of our recommended online bookmakers now to wager quickly, safely and securely.