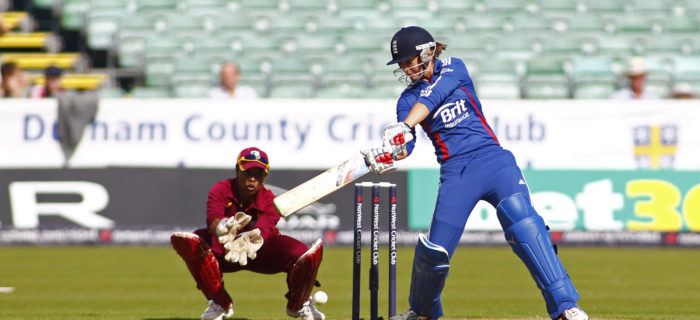 (Originally scheduled for 2021. Now being played in 2022.)
The idea of women playing a cricket world cup may seem relatively new. But female players were first in action internationally as long ago as 1934. At the time, a team from England visited Australia and New Zealand. England won the first test match at the end of that same year.
But it wasn't until the summer of 1973 when the first women's world cup was held, at a variety of locations across England and the hosts won. (Interestingly, the first men's cricket world cup wouldn't be played for another two years.)
Today, 13 nations have qualified at least once for the International Cricket Conference (ICC) Women's Cricket World Cup, five have taken part in every finals tournament, and three have gone on to win the title.
Clearly, this 50-over competition is now the most prestigious event in the women's international game, held every four years. In 2021, it's sure to take the women's game to new audiences while showcasing some of the world's best female cricketing talent.
So no wonder there's such a buzz ahead of this tournament, excitement that will only increase as the dates get closer.
How will 2021 play out?
"The 2021 ICC Women's Cricket World Cup will be the twelfth edition of the Women's Cricket World Cup and is scheduled to be held in New Zealand in January and February 2021."
New Zealand has previously hosted two men's world cups, plus a female one in 2000. In 2021, the tournament runs from January 30 to February 20, dates which have recently been announced by New Zealand Cricket (NZC).
In all, there will be 31 matches across the host nation including in Wellington and Christchurch, and including the semi-finals and the final, all to be played in a one-day international format with round-robin and knockout stages.
An independent company, Cricket 2021 Ltd, has been set up to run the 2021 ICC Women's World Cup.
In 2017, the last time the event was held, hosts England triumphed at the final in London, beating runners-up India by just nine runs. This added to three previous years the side has lifted the trophy, 1973, 1993 and 2009 – England has also been runner-up three times and came third in 2013.
In 2017, it was also the first year when everyone who took part played fully professionally, and eight teams qualified. What's more, its broadcast coverage (games were screened in 139 countries) was unprecedented, and included, for the first time, technology such as the Spidercam. This allows cameras to move vertically and horizontally over the playing field.
Indeed, 2017 marked something of a turning point in the women's game, which the ICC is committed to continuing to develop – and 2021 looks set to be every bit as special.
How do teams qualify?
In 2018, it was agreed that four teams would join hosts New Zealand by qualifying from the ongoing 2017-2020 ICC Women's Championship. Additionally, the three top teams from a 10-team qualifier will also play.
As of June 2019, the top four teams in the points table include Australia, India and South Africa, alongside defending champs England.
Meanwhile, the further three teams participating with have their chance through the ICC Women's World Cricket Cup qualifying event, involving Ireland and Bangladesh plus the winner of each qualifier from the following regions:
Africa
Americas
Asia
East Asia Pacific
Europe
Are the rules for women's cricket different?
There are some differences in women's cricket:
Shorter boundaries: In the female game, the boundary tends to be five to 10 metres shorter than it is for men's cricket
Shorter infield circle: This is five metres shorter than it is for the male game, at 25 metres rather than 30
Ball rules: In one-day cricket, a single ball can be used, one fewer than for the gentlemen's game
No third umpire: For televised matches, there isn't a third umpire, and so all decisions made on the field are final
Betting on women's world cup cricket
There's already plenty of excitement surrounding the tournament, but you can add to it by having an online flutter on the 2025 event, on a PC or via a mobile device. Clearly, at the time of writing we still don't have the full list of participating sides, never mind actual players, but it's not too soon to start planning your betting for maximum enjoyment and potential gain.
What are my betting options?
There are many ways to bet on world-class cricket online, from straight winner to top scorer of runs or best wicket taker, by the team, to man (or woman!) of the match. We've given these a little more detail in our article on the 2019 men's world cricket cup, along with some more info about odds and betting tips.
Familiarise yourself now, and add to the anticipation of a great sporting event. Bet now at Roger.com.