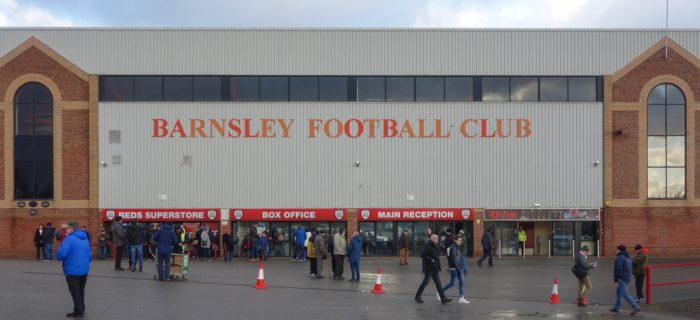 Barnsley FC is a club based in South Yorkshire playing in the Championship, the second tier of English football.
While not the biggest club around, The Tykes have a long history within the game and have close rivalries with several other Yorkshire-based clubs. Adversaries include:
Rotherham United,
Doncaster Rovers,
Huddersfield Town,
Leeds United and
Sheffield United and
Sheffield Wednesday.
Barnsley's famous red kit (and former blue kit) has been represented at Oakwell for well over 130 years making them a long-term regular on the fixture and betting lists.
Barnsley's History
Barnsley FC's roots come from religion. Famous clergyman Tiverton Preedy established the club back in 1887 to play in local leagues.
The club was eventually allowed to join the Football League in 1898. Despite not achieving all that much in league football they did go on to reach the FA Cup Final in 1910. They lost to Newcastle United, however, Barnsley did go on to win the FA Cup two years later. In fact, this was their most notable success of that or any other era.
At the end of the 1950s when the Third Division Northern and Southern sections were scrapped, Barnsley was relegated from the Second Division. They were relegated to what was then the new Third Division of four. This is a level they have had to get used to for quite some time.
Relegated to the fourth tier in 1965, the club began to struggle. They then achieved promotion back to Division Three in 1968, starting a yo-yo period in their history. In the '80s The Tykes got a promotion and became a regular Second Division club.
Promotion to English football's top table would eventually be achieved in 1997 as Barnsley became a Premier League side for the first time, however, relegation quickly followed as their period in the big time failed to last.
After more than one relegation with third-tier footballing following once again, Barnsley were promoted back to the Championship in 2019 and playing more Premier League football in the future appears not to be completely out of the question.
Barnsley FC's Stadium
Built in 1887 at the same time as Barnsley Football Club was founded, Oakwell is the famous old home of the club's first and reserve teams and is one of the oldest standing football stadiums in England.
Oakwell is generally taken to mean the main football ground itself, however, it also refers to the surrounding facilities such as the academy and indoor training centre.
An old-fashioned football venue, Oakwell is made up of four distinct areas; The North Stand, The CK Beckett Stand, The East Stand and The West Stand. In all, they make up to ground with a 23,000 capacity which is boosted by the Corner Stand.
The Corner Stand is a glass-front structure with a capacity of 202 and houses executive areas alongside dedicated disabled access.
Famous Barnsley Players
While all clubs have their local legends, the best players to have performed for Barnsley in the modern era were undoubtedly in their Premier League squad of 1997-98.
Competing at Oakwell that year were recognisable figures such as club favourite Neil Redfearn, Ashley Ward, Darren Barnard, Jan Aage Fjortoft, John Hendrie, Andrew Liddell, Gjorgi Hristov, Eric Tinkler and Scott Jones.
Among the top scorers in recent seasons have been Cauley Woodrow, Conor Chaplin, Kieffer Moore and Tom Bradshaw while some of the club's younger players have also impressed as they move up the footballing ladder.
Honours
Despite having spent time in the top flight, albeit briefly, Barnsley's natural position over the years has been as a top-end third-tier club or second-tier concern.
The club has won the third-tier title on three occasions, in 1934, 1939 and 1955 while their second place in what was then Division One (now the Championship) in 1997 finally meant promotion to the Premier League.
As well as winning the third-tier title, they have also won the League One play-offs in 2006 and 2016 but their major successes have not come via league football at all.
Barnsley have in fact won the FA Cup, although this was back in 1912, while they were also Football League Trophy winners in 2015-16 during what was a memorable season that also led to a promotion.
Place Bets on Barnsley FC with Roger.com
Now you know a little more about The Tykes, you can place bets on the South Yorkshire club with added confidence. Get on now via one of our recommended online bookmakers.